Writing this on July 27, 2020 on yet another 93-degree day, I looked back in the archives to December 2015 (which was a good 13 degrees above normal, but at least that meant temperatures in the 50s) I can comfort myself that the days when I can wear a jacket are slowly getting closer. That month, I walked from Borough Park to the #2 train at Church and Nostrand, which took me past the Flatbush Dutch Reformed Church, which is one of the few buildings remaining from the 18th Century in the borough.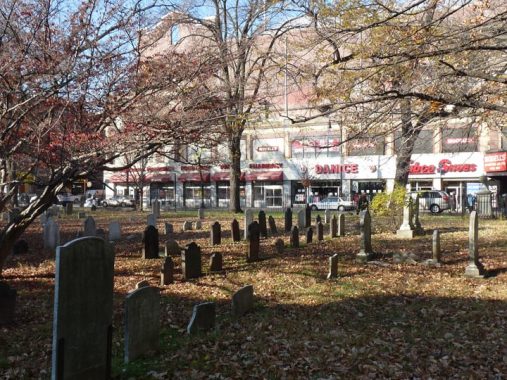 This is the church that Church Avenue is named for. There's been a church at the location of Flatbush and Church Avenues since 1654, the very beginnings of the village. Flatbush Dutch Reformed has had three incarnations: a wood structure built on orders from Governor General Peter Stuyvesant in 1654, a stone building in 1699, and the current one built from Manhattan schist dating to 1798. The churchyard goes back to the church's very beginnings and contains stones inscribed in both English and Dutch. Among the many stained glass windows are a few by Louis Comfort Tiffany. The tower contains a clock and bell that are dated 1796, plus a 10-bell chime that was cast by the Meneely Foundry of Troy, N.Y., and installed in 1913. The church bell has tolled the death of every U.S. President.
The name Flatbush is an Anglicization of the Dutch language Vlacke bos (vlacke = vlak = flat; "flat woodland" or "wooded plain"). Flatbush was originally chartered as the Dutch New Netherlandscolony town of Midwout in 1651. Both names were used in the Dutch era, and Midwood was an alternative name for Flatbush into the early 20th century. Midwood now describes the area immediately south of Brooklyn College.
At the crossroads of Flatbush and Church you will also find the former Kenmore Theater, now a Modell's Sporting Goods; the castle-like Erasmus Hall High School, which has renovated its original 18th Century building in its courtyard; and cozy Albemarle and Kenmore Terraces on East 21st Street in back of the cemetery. A few blocks south on Flatbush you will find the remodeled and revitalized Loew's Kings Theater, which has brought some of the leading lights in the music biz to Brooklyn.