As Forgotten New York readers know I'm fascinated by street layouts. In Queens, the borough in which I live, there are hundreds of numbered streets both east-west and north-south that stop, start and are interrupted several times as they stretch across the borough. Some numbered streets, the heavily-traveled ones, can go for several uninterrupted miles, like 73rd Avenue and 164th Street in Fresh Meadows. Most often, though, named roads like Northern Boulevard, Queens Boulevard and Little Neck Parkway run continuously.
Rarer are the named avenues and roads that are interrupted and run in several pieces. The avenue I'm focusing on today, Peck Avenue, is one such. It runs through Flushing, Fresh Meadows, and Hollis Hills in six different sections; in its longest section, it runs south of Kissena Corridor Park, while Underhill Avenue runs along the north. At one time, Peck and Underhill were mapped out to the Nassau County line along the route of the Motor Parkway, but were never built that far.
Peck Avenue is named in honor of longtime Flushing resident and property owner Isaac Peck (1824-1894). He owned a department store in College Point for many years. Members of the Peck family are buried in St. George Churchyard on Main Street in downtown Flushing.
Even though Isaac Peck's store was in College Point, I can't help but wonder if the long-lived Peck's Cards, later Peck's Office Supplies, shown here on Main Street in both 1940 and in 1985, had anything to do with the original Peck's. Lasting several decades, Peck's finally succumbed in the mid-2000s.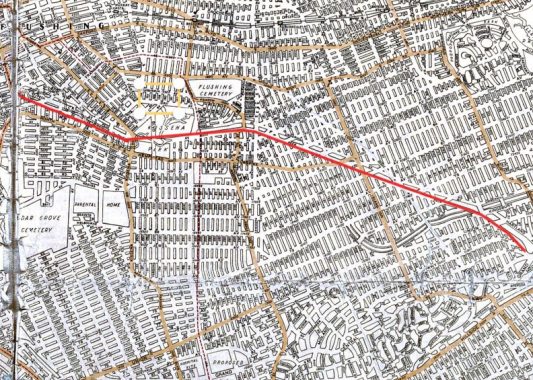 If you look at a Hagstrom map of Queens from 1922 (here's a zoomable version) the city once had plans for Peck Avenue, running it continuously between College Point Boulevard (then called Lawrence Street) and the Grand Central Parkway, which, like most of the routes on this map, existed on paper only in 1922. At the time the major auto through route was William K. Vanderbilt's Motor Parkway, whcih extended from the Nassau line to Lake Ronkonkoma; by 1926, it was extended west to 73rd Avenue in Queens, with that section already in place on the map.
Meanwhile here's the original west end of Peck Avenue as mapped in about 1928. The circled section was built as shown on the map as exists in that layout today (see below). The twisting creek is Ireland Mill Creek, a brief section of which can be seen in Flushing Meadows-Corona Park, but was subsequently forced underground into the sewer system. It is the former feeder stream of Kissena Lake. In the 1930s, a swampy landfill replaced it, used for junkyards, auto body shops and a Department of Sanitation garage.
The green line on the map marks the former course of the Central Railroad of Long Island (see below).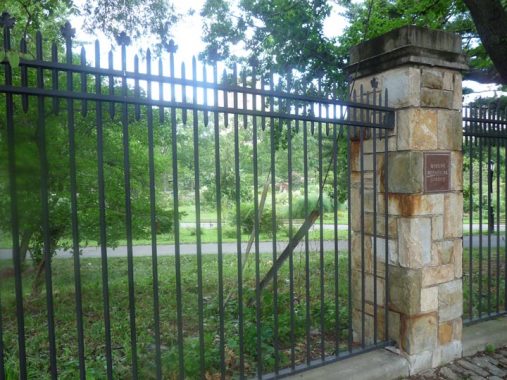 After the World's Fair opened in nearby Flushing Meadows opened in 1939, attention turned to creating Queens' own Botanic Garden to match already existing gardens in the Bronx and Brooklyn. When the Fair closed, the idea was tabled until after Workd War II. However, in 1959 when preparation for the new Fair to be held in 1964-65 ramped up, the plot was finally developed for the Garden by adding additional landfill and extending Kissena Corridor Park west. The new Queens Botanical Garden opened in October 1963. Parks Commissioner Robert Moses was also planning the Queens Zoo, which opened 5 years later within Flushing Meadows.
If you look at the section I circled on the 1928 map, if you walk north on 137th Street you will end up at the southern fence of the QBC. You will have to turn left onto Elder Avenue if you are driving, but when walking you can turn left onto the western end of Peck Avenue. A short section runs from here east to Main Street.
Why was Peck Avenue laid out to run from Flushing all the way to Hollis Hills? It runs along a defunct right of way of a long-abandoned railroad, the Central Railroad of Long Island, built by Scottish immigrant and department store magnate Alexander T. Stewart in 1872 as a means to connect western Queens with a new development of his, Garden City. It ran for just seven years, 1872-1879. Yet its former route dictates the pathways of major streets such as Peck and Underhill Avenues as well as Kissena Corridor Park.
Central Railroad of Long Island [Art Huneke]
This pathway connects 56th Avenue and Colden Street just east of Main Street in Kissena Corridor Park. You can get at least some of the atmosphere of the rural countryside in which the Central Railroad operated some 150 years ago. It's amazing when you think that the right of way of this railroad can still be readily ascertained on Queens street maps all the way to the Nassau line in Queens Village; in fact, a short sour to Creedmoor Hospital still ran as late as the 1950s. Traces of the actual railroad have been eliminated, however. Can you imagine steam engines pulling cars on heavy rail in this stretch? I can.
Kissena Park lies on the former plant nursery grounds of Samuel Bowne Parsons, and does, in fact, contain the last remnants of their plant businesses. Parsons Boulevard is the road built in the 1870s that connected Parsons' farm with that of Robert Bowne. A natural body of water fed by springs connecting to the Flushing River was named Kissena by Parsons, and is likely the only Chippewa (a Michigan tribe) place name in New York State. Parsons, a native American enthusiast, used the Chippewa term for "cool water" or simply "it is cold." After Samuel Parsons died in 1906 the family sold the part of the plant nursery to NYC, which then developed Kissena Park, and the other part to developers Paris-MacDougal, which set about developing the area north of the park. Kissena Park attained its present size in 1927. Much of its southern end remains wilderness, with bridle paths running through it.
After the Central Railroad's closure its right of way became gradually overgrown, but as it was still in place, Louis Risse, the chief engineer of New York City's Topographical Bureau and the designer of the Grand Concourse in the Bronx, proposed connecting the nascent Kissena and Cunningham Parks with a green connector along the right of way in the early 1900s. However, it wasn't until after World War II, when Flushing Meadows-Corona Park, Kissena Park and Cunningham Park were fully established, that NYC parks and roads czar Robert Moses was able to fully realize the Kissena Corridor plan through land purchases and landfill between 1945 and the mid-1950s.
Though Peck and Underhill Avenues, which follow the Central Railroad and Kissena Corridor, did not run continuously as planned from Flushing to Hollis Hills and mapped out in the early 20th Century, substantial pieces of them were built, and they form fairly important thoroughfares in their longer stretches.
About one mile to the east of the pathway, there's a short, 3-block section of Peck Avenue between 151st Street and Kissena Boulevard, in an incongruously built-up urban "oasis" smack in the middle of Kissena Park; you can see how it looks on this map as well as this Google aerial view. My guess is that the original property owners did not sell when the city was buying up property to create Corridor Park in the 1940s.
About another mile to the east, the longest uninterrupted stretch of Peck Avenue begins at Fresh Meadow Lane and proceeds east to the Horace Harding Expressway (LIE) along the south side of Kissena Corridor Park. The park makes an effective barrier for north-south as well as east-west traffic: only Utopia Parkway and 188th Street bisect it north-south and only 58th Avenue east-west. (See this map to see what I mean.)
Another stretch of Peck Avenue commences south of the LIE, bordering the Fresh Meadows housing complex to its south and PS 4 and the Holy Cow Playground to its north. Holy Cow Playground? "Holy cow!" was the catchphrase of Yankees All-Star shortstop Phil Rizzuto, especially in his long-running stint as TV broadcaster. Yet, it's rather incongruous to honor "The Scooter" here, as he was born in Brooklyn and played his high school ball at Richmond Hill High School, several miles to the south. Indeed, a park bordered by 125th and 127th Streets and Atlantic and 95th Avenues in that neighborhood was also named Phll "Scooter" Rizzuto Park.
Peck Avenue continues on to 199th Street at the western edge of Cunningham Park, where its association with Kissena Corridor Park ends. However, there are two other sections of this avenue that just won't quit further to the east.
There is a one-block section of Peck Avenue running from Richland Avenue and 215th Street to Bell Boulevard…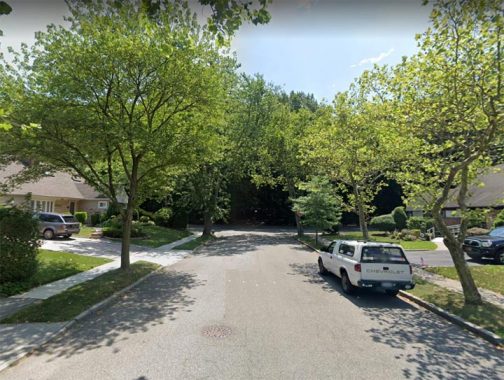 …and a final section running three blocks between Union Turnpike and Grand Central Parkway. There two sections, seen on this map, run along the right-of-way of the former Central Railroad of Long Island. Indeed a parallel street is named Stewart Road for the lines's builder, department store nabob Alexander Stewart, as mentioned above.
The Central Railroad's right-of-way, without Peck Avenue, can still be discerned in the Queens Village street layout to the southeast, running along 88th Avenue and 87th Drive between Hillside Avenue and Jericho Turnpike, and to this day the ROW has few streets traversing it — as if a railroad still ran there.
As it hasn't done since 1879!
Check out the ForgottenBook, take a look at the gift shop, and as always, "comment…as you see fit."
8/16/20