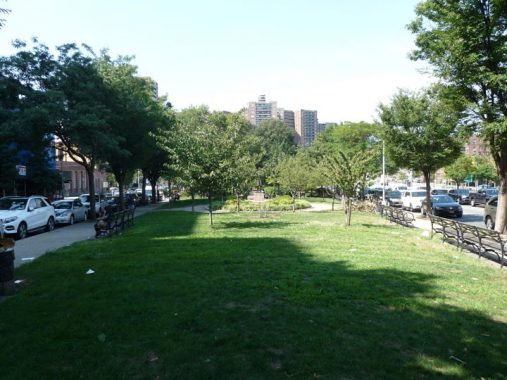 I was meeting my friend Vicki M. for lunch in Forest Hills and had exited the subway at the back end of the 71st/Continental Avenue station when I found myself in an area of Queens I hadn't been in, or paid much attention to before.
Between Yellowstone Boulevard and 70th Road, there's a substantial green space on the south side of Queens Boulevard, and a short, one-way piece of Queens Boulevard bordering it. It reminds me of another Queens Boulevard "offshoot," Hoffman Drive, a few blocks west at Woodhaven Boulevard, which is supposedly an unstraightened piece of the old "road to Jamaica" that became widened into Queens Boulevard after the construction of the Queensboro Bridge in 1909. I was actually surprised to find such a big swatch of green here, having rarely been in these parts.
Punctuating the space is a lifesize bronze sculpture of Captain Gerald MacDonald (1882-1929) who served in the Army Corps of Engineers, digging trenches and building bridges, buildings, and other wartime installations during WWI. He was born in Warrior Run, PA and died in Maine in a car accident, but spent several years in Forest Hills after the war. His brother Henry, a member American Legion Forest Hills Post 630, petitioned the Parks Department to commission a monument after Cpt. MacDonald's death, and his brother-in-law Frederic de Henwood's work was dedicated in 1934. The park itself dates to the early days of Queens Boulevard, in 1917, and was originally called Harvey Park.
Some notable buildings can be found along the Queens Boulevard spur south of the park. One is the Forest Hills post office branch at 70th Avenue, a Moderne building designed by Lorimer Rich in 1937, with red-brown terra cotta cladding with sculptures of Atlas (the Greek Titan who holds the world in place) and other mythological figures; there are a couple of Type B park lamps at the entrance.
Next door is the Forest Hills Jewish Center, another Moderne edifice, constructed in 1947. For several years, developers have had their eyes on the site, and the building is under the gun for demolition as local preservationist Mike Perlman explains in the Forest Hills/Rego Park Times.
FHJC's façade features stones from Jerusalem and a desecrated temple from the Holocaust, stained glass windows depicting the Burning Bush, and crab-orchard rock reminiscent of Jerusalem's Western Wall. 
Among the other significant features are the Holy Ark designed by Arthur Szyk, which resembles an ornate Torah breastplate.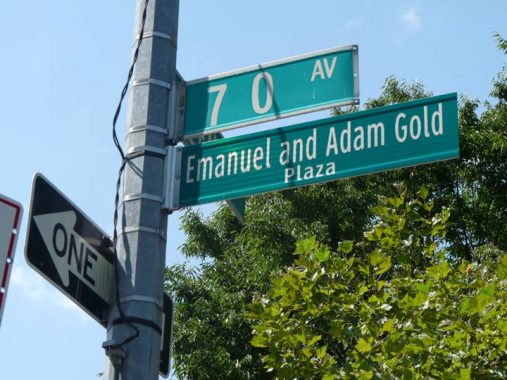 70th Avenue is subnamed here for State Senator Emanuel Gold, who served from 1971-1988, and his son Adam, who died at age 40 in 2012; the Senator died in February 2013.
High rise apartment house Gerard Tower, on Yellowstone Boulevard just west of Queens Boulevard, opened in 1965, and the short street in front of it is Gerard Place. I had wondered what came first, the building or the street?
This Hagstrom map excerpt from 1922 answers the question. That year, most of the roads in Forest Hills existed mainly on paper, though Forest Hills Gardens began construction in the mid 19-ohs. In fact the west end of Forest Hills was still called Hopedale. Named streets in alphabetical order radiated east from Queens Boulevard; all were subsequently numbered except for Jewel Avenue. Streets in Forest Hills proper (Austin, Burns, etc. were allowed to retain their names.
Gerard Place is shown running two blocks west of Yellowstone Boulevard. Today, it goes one block east of Yellowstone. Perhaps, when the apartment tower was built, its developers consulted the old maps and revived the old Gerard name.
Check out the ForgottenBook, take a look at the gift shop, and as always, "comment…as you see fit."
9/16/20