Nobody asked me, but…
Do the Jerome Avenues in the Bronx and Brooklyn have anything to do with each other? The Bronx Jerome Avenue runs for miles from the Major Deegan Expressway at Macombs Dam Bridge north, past Yankee Stadium to where it meets the Deegan again, at East 233rd and the junction of Van Cortland Park and Woodlawn Cemetery. For much of its route it is shadowed by the Woodlawn El, the #4 train. When western Bronx joined New York County in the 1800s, it was chosen to be the dividing line between East and West numbered streets, a duty fulfilled by 5th Avenue in Manhattan (and Broadway, south of 5th Avenue).
Meanwhile, Jerome Avenue in Brooklyn is a short trickle of a road, emanating from Sheepshead Bay Road and running a few blocks northeast until it meets Avenue Z.
I wouldn't bring it up if the two roads weren't closely related. Both are named for Leonard Jerome (1817-1891), wealthy financier and horse racing enthusiast. Jerome was born in upstate Onondaga County and after graduating Princeton, became a successful stock speculator, investing in railroads in which Commodore Cornelius Vanderbilt was a partner. For a time he resided in Brooklyn, but then built the Jerome Mansion at Madison Avenue and East 26th Street, which stood until 1967.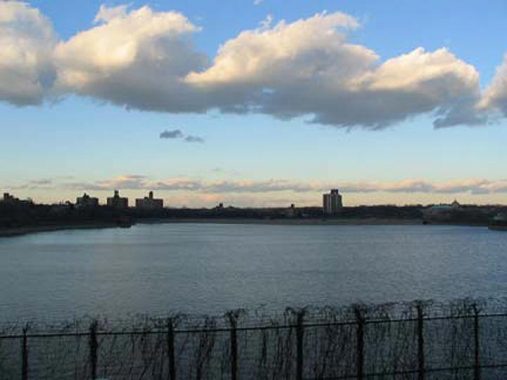 In 1866 Jerome purchased the estate of James Bathgate north of Fordham. He took on a partner, August Belmont Senior, and built the Jerome Park Racetrack, at which the first Belmont Stakes prize race was held in 1867. Jerome then financed a plank road at the cost of $375,000 that ran from the already existing Macombs Dam Bridge to the track. The tree-lined boulevard was named Central Avenue and then Murphy Avenue, but the story goes that Jerome's wife, Clarissa, demanded that the name be changed to Jerome Avenue and had several bronze signs with "Jerome Avenue" installed along the boulevard's length. Eventually the city capitulated.
After the Belmont had relocated to Nassau County, the Jerome Park Racetrack shut down in 1894 it was demolished and its replacement reservoir still carries the Jerome name.
Jerome Avenue, when originally constructed, was a wide, tree-lined boulevard. This northern stretch, running between Woodlawn Cemetery and Van Cortlandt Park, gives you an idea what it may have looked like originally. Its demeanor changed when the el began to clang and bang overhead in the 1910s, and the road became a rough and ready commercial strip. Its claim to respectability continues to be its status as the divider between East and West Bronx numbered streets, but even that leaves several streets with a very short western section and a lengthy eastern.
In Sheepshead Bay, Jerome Avenue was originally an unnamed road between farms, later called Voorhies Lane, but after the Sheepshead Bay Racetrack, a.k.a. the Coney Island Jockey Club and Race Course was constructed in the early 1880s, the road took the name of one of its most prominent backers, Leonard Jerome. Jerome Avenue then formed the southern end of the racetrack. In 1910 betting on the ponies was outlawed in NY State (it was legalized again later, of course) and all three area racetracks closed; housing and streets were laid out and no trace of them remains today…except for Jerome Avenue. Leonard Jerome became the grandfather of one of Britain's pre-eminent statesmen after his daughter, Jeannette "Jenny" Jerome married Britain's Lord Randolph Churchill; one of their two children was World War II Prime Minister Winston Churchill.
Jennie Jerome, who was born at a Jerome residence at 197 Amity Street in Cobble Hill, Brooklyn, worked as a magazine editor in an age when few "respectable" women worked, and had a tattoo of a snake around her left wrist, decades before it became fashionable for women to acquire them. There are persistent rumors that she had some Iroquois blood, but no Native American ancestry has been found despite the best efforts of genealogists.
This 1890 Kings County map excerpt shows Jerome Avenue as the diagonal line south of the Coney Island Jockey Club. Since paved roads were shown in purple, Jerome Avenue was an important route in its early days.
Jerome Avenue looking northeast from East 18th Street today.
Leonard Jerome is also remembered by a mausoleum in Green-Wood Cemetery in Brooklyn. He was originally interred at Kensal Green Cemetery in Brighton, England, where he died, but his remains were later moved to Green-Wood.
Jerome Street in East New York, Brooklyn, is also listed by Leonard Benardo and Jennifer Weiss in the reliable book Brooklyn By Name as having been named for Leonard Jerome. I'm not sure. There were no racetracks funded by Jerome in East New York, but the Union Course, which Jerome was not associated with, was a couple of miles to the east in Woodhaven.
Check out the ForgottenBook, take a look at the gift shop, and as always, "comment…as you see fit."
10/21/20