On January 1, 2021 I resolved to do exactly what I had done 4 years earlier in 2017, when I visited the four new Second Avenue Subway stations, walking between each. I then rode the new subway, which actually until further notice is a northern extension of the Broadway Line (Q train) up 2nd Avenue to 96th Street. I wanted to check out a brand new MTA facility. Today's trip, though, was a bit shorter.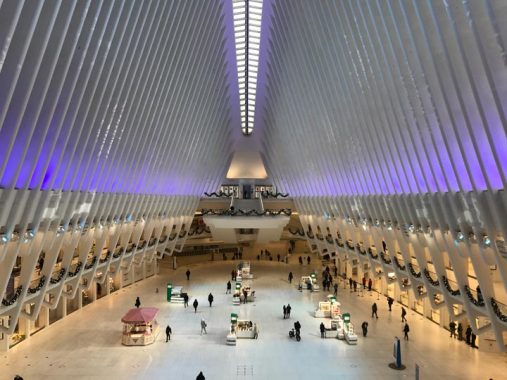 Both the MTA and Port Authority have been busy lately with new stationhouses and even the occasional subway extension, building the 2nd Avenue line; extending the #7 Flushing Line west and south to 11th Avenue and West 34th; rebuilding several stations along the 4th Avenue and Astoria Lines; constructing the Fulton Transit Hub; and the massive new Santiago Calatrava-designed Oculus at the World Trade Center serving PATH trains.
The next big ticket items, on line sometime this decade, will be East Side Access admitting LIRR trains into Grand Central Terminal as well as a complementary project in which Metro North trains will enter tracks under Penn Station and the new Daniel P. Moynihan Train Hall, discussed on this page. (The Oculus was borne from several grand transit ideas that would have extended LIRR trains to the WTC by extending the Brooklyn branch west across the East River, but those have not been realized.)
The Moynihan was carved out of the former General Post Office, which takes up two city blocks between 8th and 9th Avenues and West 31st and 33rd Streets.
First, I was surprised to see that the MTA has already cut the ribbon on its new East End Gateway Penn Station entrance at 7th Avenue and West 33rd. This is part of a greater project that will transform the Penn Station entrances on 7th and revamp the corridor beneath 33rd Street that primarily serves Long Island Rail Road trains, which most often use Tracks 16-21. Untapped Cities has renderings of what this project will look like when it is completed in 2022. Note that the King of All Buildings can be seen up the tubular escalator shaft.
Ultimately that corridor will be widened from 30 to 57 feet and the ceiling raised to 18 feet. I don't know what will happen to such corridor favorites as Rose Pizza and Soleman, but hopefully they will be allowed to return; they're being forced out while construction is under way. All this, as a noted philosopher might put it, is so much maquillage on a suine. The Moynihan gives Amtrak a shiny new renovated building; New Jersey Transit gets Amtrak's space under the big board at Penn; but here, the LIRR will stay.
This is the LIRR corridor in early 2021, with construction support girders making it ever more nightmarish for claustrophobes.
Here's what the exterior looks like for now; a side view is impossible for the moment because of construction sheds, but the steel and glass entrance/exit closely resembles the glassy cones designed for new access points of the 2nd Avenue Subway on the upper East Side. A larger glass and steel canopy is being planned for the adjacent main Penn station entrance a bit further south on 7th Avenue.
While the entrance "cone" is more or less 21st Century standard issue, I did enjoy these renderings of the metropolitan area in blue and white along the escalator walls. I haven't found the artist anywhere but Seele is the contractor.
To get to the Moynihan I walked through the heart of Penn Station, actually the basement level at #2 Penn Plaza, through the "big board" area. Until January 1, 2021 the boarding and ticketing area for Amtrak, its space will be given over to New Jersey Transit, which already had a fairly large space further south—meaning that NJT will have the most real estate within Penn. Overnights from 1 to 5 AM, Night Owl Northeast Corridor Amtrak trains serving points between Washington, DC and Boston will also board from here, as the new Moynihan will shutter during those hours.
Though Penn Station existed just 54 years (1910-1964) its complimentary building across 8th Avenue, the United States General Post Office, known as the James Farley Building since 1982, has had rather more staying power.
The McKim, Mead and White architectural firm designed the enormous James Farley post office, which opened in 1913, as a companion to Pennsylvania Station, just across 8th Avenue—which it has also designed. A monumental 20-column Corinthian colonnade stretches along 8th Avenue for 2 city blocks, which contains the unofficial motto of the U.S. Postal Service: "Neither snow nor rain … nor gloom of night stays these couriers from the swift completion of their appointed rounds." The phrase was first used by the Greek writer Herodotus to describe messengers employed by the Persians, located in today's Iran, during the Greek-Persian Wars that took place between 500 and 449 BC.
The 8th Avenue colonnade is complemented on 31st and 33rd Streets by many more Corinthan pilasters, or attached columns.
After several years of discussion and planning, the Post Office facility has been converted into Moynihan Train Hall, named for U.S. Senator from New York Daniel Patrick Moynihan, who championed the project. it's hoped that the Moynihan will also vastly improve access to the labyrinthine Penn Station, creating new entrances at the southwest corner of 33rd Street and Eighth Avenue and at 8th Avenue and 31st Street. Much of the building, however, will be dedicated to office space for Facebook, the social media giant.
I worked near the Post Office on two occasions, 1988-1991 and 2000-2004, but the building was largely a mystery to me, as most of it was closed off to the public as it was a mail-sorting facility handling thousands of pieces per day. A "Know NYC" stanchion on 8th Avenue affords anyone curious about the former post office photos of the interior when the USPS was running the show.
James Aloysius Farley was one of the first Irish Catholic politicians in American history to achieve success on a national level, serving as Chairman of the New York State Democratic Committee, Chairman of the Democratic National Committee and as Postmaster General simultaneously under the first two administrations of President Franklin D. Roosevelt. He was one of the first Roman Catholics to achieve national success; Al Smith had run unsuccessfully for President in 1928. He was a champion of civil rights in the 1920s, as Chairman of the New York State Athletic Commission, he unsuccessfully tried to integrate boxing, as after Jack Johnson's success, promoters colluded to keep African-Americans from challenging for titles. Later, he was CEO of Coca-Cola and helped spread the brand worldwide. [wikipedia]
A look at the side entrance to the postal window area on 31st Street, which have now-worn US flag escutcheons both here and on 33rd Street.
A look at the public area of the Post Office along 8th Avenue. The post office functions moved several years ago to the Morgan Processing and Distribution Center a few blocks away on 9th Avenue and West 29th Street. The public postal windows on the 8th Avenue side will remain as they have always been, with the remainder of the building converted to the Moynihan Train Hall as well as retail and office space. Facebook has signed a lease to relocate its headquarters in the building.
While much of it is obscured by construction, I noted that the marble and brass fixtures I marveled at when I used the Post Office when working around here are still in place and hopefully they'll be retained. Things seemed pretty much deserted on January 1, so I was able to scuttle about and get some photographs unbothered by security guards, which I later encountered at the Moynihan (see below).
The part of the building that remains in postal usage has a collection of USPS memorabilia on display. I regret that so much of it was obscured during my latest visit, but the link gives you a better idea of what it looks like. [Untapped Cities]
The construction of Penn Station and Farley Post Office were the subject of paintings Ashcan artist George Bellows, who depicted it as a smoky pit in the ground, a man-made canyon in the heart of Manhattan.
When Penn Station and the Post Office were built in the 1910s, railroads hadled the bulk of mail and parcel distribution in the United States. And the Post Office was built over railroad tracks that fanned out to every part of the country.
From the Facebook Pennsyvlania station group:
The Post Office at 8th Avenue had a series of conveyers that could send and receive mail sacks to and from any platform in Penn Station. A complicated series of overhead conveyers had baffles that were aligned by hand directing the outbound sacks not just to the correct platform but also to the correct end. At the end of each conveyer went to chutes that deposed the sacks, the bottom of the chutes could be switched to the correct track on that platform. When I started working on the PC we still had RPO trains running and the conveyers were still in service. [Philip Donnelly]
Traces and bits of these conveyors can still be seen from some Penn Station tracks.
The view from the steps was once the back end of Penn Station; now it's the rear of the hatbox-shaped Felt Forum, where the New York Knicks won their first of two titles in 1970 and the New york Rangers took the Stanley Cup in 1994.
A pair of iron sculptures by Joel Shapiro depicting "Dashing Dans" en route to the trains have been placed outside the 31st and 33rd Street access points on 8th Avenue.
The architect of the General Post Office, William Kendall (working for the McKim, Mead & White firm) included six tablets on the pediments on the 8th Avenue and 31st and 33rd Street sides that listed prominent names in the founding of the Post Office and the courier business in general. This one at 8th and 33rd features Cardinal de Richelieu and Pierre D'Almeras, who established a public post office and fixed delivery fees respectively in 17th Century France.
Andrew Hamilton of New Jersey, a lawyer who defended John Peter Zenger, was the colonies' first postmaster in 1694; in Britain, King Charles I appointed Thomas Witherings Postmaster of Foreign Mails in the 1630s.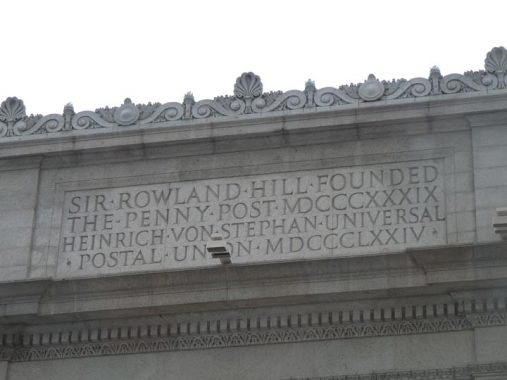 Sir Rowland Hill established the Penny Post in Great Britain in 1839, fixing the cost of postage at one penny throughout England, Wales, Scotland and Ireland. In Germany, Heinrich von Stephan established the General Postal Union in 1879, which coordinates postal policies among member nations; it is in the United Nations charter.
Occasionally, the dates, rendered in Roman numerals, are tough to figure out. BC DLX is simply 560 BC, or "before Christ." Today, to be religiously neutral, dates before the year 0 are called "BCE" or "before common era." Persian emperor Cyrus established a system of mounted couriers in ancient Iran. The Roman emperor Augustus founded a system of post roads between Rome and its provinces. A post road network was also built in the American colonies before the Revolution.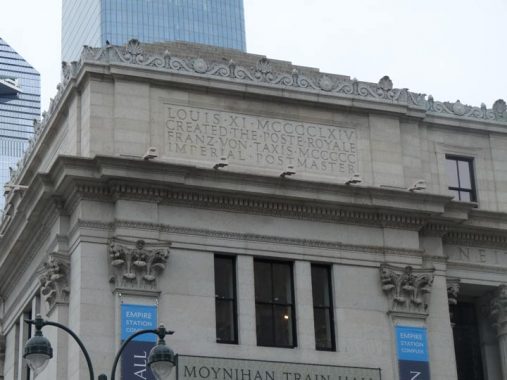 Louis XI of France instituted Europe's first national postal system, while Franz von Taxis established a postal link between France and the rest of Europe in 1490.
Thankfully most major exterior flourishes of the Farley were left intact when converting it into the "Moyn," especially the ironwork at the arched windows and the heavy lamp fixtures whose copper had made them verdigris green. They were repainted in the same color.
Just a couple more images before heading inside. This nondescript condo building on the NW corner of 9th Avenue and West 33rd was for decades the site of the Market and Cheyenne Diners, in two separate consecutive buildings. When I worked in the area from 2000-2004 this was one of my offsite "offices." The diner served cabbies and area workers, especially those in the General Post Office across the street for decades. Some friends and I closed down the Cheyenne with a flourish in April 2008. As you can see, towers associated with the Hudson Yards city-within-a-city project are rising behind it.
A nondescript door on the 9th Avenue side of the Farley leads to another public Post Office retail window.
Moynihan Train Hall
Entering the Moynihan Train hall from one of the 8th Avenue entrances, this one at 31st Street, things don't look overly impressive. However…
… you are greeted with a vast open space upon entering. The former USPS sorting room has been converted by architects Skidmore, Owings and Merrill (SOM) into a 92-foot heigh atrium with multi-paned skylights comprising an acre's worth of glass. The planners wanted to provide the ultimate in contrasts between Moynihan and Penn Station, which is located in a basement. However, sunlight does not extend down to the actual platforms and tracks as it did at the old Penn that was demolished beginning in 1963.
At the "Moyn," there are escalators to Tracks 5 through 16. An escalator transports passengers down to a passageway that accesses Tracks 5 through 21. As a rule (that is broken often) NJT trains use platforms 1-4, with the LIRR generally using 16-21. Amtrak and NJT trains can be caught anywhere from tracks 5-10; Amtrak, NJT and LIRR can all use 11-16. I once caught an LIRR back to Little Neck from Track 11, but that was a once time occurrence. Only Tracks 1-4 are inaccessible from the Train Hall proper.
See RR historian Andy Sparberg's note in Comments.
80,000 square feet of Tennessee marble comprises the hall flooring. The same quarries in the Volunteer State that were used for the floors in Grand Central Terminal were used here. And also like GCT, there is a central clock, an analog (with hands) designed by Peter Pennoyer Architects.
The overhead trusses are original to the 1913 General Post Office.
Nearly all the directional signage and track signage in the Train Hall is of the electronically lit variety, with computerized controls that makes them easier to change when the need arises. I was impressed by the big LIRR board that lists just about every stop in the system and when the next train to them would be leaving. I didn't have my sunglasses on, but LED signs of this type are notoriously tough to read with polarized sunglasses, but I imagine they're easier to maintain than their predecessors, the flippy boards.
There's a separate atrium with a different glass roof, this one curved…
This atrium is eventually supposed to contain a food hall with communal seating, including some exterior seating at 33rd Street and 9th Avenue. However, on 1/1/2021 they were represented only by artist renderings and a list of what will eventually be available; as long as Covid is running the game, the food hall will remain a concept only.
A Starbucks Coffee on the main floor has already opened. One thing you notice: there isn't anywhere to sit, except for ticketholders (see below).
The food hall atrium is located a level above the main floor, accessible with a grand staircase and escalator. If you're curious, yes, restrooms are located on both levels.
There are very large illuminated message and advertising boards, as well as "ticketed waiting rooms."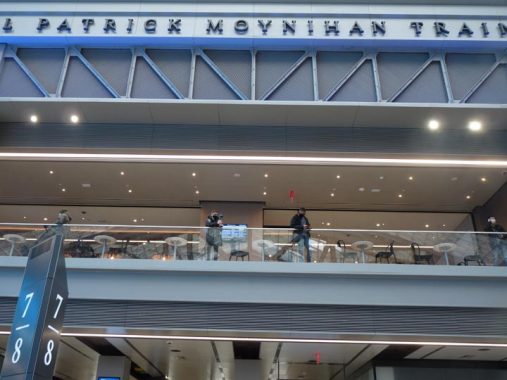 I found out quickly that there are people, and there are other people. After straying a few inches into one of the "ticketed waiting rooms" with soft seats, I got the familiar "can I help you" from a security guard, and I confirmed with an agent that even on opening day, only ticketholders have access to much of the upstairs level. I was permitted, however, to aim my camera upward at the privileged ones. Coming early on in my explorations, this bit of nastiness made me a bit uncomfortable.
This photographic tableau pays tribute to the old Penn, and its destruction—which, after 40 years, prompted the conversion of the General PO into Moynihan Train Hall.
Another look at the main floor, which I'll be returning to: today was a bit overcast, and I'd like to see it in full sun, as well as at night when it is lit up in a rather purplish theme.
This escalator brings passengers down to the bridge on the west side of Penn Station that provides direct address to tracks 5-21 and a passageway to Tracks 1-4. This opened a few years ago (it's actually a remodeling of a pre-existing bridge) and since I get off my train to Little Neck in the rear end, I wait for my trains most often here. The signage still looks temporary, and I'm wondering if they intend to install something more permanent-looking.
I'm quoted in this Newsday article as saying that the $1.6B they spent here might have been better spent on building tunnels and platforms, but I've since been told that the money doesn't come from the same source, etc. Quibbling aside, I'd like to see new Hudson and East River tunnels prioritized.
More on the Moynihan Train Hall from the reliable Curbed and Untapped Cities.
Quibble away in Comments! And check out the ForgottenBook and take a look at the gift shop.
1/3/21