10th and Broadway in Williamsburg? You might think these signs would be found in the Union Square area, where East 10th and Broadway do intersect (at Grace Church, one of the more gorgeous representatives of the species in NYC). If we're restricting ourselves to Brooklyn, Broadway runs through Bedford Stuyvesant and Bushwick for the most part, while 10th Street is in Park Slope. So what's going on here?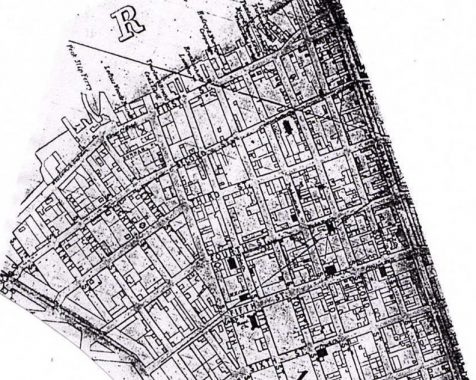 North-south Williamsburg streets were originally numbered beginning at the East River: thus, Kent Avenue = 1st Street; Wythe = 2nd; Berry = 3rd; Bedford = 4th; Driggs = 5th; Roebling = 6th; Havemeyer = 7th; Marcy = 8th; Rodney = 9th; Keap = 10th; Hooper = 11th; and Hewes = 12th. I can't pinpoint the date in which the streets gained their current names but the switch was made by 1890. Several buildings over a century old are still standing, and many still carry the old number names on various chiseled signage.
As stated, 10th Street is now called Keap. In Williamsburg and Bedford-Stuyvesant, a number of streets are named for various signers of the Declaration of Independence…
Not every signer is represented, but most are. Ben Franklin, George Clymer, George Taylor, James Wilson, John Morton, and George Ross of Pennsylvania; Caesar Rodney of Delaware; William Hooper, George Hewes and John Penn of North Carolina; Edward Rutledge, Thomas Heyward Jr., Thomas Lynch Jr., and Arthur Middleton of South Carolina; George Walton of Georgia; Elbridge Gerry of Massachusetts; Josiah Bartlett, Matthew Thornton and William Whipple of New Hampshire; Stephen Hopkins and William Ellery of Rhode Island; Richard Stockton and John Hart of New Jersey; George Wythe, Richard Henry Lee (or Francis Lightfoot Lee), and Benjamin Harrison of Virginia… all have named streets in Williamsburg or Bedford-Stuyvesant named for them. John Adams, John Hancock, Francis Lewis, Thomas Jefferson, and Charles Carroll have named streets in other Brooklyn neighborhoods.
Some are missing: Rush Street (Benjamin Rush of Pennsylvania) was lost to urban renewal in the 1970s…Gwinnett Street (Button Gwinnett of Georgia) was absorbed by Lorimer Street in the 1800s; and then there's McKean Street, named for Thomas McKean of Pennsylvania…
Of course, there never was a McKean Street.  The street is actually named Keap Street; a long-ago administrator or mapmaker mistook a handwritten transcription as being "Thomas M. Keap", and not being a student of history (to be fair, can you name more than five signers of the Declaration?) misnamed the street, which has never been renamed.
If we further look at the 1850 Dripps map, we can see that South 7th Street is no longer on the current map; it's now a western extension of Broadway. Then as now, Grand Street serves as a buffer between North and South numbered streets. A close look reveals Dunham Place, which was on the map in 1850 and is still there today.
Check out the ForgottenBook, take a look at the gift shop, and as always, "comment…as you see fit."
2/3/21