In November 1964 the old man was lined up for one of the first buses to cross the Verrazzano-Narrows Bridge from Brooklyn, and presumably I was with him as I also crossed the bridge that day. I didn't think much of this particular photo in the batch, but a closer look reveals several infrastructural details.
For one thing, there's a green and white "old look" General Motors bus at the stop. In 1964, they were sharing the road with GM "fishbowl" buses, named for their large glassy fronts, that first appeared in 1959. The "old looks" appeared in 1948 and were manufactured by GM and boxier ones by Mack (which I preferred). The "old looks" could be spotted on NYC streets as late as 1971 in Staten Island, and "fishbowls" ran until the early 1980s.
Readers have pointed out that the bus is a Mack, though I couldn't tell, myself.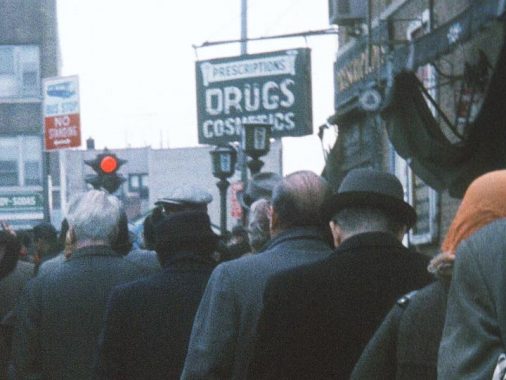 You can also see how signage has changed since 1964. The bus stop signs were relatively new and showed the "fishbowl" in the art. Bus stop signs today are circular-shaped and mounted on poles that also, until recently, showed the route and the schedule; today, you need a mobile phone app to see the schedule.
In 1964 and for several years after that, buses took a convoluted route to the bridge from here, running on 95th Street, Fort Hamilton Parkway, 92nd Street to the bridge ramp; returning here, it used 94th. Today, buses run to the main shopping street, 86th, and use 4th Avenue and 92nd.
In 1964 there were still hundreds if not thousands of "olive" stoplights on street corners. They were sued to control traffic at moderately trafficked intersections and employed only two lamps, red and green; the caution "amber" light was indicated by turning on both red and green lamps at once. Beginning in 1962, the city began painting stoplights yellow, but this didn't become universal until 1965.
In 1964 there was a drugstore on the corner of 4th Avenue and 95th and there was a neon sign appended from a metal mast. Today, the Fort Hamilton Diner occupies the space, and its sign still uses the same metal mast.
Subway indicator lamps were different in 1964. Today, they are red and green globes (red for exits only and green for entrances open 24/7; with the Covid Pandemic, 22/7. Then, for both the IRT and BMT, there were multi-paned lights with green stripes for the BMT and blue for the IRT.
Lastly, we see Bell Telephone sign, with a bell on the art, indicating a public pay phone within.
Check out the ForgottenBook, take a look at the gift shop, and as always, "comment…as you see fit." I earn a small payment when you click on any ad on the site.
3/30/21