I've always wanted a job in the MTA Sign Shop in Crown Heights, Brooklyn. That's where every sign that you see in the subways is produced. I'm unclear whether street and highway signs are made there, as well, but if I only worked on the subway signs, I'd be a happy boy. I've never seen a job opening for it on the job sites such as Indeed or LinkedIn, and I figure it's a job you acquire by knowing a guy what knows a guy (I've gotten those kind of jobs myself, most notably a freelance stint at Tiffany & Co., working on their website and mailings, a few years ago). I figure I'd be a natural because I can identify a font by one or two characters, know how to spell most place names in the city, and have worked in the print biz for decades. But we all know that being qualified for a job is not how you get one.
I have written about the "Rowan Street" signs at the 65th Street station on the M/R trains in Queens before, but since I was staggering down Queens' Broadway after picking up some light bulbs at Home Depot on Northern and was walking back to the LIRR, I decided to pop in and see how the Rowan Street signs are doing. They're still there! The question is, why are they there in the first place? Two words: tradition and inertia.
In this 1915 map, I've highlighted the portion of Rowan Street that became 65th Street when Queens streets got a comprehensive numbering system in the 1920s. Before that, different sections of Queens had their own numbered streets, which confused things mightily for the Post Office. Astoria had its own numbers; Jackson Heights had its own numbers; and Woodside did, too, as Rowan Street was also known as 12th Street (I think before it was Rowan, it was 12th). On this map, Rowan was an Avenue.
This particular neck of the Woodside was sparsely populated in 1915. You can see that by the lack of small yellow or purple squares: those are buildings. Roosevelt Avenue was brand new in 1915, and the elevated train, today's #7, that covers it opened between 1915 and 1928. The E and M didn't open the 65th Street station until August 1933 and the entire line out to 169th Street not until 1937, with an extra station at 179th appearing in 1950.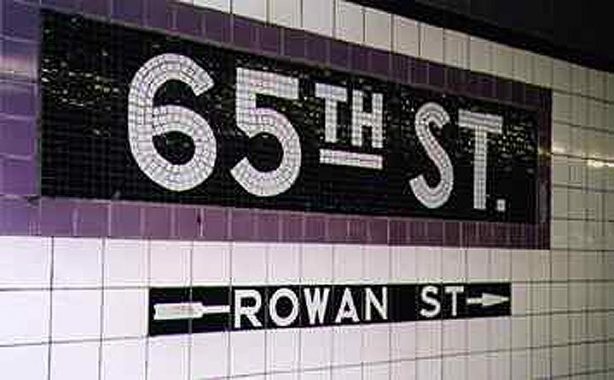 When subway lines were built, occasionally planners deliberately left archaisms in the signage. Why? In the 1920s and 1930s, there were still a great many oldtimers around who still knew the numbered streets by their old names and referred to them that way. Long after those oldtimers had disappeared from the scene, these old names stuck, mainly because of inertia, and the subway signs with the old names outlived the streets where they had been placed for decades. It was just recently that the Astoria Line lost its names when the stations were renovated and new signage added. In Sunnyside, the MTA proposed removing the Rawson, Lowery, Bliss and Lincoln names from the 33rd, 40th, 46th and 52nd Street stations, but an outcry by locals steeped in their tradition prevented it, and today, signs have both the name and the number.
At 65th Street, the original "Rowan Street" signs have stood the "test of time" likely by pure inertia because everyone who knew the street as Rowan is long gone. In the station's mezzanine, a sign at the staircase going to the eastbound local advertised "To Jamaica and Rockaway." To Jamaica you could go, but Rockaway service was going to be in a "Second System" Independent that was never built as Depression and WWII prevented it. The sign was covered about 20 years ago (as of 2021).
Why the new Rowan Street sign at the staircase going to the north side of Broadway? That's likely a case of inertia as well. No doubt the employees in the Sign Shop know their stuff when it comes to assembly and printing techniques, but they don't know the map of Queens the way I do, and most don't know there hasn't been a Rowan Street since the 1920s. Thus the order came in because there was older "Rowan Street" tilework, the sign was produced and affixed in place, where it remains today.
Check out the ForgottenBook, take a look at the gift shop, and as always, "comment…as you see fit."
3/22/21