As many Forgotten NY fans know, I'm attracted to the odd roads that defy the grid, because often they point the way to preexisting roads that existed in the past. There is a short road in Forest Hills, just south of the Horace Harding (Long Island) Expressway, that fits this bill exactly. Until a few decades ago, it was joined by a second road that also was a trace remnant of a road that was never built.
Apex Place runs for two blocks, going northeast from Yellowstone Boulevard to 62nd Drive west of 108th Street. If you look at the map, there's also something odd going on with 63rd Road, which sort of meanders up and down and is not laid out straight like its brother numbered Forest Hills streets. That's usually a tell tale sign of a road that's older than the ones surrounding it.
Here's an excerpt of a 1909 map of the area, which was them mostly empty, though parceled out into properties that may have been used for farmland. A waterway, labeled Mill Creek on the map but was likely part of Horse Brook (which has since been redirected underground) passes through the center of the map. The street grid to the northeast was developed fairly early on as Corona Heights and is still in existence today.
It's the road at the bottom, North Hempstead Plank Road, that interests us here. It originated at Hoffman, now Queens Boulevard at today's 63rd Drive and Junction Boulevard and meandered east, crossing Flushing River at Strong's Causeway, which remained the most prominent river crossing until Jewel Avenue and the LIE were built to cross the river and Flushing Meadows (to this day there are relatively few crossings). East of the Flushing River, the road continued east as the North Hempstead Turnpike until that road was renamed in the 1960s as Booth Memorial Avenue, which commemorated a former hospital named for the founder of the Salvation Army. In Forest Hills, the route of the North Hempstead Plank Road exists today…as part of 63rd Road.
Why North Hempstead? It's the name of a town in Nassau County. Before 1899, though, it was in Queens County; along with Hempstead and Oyster Bay towns, North Hempstead broke away from Queens to become Nassau County that year. Roads that didn't necessarily enter the town of North Hempstead, but got you to other roads that did, bore the name, or used to.
Meanwhile, a bend in the road on its way to Strong's Causeway still exists today as Apex Place, which it's been called since at least the surrounding streets were numbered in the 1920s. "Apex" means summit, or top of the field, and may have been lobbied for by real estate interests.
Here, Apex Place branches from Yellowstone Boulevard north of 63rd Road. There's a small, fenced-off triangle of green formed by Yellowstone, Apex and 63rd Avenue, which may be a play area associated with a nearby synagogue. Note that it's not accompanied by sidewalks, a trace of the original North Hempstead Plank Road's rural route.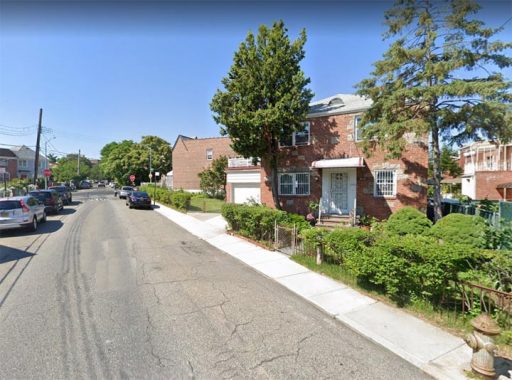 The house on the right, #62-16, is the only address on Apex Place; all the others have 62nd Drive or 63rd Avenue addresses.
Apex Place, the former North Hempstead Plank Road, as seen from 62nd Drive.
There is a second short road in the area that was once part of a longer road, or rather, there had been. Yellowstone Boulevard runs on a complicated path from the LIE south through Forest Hills, meeting Queens Boulevard at Jewel Avenue in the heart of the neighborhood. It then takes a severe southwest jaunt, eventually meeting Woodhaven Boulevard at St. John's Cemetery. West of Queens Boulevard, it overlays a colonial route, originally called Whitepot Road. However, north of Queens Boulevard, it was laid out in a gently curving path; I imagine developers once thought of it as a wavy, tree-lined road plied by carriage horses. The Yellowstone name doesn't seem to have anything to do with the western park of the same name.
At 64th Road, Yellowstone Boulevard was originally going to jog northeast; but that section was never built except for a small piece between 64th Road and 64th Avenue, which was eventually named Aero Place, possibly in honor of nearby Glenn Curtiss Field, later LaGuardia Airport. Yellowstone Boulevard, meanwhile, assumed the route of 105th Street, running directly north to Nassau Boulevard, now the LIE.
Both Apex and Aero Places are marked on this 1949 Hagstrom map.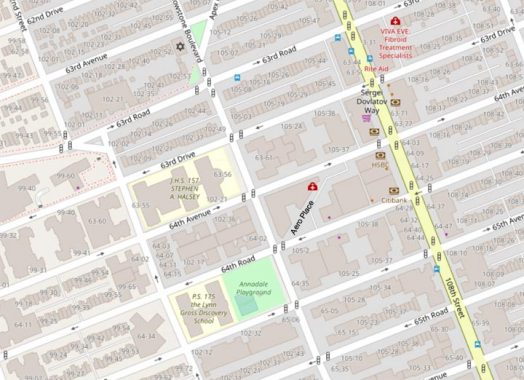 While Aero Place is long gone from the map, its position can be derived from the shape of the building along the old property line at Yellowstone Boulevard and 64th Road…
…as the building here had to be constructed to legally adhere to the slanting property line.
Aero Place has been replaced by a parking lot…that still conforms to its old path, now between an office building and a shopping mall.
You never know what you'll find on old maps…
Check out the ForgottenBook, take a look at the gift shop, and as always, "comment…as you see fit." I earn a small payment when you click on any ad on the site.
4/15/21