There is a small cluster of streets south of the Fort Hamilton Parkway border with Green-Wood Cemetery between 36th Street and Dahill Road, where the streets have four women's names (or sound like women's names) Minna, Tehama, Clara, and Louisa.
This set of streets has nothing to do with the rest of Brooklyn's map: Louisa, Clara, Tehama and Minna Streets. Perusing older maps, you see that 12th Avenue was extended east through the region to meet Dahill Road.
An earlier comment on a FNY Kensington page says "Minna, Tehama and Clara, along with Clementina Street (now 12th Ave.) originated on an 1868 map of the Martense Farm. The now-vanished Clementina Street survives in San Francisco, right near the others. Intersecting the "daughter" streets is Chester Avenue (possibly a son?), and Martense Lane (now 36th Street) was the farm's southwestern boundary."
(I have yet to find any maps showing Clementina Street instead of 12th Avenue, but 12th does take a jog at 36th before continuing west into Borough Park.)
Thus the "girls" were either named for the daughters of an early Dutch settler named Martense (36th Street is the former Martense Lane) or those of a mid-19th Century landowner.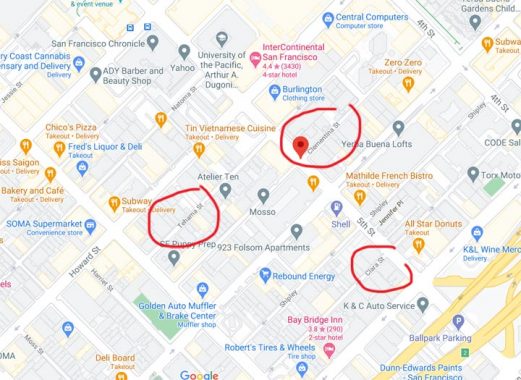 Here's the transcontinental mystery. There are streets in the South of Market district in San Francisco that match three of the names: Clara, Tehama, Clementina. "Tehama" is hardly a common name, so how did it turn up in San Fran, a few blocks separate from Clara and Clementina, which accompany it in Brooklyn?
Comments is open for theories.
Check out the ForgottenBook, take a look at the gift shop, and as always, "comment…as you see fit." I earn a small payment when you click on any ad on the site.
4/8/21