Teddy's is a Williamsburg institution that has been here since 1887. A vintage stained glass sign for Peter Doelger's Extra Beer is on the Berry Street side. The Doelgers operated a brewery here from the 1880s until the Depression years. According to Steve Redlauer and Ellen Williams in The Historic Shops and Restaurants in New York, in 1889 Matilda Doelger, the daughter of the owners, married a boxer named John West (of whom the family didn't approve). The Wests had 4 children, one of whom, Mary Jane, entered showbiz in her pre-teen years, and you know her better as Mae West. I don't know if that story is apocryphal or not. West also is purported to have a connection to Neir's Tavern in Woodhaven, since she lived nearby for a while.
Teddy's is so gorgeous on the exterior, especially that Doelger's sign, that I always mean to go in, but I'm always on my own when I pass it, and I generally don't drink in bars or eat in restaurants alone, so I never enter it. I've been in Teddy's just once, on an unsuccessful pre-Forgotten NY (and pre-Williamsburg "renaissance") blind date in the mid-1990s — we had just taken a tour of the Brooklyn Brewery nearby on North 11th and went to Teddy's afterward. When I went on blind dates back then, unfortunately little interest was generated on either side, though I did find the president of the Robyn Hitchcock fan club and we did see each other for a few months. We reconnected via Facebook a few years ago, and she has been on one of the tours. I will return to Teddy's one of these days.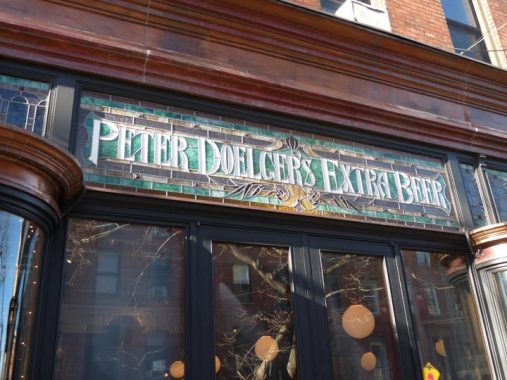 The Doelger window may be one of the earlier instances of "privilege signs" in which a company paid for signage provided their name be mentioned on the sign. You can see this often around town with Optimo Cigars or Coca Cola. The sign was installed in the 1910s.
As always, "comment…as you see fit." I earn a small payment when you click on any ad on the site.
6/24/21