A lot of Queens posts this week…what can I say, that's where I've been lately. Don't worry, there's plenty of material "in the can" for the four other boroughs which will be presented for inspection soon. I just noticed that on both Google Maps and Open Street Map, there's an alley called Wells Place that I had never heard about before, or seen on any other maps.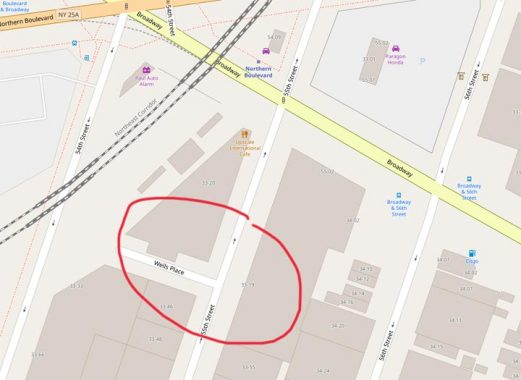 Here's an Open Street Map excerpt. We can see the alley Wells Place on 55th Street in Woodside, just south of Broadway and north of 37th Avenue…
And here it is, too, on Google Maps, which has stepped up its game lately with house numbering and true representation of lanes at complicated intersections. Wells Place is shown there, too.
As you can see on the title photo, Wells Place looks like a standard issue private driveway, with a gate and a fence protected by barbed wire. On Google Maps, it's between Liberty Auto Glass and Business Class Limousines.
So what's going on?
Well, let's consult a 1909 Bromley atlas of the area. While much of Woodside was still empty territory, this particular region had already had streets laid out, with its own set of numbered streets. 55th Street was then called 2nd Street, Northern Boulevard was called Jackson Avenue, and Broadway had not yet been extended through yet and wouldn't be till the IND subway was built decades later.
And… there's Wells Place. No doubt it was a real street then, and it wouldn't become a driveway until decaces in the future.
No doubt, mapmakers in the present (and how I would dearly love to be on the Openstreetmap or Google Maps reserch staffs) consult old maps, and this just proves that they sometimes go a long way back in their research.
But calling an active driveway a street that stopped being a street decades ago is a bit of a stretch, no?
As always, "comment…as you see fit." I earn a small payment when you click on any ad on the site.
6/17/21