I was recently wandering around in Ridgewood for the first time in several months with the intent of getting new photos of its obscurities, which are numerous: I'll enumerate them on an upcoming page, it is hoped, but I can't resist dedicating a page to one of the obscurest alleys, Kleupfel Court, in all of New York City, which is now in the center of one of the city's new Landmarked districts, in Central Ridgewood.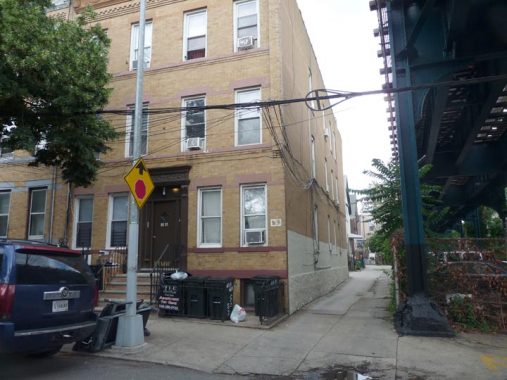 Kleupfel Court is a dead end on 60th Place south of Putnam Avenue alongside the right of way of the elevated M train, which here is near the Fresh Pond Road station. In NYC, unlike Chicago, elevated trains were built above streets for the most part and don't have their own rights-of-way unlike Chicago, so that in itself is an anomaly.
The Department of Transportation does not mark Kleupfel Court with a street sign, though it has in the past.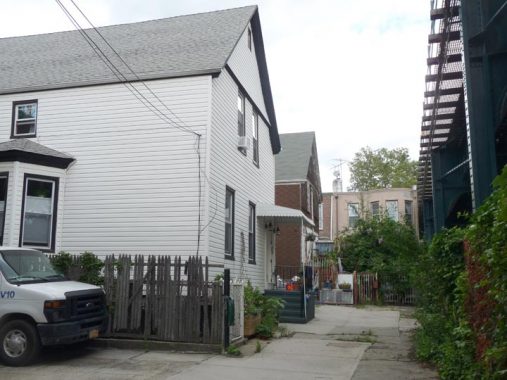 Two residences stand on the court, facing the elevated. The Central Ridgewood LPC report (page 531) says they have been moved here from elsewhere and date to about 1910.
Looking west on Kleupfel Court. The alley is wide enough to admit vehicles and it's a tight squeeze. The alley is paved as if it was a sidewalk, not a roadway.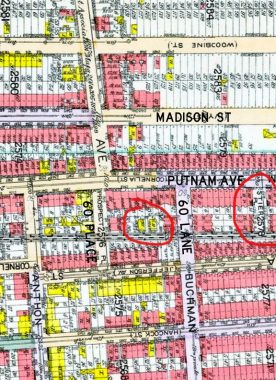 The history of Kleupfel Court can be inferred on this 1915 map. This section of Ridgewood was built out with streets that were extended east and northeast from Bedford-Stuyvesant in Brooklyn, so you have names such as Putnam Avenue and Madison Street. But that is complicated, as these streets also bore other names such as Cornelia and Ivy. This area in Ridgewood also borders an area in which every street is seemingly numbered 60, yet here, some streets were numbered, and some weren't. Prospect Place became 60th Place, Buchman Street became 60th Lane. Stier Place, named for area developer Paul Stier, has kept its name.
I have circled the two buildings on Kleupfel Court, which is otherwise unmarked here and so it can be inferred that the court got its name after 1915. I have an earlier map from 1909 in which this area was depicted as empty and belonging to the ring family, which also built Ridgewood housing. In 1915, the two buildings faced a surface railroad that would not be placed on an elevated bridge until the late 1910s.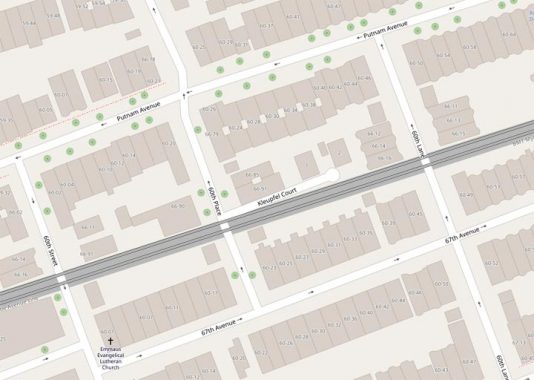 Both Open Street Map and Google Maps dutifully show Kleupfel Court. The two houses are numbered 1 and 2 and don't use the hyphenated Queens house numbering plan.
Ridgewood was overwhelmingly German-American during the early 20th Century, and Kleupfel Court was likely named for an early resident.
As always, "comment…as you see fit." I earn a small payment when you click on any ad on the site.
7/6/21