To me, it's amusing that while many office buildings do not have 13th floors, the devisors of numbered street grids in Manhattan and Brooklyn have never had problems with the number 13; Manhattan has an East and West 13th Street, and even once had a 13th Avenue (it's being reconstructed, as part of a park) and Brooklyn has a 13th Street in Park Slope, an East 13th (Argyle Road stands in for it in Prospect Park South) a West 13th Street in Gravesend, and a Paerdegat (which rhymes with scaredy-cat) 13th in Canarsie, not to mention a lengthy 13th Avenue in Dyker Heights and Bensonhurst. I may have forgotten one or two.
On a sparkling spring day, I was wandering around in the Gowanus and Park Slope areas when I walked up 13th Street as part of a longer journey, so I'll include that part today. To get there, I took the F train to 4th Avenue, walked 10th Street to 2nd Avenue and then straight up 13th. No safes fell on me and I emerged unscathed. The "unluckiness" of 13 seems to go back to Judas Iscariot, the betrayer of Jesus, who some say was the 13th apostle (Jesus was crucified on a Friday, making the combination of the weekday and the date especially unlucky); in the Norse myths Loki, the creator of mischief and destruction, crashed a party at which the 12 "nice" gods were in attendance.
I fear this post will be heavy on photos over text, but I need a break!
I have written about it before but to me, the 4th Avenue station is the crown jewel of the Independent Subway. Built in 1933, it takes the form of an arch span over 4th Avenue. It has much to offer the rail buff and even a New Yorker with the slightest grasp of architectural enthusiasm, with patterned brickwork, exposed girders, railroad signals, tiled signage and more. The illuminated signs at the entrances take the form of pencils. The windows on the arch span used to be clear glass, but were painted over in the 1970s when feral youths insisted on breaking them. They remained painted over until a rehabilitation job that took over a decade restored light, but in the form of opaque plastic; you can't see through the panes, but they do allow sunlight in.
Just east of here, the IND goes into a tunnel, under the "slope" in Park Slope.
I liked #284 10th Street, just off 4th Avenue. The owner of the three-story brick walkup has painted it bright yellow. This was done recently (as of 2021) as a Street View from 2020 shows.
Since the early 1930s, residences 0n 10th Street between 3rd and 4th Avenues have faced the IND Viaduct. There has been talk about making the space underneath the viaduct, now mostly used for equipment storage, into a public park (and indeed I recall basketball courts on 3rd Avenue between 9th and 10th Streets as a kid) but that seems to have gone nowhere to date.
The IND viaduct rises to a full height of about 90 feet as it crosses the Gowanus Canal, to allow the occasional tall-masted vessel to pass. These very high trestles over 2nd and 3rd Avenues are relatively unremarked-upon, but along with the brief section above Smith Street, they're the only IND els in the city. In the 1930s and 1940s, the IND was going to build a Second System that would have included some elevateds, and it's fun to speculate the supports would have been concrete-clad, as they are here. A depression and WWII intervened and teh Second System plans gathered dust.
Second System map from Vanshnookenraggen (you can download the PDF to zoom in for detail)
The Pink Moon is a customizable "event space" on 3rd Avenue and 10th Street; I can't help but wonder if the owners ever heard of the late British folk singer Nick Drake: "Pink Moon" is one of his more anthologized songs, as it was used in a Volkswagen commercial.
For decades, 3rd Avenue (as well as 2nd Avenue) have been dominated by contractors, manufacturers, and repair shops, with residences mixed in, between Flatbush and Prospect Avenues; there's a nondescript stretch beneath the Gowanus Expressway south to 65th Street. Only south of that does 3rd Avenue come into its own as a commercial stretch. Things were somewhat livelier until 1940 on 3rd Avenue under the elevated train, which had sidled over from 5th Avenue, but the el demolition followed by Gowanus Parkway construction (the parkway was converted to a full expressway after the Verrazzano Bridge was built) ended that.
I have rarely been on 2nd Avenue in its stretch between 6th Street and Hamilton Avenue; not much to attract interest. There is the occasional wall mural , Lowe's hardware storage facility and spray-nozzle manufacturer…
…but 2nd Avenue does have its moments such as this landmarked building at 2nd Avenue and 13th Street, the Montauk Paint Manufacturing Company Building, constructed in 1908 and designed by Garabed George Heghinian. Just the kind of relatively simple brick construction I most enjoy. The paint manufacturer remained in the building until the 1930s.
And, there's the Gowanus Canal's area's only remaining illuminated neon sign for Bruno Truck Sales. The business was formerly located in the one-story building on whcih it is mounted, now a NYC Sanitation Department office. Formerly, it was joined by super-tall neon signs for Eagle Clothes and Kentile floors, the better to be viewed from the IND el and the Gowanus Expressway; all of these businesses are defunct.
I found this bulletin board in a window on 2nd Avenue, and am still trying to figure out what it says.
Turning onto 13th Street, here are a pair of handsome brick buildings , #126 13th and #147 3rd Avenue on the corner of 13th. At one time they were factories but are mixed-use these days.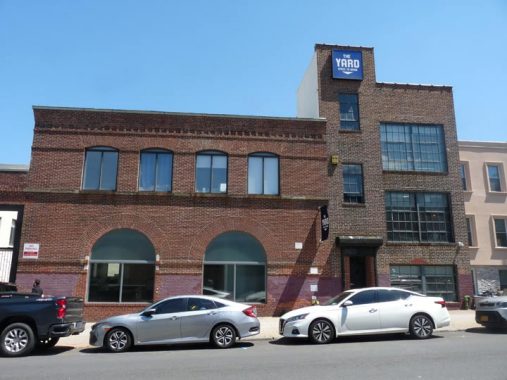 What is probably a former factory at #157 13th Street is now The Yard, another of the shared-workspace facilities so popular these days. It has an open inner courtyard, hence the name.
Midblock between 3rd and 4th Avenues it's as if a switch was flipped and 13th Street becomes tree-lined and residential, some exposed brick dwellinsg and some that have been aluminum-sided.
#188 13th Street, a two-story frame house with a porch, looks much the same as it did in 1940 and likely decades before that.
Across the street at #167 is an example of the new architectural philosophy in residential housing. Yes, #167 is across the street from #188; house numbering is "off" like this in many parts of Brooklyn, and there's an instance or two of house numbering that is actually retrograde.
A pair of corners at 4th Avenue and 13th Street. Can #512 4th Avenue survive the gentrification high rise onslaught? We shall see.
PS 124, a K-5 elementary school otherwise known as the Silas Belden Dutcher School. Cherub heads appear over the three arched front entrances. Dutcher was State Superintendent of Public Works in the 1880s, when the school was presumably built. Dutcher sported one heckuva set of sideburns. He was appointed to the post by Alonzo Barton Cornell. they just don't hand out names like Silas Belden Dutcher or Alonzo Barton Cornell anymore. "You can call me Ray…"
The brick 3-story attached buildings I call the "bread and butter of old Brooklyn residential housing" are seen here between 4th and 5th Avenue, as well as some slant-roofed dwellings likely from 1880 give or take a year.
Holy Family Roman Catholic Church, 13th Street between 4th and 5th, merged with the larger St. Thomas Aquinas Church at 4th Avenue and 9th Street several years ago, and I'm not sure its church building is in use anymore (help me in Comments). There's a lot of terrific stonework, including the symbols of the four traditional Gospel authors, Matthew, Mark, Luke and John (angel, winged lion, ox and eagle).
Sometimes it seems (to me at least) that the side streets of Park Slope, Prospect Heights, Bed Stuy) are an unremitting line of brownstones. These are beautiful buildings, and most are well kept by their owners…but it can get a bit same-y.
However, 13th Street still has an interesting stock of wood frame buildings, which, as a rule, predate the brownstones. Such houses can be seen primarily in Park Slope and Fort Greene and are occasionally painted in bright colors by their owners. An entire website is devoted to them.
A few more of the genre, between 6th and 7th Avenues. Even though some have been aluminum sides, you can tell by their outside contours that they predate other buildings on the block.
Seen here is the former Ansonia clock factory, which takes up almost the entire block between 7th and 8th Avenues and 12th and 13th Streets.)
Ansonia was founded in Derby, Connecticut in 1851 as a subsidiary of a brass business run by Anson Phelps in the Naugatuck River valley. Ansonia shelf clocks are still very collectible today, with their expert craftsmanship and accurate timekeeping: the firm's clock cases were made of mahogany, rosewood, and other quality materials. Ansonia moved to Brooklyn in 1879; their original factory there burned down immediately, but the second is still here on 7th Avenue between 12th and 13th Streets.
Active clock production at Ansonia Clocks ended about 1930, whence the machinery was sold off to a Russian manufacturer. For some decades, the factory has been divided into apartments and renamed Ansonia Court.
The Factory stopped being a factory in the late '70s, and bohemian types, musicians and artists, started renting loft space. Then, to everyone's amazement, The Factory was converted to condos in the '80s and renamed Ansonia Court. I'd say more than half the guys I hung out with in The Factory are dead now, some lost to street violence, some to drugs, booze, cancer and war.
But last week, as I stood under the big clock of the Williamsburg Bank Building, 40 summers later, I learned they were getting $800,000 for two bedrooms in The Factory, and I just had to close my eyes in the warm July sun and shake my head and laugh. Denis Hamill
It's probably a lot more now!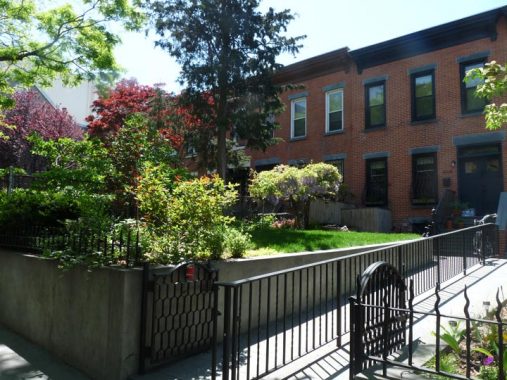 There are some attached homes on the south side of 13th Street between 7th and 8th Avenues that have very lengthy front lawns, reminiscent of those on Carroll Street and parallel streets in Carroll Gardens. You can see them on this 1929 map of the block.
#396 13th Street at 7th Avenue is where my cousin Eileen and husband Tom lived for a few years after their 1986 marriage. One day while visiting I was in the basement and found a huge mounted moose head, antlers and all. I wonder whatever happened to it.
As always, "comment…as you see fit." I earn a small payment when you click on any ad on the site.
8/8/21