WHEN I moved to Little Neck in 2007 I really thought I had found the last Westinghouse MO-8 mercury streetlamp remaining in NYC. But when I visited Hamilton Beach in 2020, I found out that I hadn't. The Westinghouse MO-8 (some say OV-8) once lit NYC streets by the hundreds or perhaps thousands from 1962 to 1972. Known as "open-bottom" or "cutoff" luminaires, they were designed to illuminate residential or side streets without a glass reflector bowl in a somewhat dim, greenish white glow. They were the counterparts to the Westy OV-25, which had a reflector bowl and were employed on main streets.
Throughout the 1960s, they battled for supremacy on NYC streets with the General Electric M-400 (diffused) and M-250 (cutoff) lamps. Though their demise began as early as 1972, when yellow sodium lamps began their lengthy reign, examples were relatively frequent until 2009, when the NYC Department of Transportation installed new sodiums on virtually every lamp fixture in NYC. That particular expenditure turned out to be a massive waste, since in the mid-2010s municipalities went gaga over light emitting diode lamps (LEDs) and a variety of different makes were installed on lamps all over town after just a few years from the 2009 replacement program.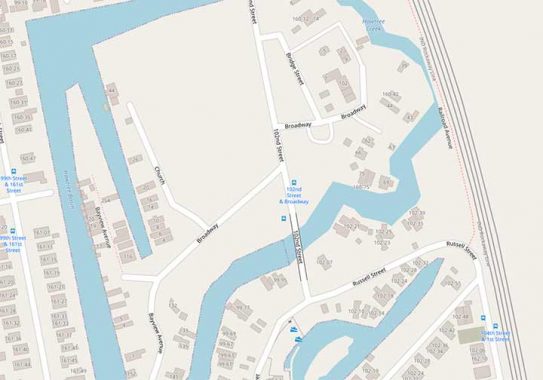 The MO-8 shown here (which likely doesn't work anymore) can be found on a long-lost tributary on Broadway off 102nd Street in Hamilton Beach. Broadway, you say? Yes… Hamilton Beach, formerly Ramblersville, has its own street system, some barely paved paths that are nonetheless served by NYC's electrical grid in this intensely private region.
As always, "comment…as you see fit." I earn a small payment when you click on any ad on the site.
11/9/21