BEFORE my purists say anything, there's nothing "Forgotten" about Broadway; it's the street most people think of when they think of New York City, which is sort of the premise of this piece. By far it's the longest street in NYC that runs under one name (I haven't looked up the mileage but I think it beats out Northern Boulevard in that regard) and runs from Bowling Green to the Bronx line and beyond, known as Broadway as far north as Dobbs Ferry. The road itself continues as US 9 almost all the way to the Canadian border, and off an on the Broadway name is slapped on it along the way along with other names including the Albany Post Road.
Broadway doesn't get really broad until it gets north of Columbus Circle, where it gains a center median (known colloquially as "Needle Park"that is there, off an on, as north as West 169th Street. When it was named by the Dutch in the New Amsterdam era in the 1620s, it was indeed much "broader" than the cart paths that to this day retain their narrowness at the south end of Manhattan.
But FNY is also about infrastructure, and over the past decade or two, Department of Transportation officials have been putting Broadway on a diet, as far as lanes open to automobiles go, and have even completely closed off certain sections. Since I'm in the mood this weekend for a relatively short piece, I thought I'd delineate those closures, as they do involve some occasionally interesting installations, as far as I'm concerned.
Here's a look at Times Square, 7th Avenue and Broadway, taken from the then-new Times Tower in 1905. The Astor Hotel can be seen on the left. Automobiles were still quite rare at the time and rapid transit was mostly streetcars that took power from electric lines beneath the street. The new IRT subway was running under 7th Avenue. It's hard to tell but at this time I think both Broadway and 7th Avenue had two-way traffic; some decades later, both would be switched to one-way south. Note the Budweiser ad at West 47th. The "King of Beers" has been brewed since 1876. Many of the buildings on the right still stand, but are today hidden by gigantic video advertisements.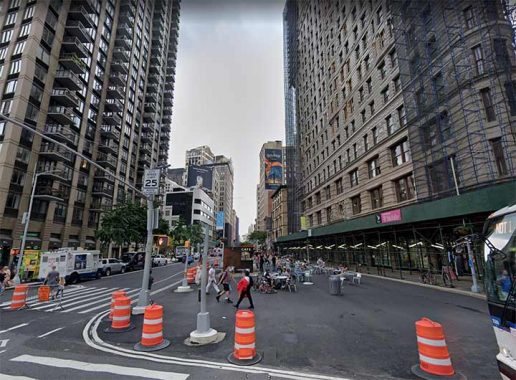 Looking north on Broadway from East 23rd Street (at Madison Square, Broadway switches from the East to West side, at least as numbered streets go. The 1903 Flatiron Building is on the right, while an apartment tower built around 1982 can be seen on the left. Broadway is especially wide here, the story goes, because the Eastern Post Road branched away from it here on its way uptown; that road was closed and then demapped when Madison Square opened in 1844. Until just recently the right (west) side was open to traffic and as a matter of fact when I worked in the area, I'd occasionally treat myself to an express bus ride home to Brooklyn, which stopped right there.
As you know Manhattan has several extra-wide numbered cross streets: 14th, 23rd, 34th, 42nd, 57th, 72nd, 86th etc. They were plotted and built wide from the very beginning, and chroniclers of Manhattan's street grid under the Commissioners' Plan of 1811 have always been somewhat flummoxed by why these streets were chosen to be highlighted in this way. My guess is that Broadway intersects them, or nearly does, at major north-south avenues: at 4th/Park (14th) 5th (23rd) 6th (34th) 7th (near 42nd; not quite). 57th is an exception, while Broadway meets 10th (Amsterdam) Avenue at 71st.
Broadway has not always been called Broadway for its entire length. It encompasses two former roads north of Union Square: Bloomingdale Road and Kingsbridge Road. In the 1800s both were straightened to better conform with the grid, and for a couple of decades Broadway was called The Boulevard from 59th to about 110th. By the early 1890s, all of it was Broadway.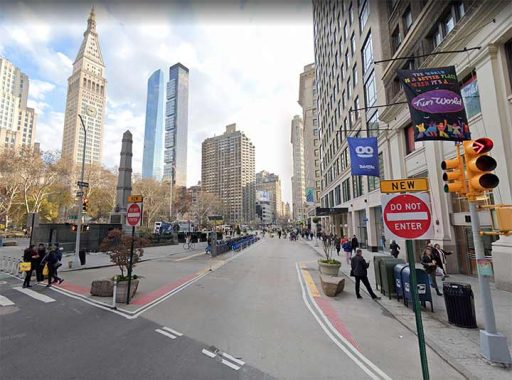 Traffic is now barred on Broadway at West 25th Street. Southbound traffic actually has to turn left at West 26th and right on 5th; West 25th is one-way west.I believe delivery trucks are allowed through, as there have been no barriers placed, but there's a new Do Not Enter sign for everyone else.
Obelisks of different eras can be seen at left: the Met Life Building, for a brief time the city's tallest, was built in 1893 with the clock tower addition in 1909. To its right, the General William Jenkins Worth Monument, built in 1857 with the Mexican War fighter interred beneath it; the 65-story Madison Square Park Tower, 45 East 22nd Street, completed in 2017 with incredible views if you can afford an apartment; and One Madison, a luxury residential condominium built from 2006-2013 whose actual address is #23 East 22nd.
Though auto traffic still flows on Broadway between Madison and Greeley Squares, as far back as 2010 I noted that it had been narrowed considerably by a bicycle path. Since the parking lane was retained, auto traffic here has been slimmed down to just one lane!
Broadway in this region, when I worked here in the late 1980s and again from 2000-2004, was a bustling realm of wholesale importers, many from Africa, arrayed on the ground floors of many buildings that were hotels and offices built during the Gilded Age, 1890-1910; many of the wholesalers have been hustled out to be replaced by boutique hotels. Seen above left is the 1903 Johnston Building, now home to the NoMad Hotel (north of Madison).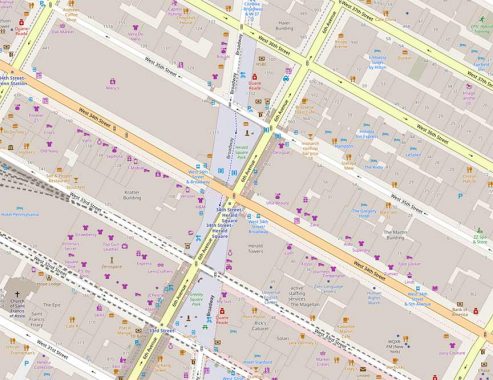 The traffic engineers have exerted the greatest change in Broadway traffic where it meets both 6th and 7th Avenues, at 33rd-35th and 42nd-47th Streets. Though Google Maps effectively shows this, Open Street Map does a better job because it colors the closed sections of Broadway completely in gray. In recent years Broadway has been completely closed to traffic between West 32nd and 35th Streets. Formerly, this was one of Manhattan's most complicated crossroads, as traffic on 6th went north, Broadway's went south, and East 34th went both ways.
Broadway between West 32nd and 33rd, now a pedestrian mall with movable tables and chairs that stay here, like the ones in Bryant Park, via the honor system and whatever cops happen to be around. The east side of Broadway borders the Hotel Martinique, built from 1897-1911 and named for its owner, William R.H. Martin. The west side of Greeley Square here was ffor many years occupied by Gimbel's, the chief competitor of Macy's a block away. However I best remember it for the Manhattan Mall, which has been in the building since 1988. The interior was hollowed out, so shoppers could look up or down at shops on different floors, and the elevators were glass-encased, a novelty at the time. For me, though, the real fascination was the food court on the 7th floor; when I worked in the area, I'd get a treasured window seat and look up and down Broadway. After a few years, though, management decided the space would be better used for executive offices and the food court, and its denizens such as myself, where shunted to the basement.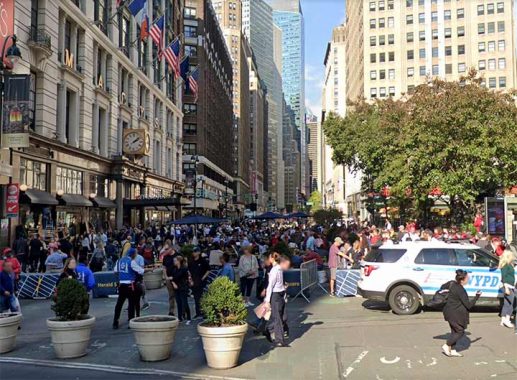 Broadway at West 34th Street. Formerly, the triangle of Herald Square between Broadway, 6th Avenue and West 35th was the only safe pedestrian area at the front entrance of Macy's, but today, autos have been banished and crowds gather for special events. Herald Square is named for the newspaper owned byJames Gordon Bennett; the Herald building was torn down decades ago but the cluster of statues at the top, the goddess Minerva and the bell ringers Stuff and Guff, were placed in the square. Bennett's favorite bird was the owl, and green-eyed copper owls can be found on the fencing surrounding Herald square.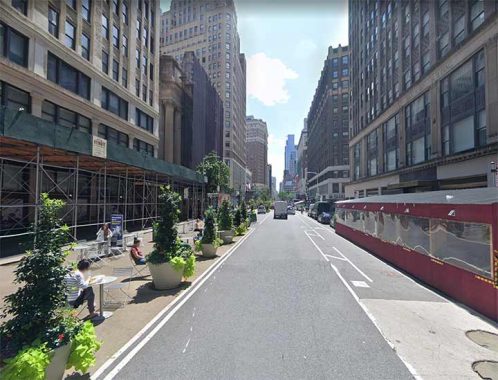 Cars are still to be found on Broadway between West 35th and 39th Streets, but there's just one southbound lane with parking/dining sheds on the west side and pedestrian seating/bicycles on the east side.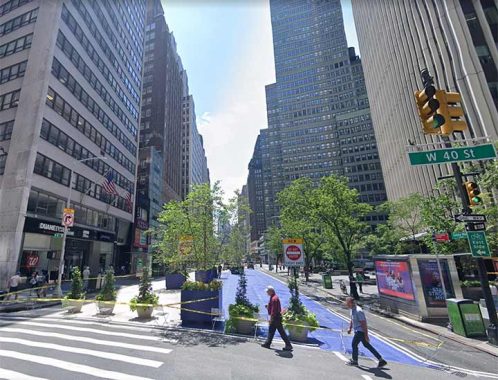 The newest section of Broadway to be closed to auto traffic is the stretch between West 39th and 40th, the block were the former Metropolitan Opera House was situated; autos were replaced by planters and a bicycle path. Anyone know why this one block was closed?
Iam aware the DOT paints (some) bicycle lanes green, but I don't know the significance of blue paving.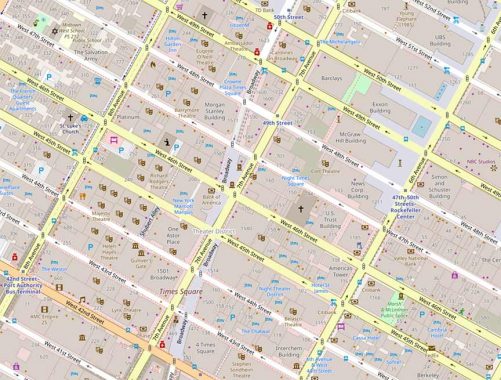 The stretch of Broadway between West 42nd and 47th is the largest closed section as you see on this Open Street Map. The change was effected in 2017 in this lengthy crossroads that includes Times and Duffy Squares. In recent years, tourist traffic had increased massively, forcing the Department of Transportation's hand in making Broadway a lengthy pedestrian mall. Today southbound traffic on Broadway must turn left on West 48th and right on 7th Avenue to traverse the Crossroads of the World.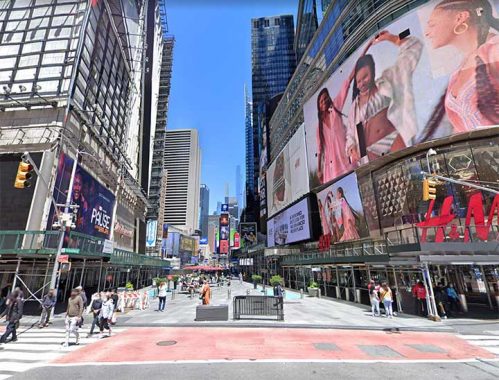 Looking north from West 42nd Street on Broadway. At left is the Times Tower, the tallest building for miles when it was built in 1905 for the offices of the New York Times. The first animated "news zipper" came to the exterior in the 1920s. By 1960 it was the Allied Chemical Building, and the company stripped off all exterior ornamentation; today, the building is basically a tall signpost on which to hang video boards. But there must be a door someplace, and a key that opens that door and I'd pay a few pennies to get inside.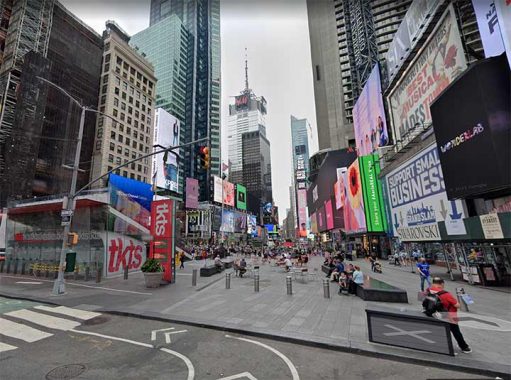 Looking south on Broadway from West 47th Street; here, only a right turn is permitted. The TKTS booth, offering discount tickets to Broadway shows, has been a fixture since the 1980s. I'd like to find a complete survey of all the buildings in Times Square along 7th Avenue and Broadway, as most are quite old; but their age is hidden by all the neon billboards. The building at right, with the "support small business" sign, dates to about 1880 and still has a painted ad for Keal's Carriage Manufactory, dating to the days when Longacre Square serviced the horse and carriage trade.
As always, "comment…as you see fit." I earn a small payment when you click on any ad on the site.
1/30/22