In 2016 and 2017, all of New York City's streetlamps were replaced by bright white Light Emitting Diode bulbs, which shine a bright white. Regular readers of Forgotten NY know that I disdain LEDs with a passion: they don't have the warm bright glow of the yellow sodiums, and most LED fixtures are without glass diffuser bowls, so the light shines straight down, leaving very dark areas in between them. I think this has actually added to the uptick in crime in NYC in the recent past as well as some political decisions I won't go into here. Decorative lamps such as Bishop Crooks and Corvingtons use classic Bell fixtures with diffuser bowls, and so I have no idea why all LED fixtures can't have them; the reason, I think, is money.
In Little Neck, I didn't have to go far to find non-LED fixtures. I had known about them for some time, but in the summer of 2020 at the very height of the Covid-19 Pandemic while the whole country was indoors chained to their air conditioners, I was carrying on as usual, staggering around with my camera in the dead dog heat through the deserted streets like Vincent Price in the 1964 classic The Last Man On Earth. Cars whizzed by, but walkers were few and far between, which is just how I like it anyway.
My quarry was on Jericho Turnpike, just over the Queens line, where there was a collection of streetlamp fixtures installed in the Swinging Sixties, many of them mercury lamps which shone a greenish-white glow at night. NYC's remaining Mercs were purged in 2009 when the last batch of sodiums were installed, but in patches of Nassau County and New Jersey they doggedly hang on. Or did, until recently. Just this week, I was tipped that the Battle of Jericho had been lost and all the classic Mercs had been replaced by LEDs. Sick transit, Gloria! Thankfully, I snapped a bunch of them on my July 2020 foray.
Jericho Turnpike is strange indeed as the Queens-Nassau line is in the center median. About 20 years ago (as of 2022), Twin Corvingtons were installed on the narrow median, with Nassau County vouchsafing NYCDOT rights to light the Nassau side. At the same time, Nassau-style davit stoplights can be found on the Queens side. Very odd.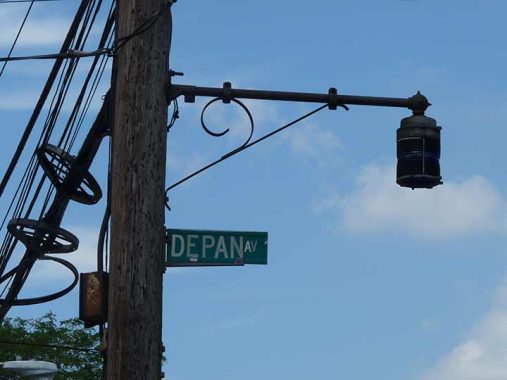 There are also some remaining Nassau County fire alarm indicator lights. These aren't found throughout the county so they must have been installed by the municipality, Floral Park in this case. While NYC has traditionally used orange or red, blue is the color of choice in Floral Park and also in Jersey City.
There were also a few General Electric M400s. original versions. Notice something different about them? There's no photocell, the doohickey mounted on top of the fixture that controls when the lamps turn on at dusk. In one of the Facebook photo groups it was explained how these lamps turned on, but I forgot: comments are open if you can explain it.
These are Line Materials Unistyle 400s, a make that was never used on public streets in NYC but are fairly frequent elsewhere… you can still find them in Hoboken and Jersey City.
Note that stretches of Jericho Turnpike use freestanding poles (made by lamppost manufacturer Flagpoles) and the usual telephone pole masts elsewhere.
A pair of Westinghouse OV 25 Silverliners, one with photocell and one without. In NYC from 1960-1972, the Westinghouses duked it out for main route supremacy with the GE M400s. I must admit, I rooted for the Westys since the GEs always seemed to have the slight edge. On side streets, both manufacturers employed cheaper, diffuser-less versions.
But these lamps no longer have an edge at all as apparently the Battle of Jericho has been lost. I plan on visiting soon to witness the change, and say a requiem prayer.
As always, "comment…as you see fit." I earn a small payment when you click on any ad on the site.
3/3/22