I have posted about Rex Cole before, but I'm fascinated with these signs, and I seem to find new ones several times per year. As I was hesitatingly scuttling up 2nd Avenue on a recent May Sunday, I spotted some double barrel Rex Cole action on the NW corner of 2nd Avenue and East 6th Street, a target-rich environment for the FNY camera with so many histroric and infrastructural artifacts I will list on an upcoming page. Yes, I have shown this corner before but when I saw it again, it "feels like the first time" as Foreigner would put it.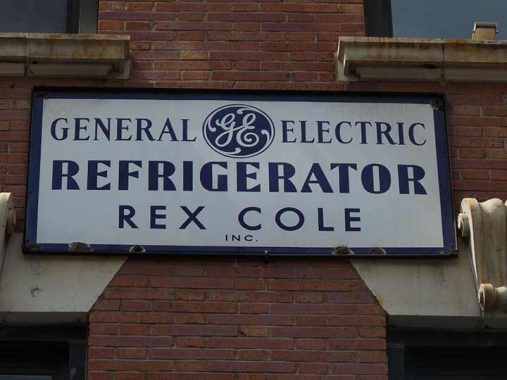 In the first 20 years of Forgotten NY or so, I was reluctant to discuss items I had previously talked about, as I wanted to look forward, not look back, but as I approach FNY's 25th anniversary I've decided to throw out the rule book and write about what I like, whenever I wish. The FNY archives now numbers over 4200 separate pages, and I have over 700,000 photographs in various drives, going back to 1998. I should really get serious about cloud storage, since external hard drives are built to fail after a decade or two, if that long.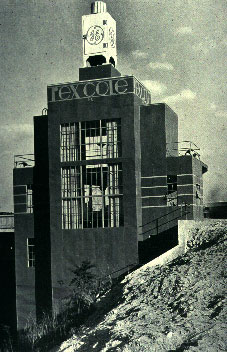 Rex Cole (1887-1967) was originally a lamp manufacturer, then became associated with General Electric in the 1920s and designed white enamel Monitor Top refrigerators. Famed architect Raymond Hood designed a series of buildings in Bay Ridge, Brooklyn, the Grand Concourse, and Northern Blvd. in Flushing for Cole's showrooms that either looked like refrigerators or featured them in the design! Most are still standing but have been altered beyond recognition. Enamel signs proclaiming Cole's GE refrigerators can still be found on a handful of buildings around town.
The modernistic Rex Cole building shown here stood on 4th Avenue and 64th Street in Bay Ridge long before the Gowanus Expressway was constructed through the intersection and is standing, albeit remodeled.
I love the white enamel signs, which though they were placed in the 1930s, almost look like they were designed recently. The ones on 2nd avenue are pristine enough that they look as it building management maintains them.
As always, "comment…as you see fit." I earn a small payment when you click on any ad on the site.
5/4/22