WHILE poking around in Google Street View, as I do for fun (somebody has to do it) I chanced upon the remnants of colonial-era roads at the intersection of Barnes Avenue and East 232nd Street in Williamsbridge. While traveling north on Barnes Avenue, there's a little dogleg issuing one block between Barnes and East 232nd, and to illustrate it I left in the street identifications on Street View; I usually remove them.
Now, notice how Google Street View labels it. The ID stamp says "Old White Plains Road." I'd like to work in the Google Maps department to see what research materials they have access to! I had to reference century-old maps to see where "Old White Plains Road" was. Not even the late great John McNamara mentions this road in his "seminal" work, "History in Asphalt."
This 1905 map has it; I have circled the portion seen on Street View. Existing today is the southernmost section between Barnes Avenue and East 232nd. Barnes Avenue had not yet been built north from East 232nd at this point in time. On the map, the yellow squares are buildings. (I'll discuss Bussing Avenue, the second colonial-era road, a bit later.)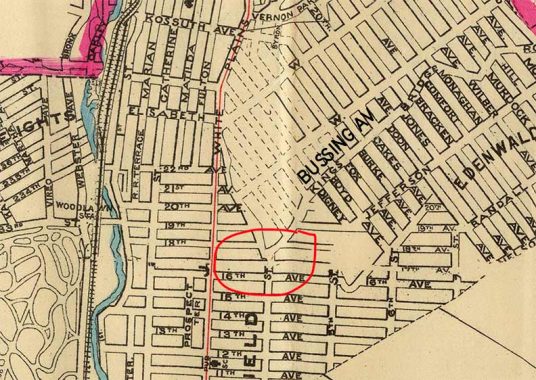 On this 1901 map, Old White Plains Road is present, but not labeled as such. One again, I've circled the area where the existing piece can be found.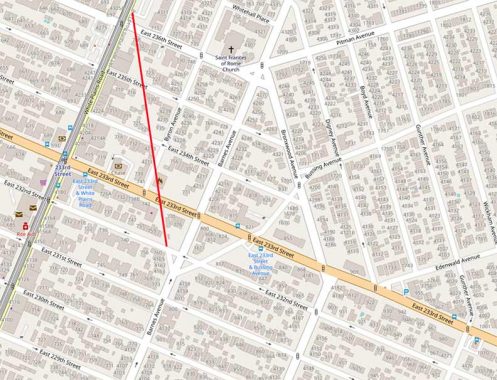 Moving the clock to 2022, the map shows that short piece. Notice, however, the red line I have inserted which matches the road's full length, where it joined White Plains Road at East 236th Street. It may well have been that White Plains Road originally curved and wobbled rather more than it does now, and Old White Plains Road is an "orphaned" piece of the road. Most of it has now been eliminated; but notice, along my red line, some empty spaces and tilted buildings that correspond to its old path.
This is quite a find, in my opinion, and one I never suspected until recently!
Let's return to that 1901 map. Bussing Avenue is somewhat odd, since it wobbles somewhat and runs south of its parallel avenues. It's actually a remnant of the original Boston Post Road, which was first built in the late 1600s! The modern-day Boston Road in the Bronx is about a century younger and joins the original post road route north of the Bronx border in Westchester County. By 1901, that post road remnant had been renamed Kingsbridge Road, which remains its name in Mount Vernon across the Bronx line. The Bussing family was in the Bronx by 1658 and a long-demolished mansion in this area.
Even today, the south end of Bussing Avenue looks somewhat rough and ready, missing a sidewalk. The Bronxwood Towers are in the distance.
As always, "comment…as you see fit." I earn a small payment when you click on any ad on the site.
11/10/22