THE shortest north-south "Avenue" in Manhattan runs for one short block between West 186th and 187th Streets one block west of Cabrini Boulevard. It could better be classified as a "Place" but it's been an Avenue for several decades now, and there's no reason to change now. It's Chittenden Avenue and I'm surprised I haven't spent more time there because the views are, as they say, jaw-dropping.
There is, to me, a bit of mystery about this street but not regarding its name. The avenue is built atop a high cliff overlooking the Hudson River and the New Jersey Palisades beyond. In the colonial era, Manhattan was settled from south to north and upper Manhattan remained relatively rural until almost the 20th Century. What is now Washington Heights was parceled into several large estates, one of which was owned by an individual named Lucius Chittenden, whose 130 acres ran from Kingsbridge Road (today's Broadway) to the river and from where West 185th to Dyckman Streets would be now. By the early 1900s, these estates had been sold off and streets were being cut through to as strict a grid as was possible given the hilly terrain.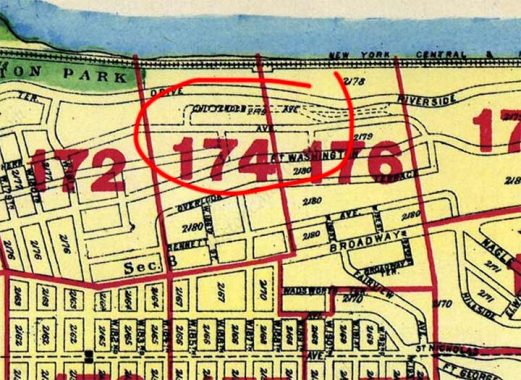 Though the late Henry Moscow says in The Street Book that Chittenden Avenue was named in 1911, the earliest map I can find it on is this one from the NYPL collection from 1924. Note that it seems rather longer than the one block it is today.
This Hagstrom edition from 1949 has it running all the way north, down a steep hill, to Riverside Drive, which by 1949 had become a part of the Henry Hudson Parkway. As mentioned earlier, the avenue is one short block now, so I have no idea if this was a "paper street" or at one time did indeed connect with the HHP. In any case, when looking at an aerial view on Google Maps, I see no indication of a that northern extension whatever.
Looking north on Chittenden Avenue. Only a relatively low stone fence is in place to separate it from a rather steep cliff. All for the good, as fine views of the river and the Palisades are available.
Looking south on Chittenden Avenue is a view of the George Washington Bridge. I will deal with the building at the end of the block, #16 Chittenden Avenue, a bit later.
The houses on Chittenden Avenue, besides all of them possessing envious views, are unlike the rest of Manhattan in that a number of them are single family houses, which are rare on the island, or small apartment buildings.
One marvelous Art Deco building dating from the late 1920s or early 1930s can be found at #25 Chittenden. (Yes, I relied on Street View images here.)
OK, on to #16 Chittenden. It's colloquially known as the Pumpkin House although the window arrangement that gives it its name cannot be seen from Chittenden Avenue itself. Instead, you have to make your way down to the pedestrian/bike path that runs along the southbound lane of the Henry Hudson Parkway to see what "Pumpkin House" is all about. Though obscured by vegetation much of the year, the house is constructed on 40-foot high iron girders. Construction was under way in 1925 and finished within the year, amazingly enough. However, one more change to the building brought it to its current aspect.
The original owner of #16 Chittenden was Cleveland Walcutt, a partner in partner in Walcutt Bros. Company, a printing and lithography firm that produced decorative embossing that was used to decorate walls. Newspaper magnate James Gordon Bennett, Jr. of the New York Herald sold the property to Walcutt, who decided to build on the river side, which meant the building needed plenty of support on the steeply dropping cliff, necessitating the iron pylons.
Unfortunately Walcutt's company went bankrupt and he was forced to sell the house after only a couple of years. The buyer was Charles Schwartz, secretary-treasurer of Universal Liquidators, Inc. Because he didn't like the unfinished aspect of the iron stilts, they were cladded in thick concrete, bringing the building to its current appearance. But Schwartz did not have many years to enjoy the dwelling, either. He died by carbon monoxide poisoning (whether it was a suicide is unclear) at age 44 in 1935. When it was last sold in 2016, it went for over $6M which will buy a lot of pumpkins.
The reliable Daytonian in Manhattan has the whole story, plus an interior shot.
As always, "comment…as you see fit." I earn a small payment when you click on any ad on the site.
1/5/23