BROOKLYN Heights can boast a number of dead end alleys, which are rare in New York City. In Brooklyn Heights, these alleys owe their continued existence to Henry Ford, the man who first mass-produced automobiles. Previously, these alleys had been called mewses, or places where horse stables could be found to the rear of main streets.
One such mews is Grace Court Alley, which can be found on Hicks Street south of Remsen. It's also odd because it's a street named for another street, as the slightly busier Grace Court can be found across Hicks Street. At the dawn of the auto age in the 1910s, the Dobbins were moved out and the stables turned into residences, which are now worth a pretty penny.
My attention in these dead end mewses is on a few wall bracket lamps, and since 1998, when I began Forgotten New York, I've noticed as these brackets have had various lamp styles changed every few years. The title card shows the bracket at #16 Grace Court Alley with a Westinghouse incandescent "cuplight."
When first installed, the bracket had a bare incandescent bulb with a "radial wave" reflector, shown in the 1940 photo.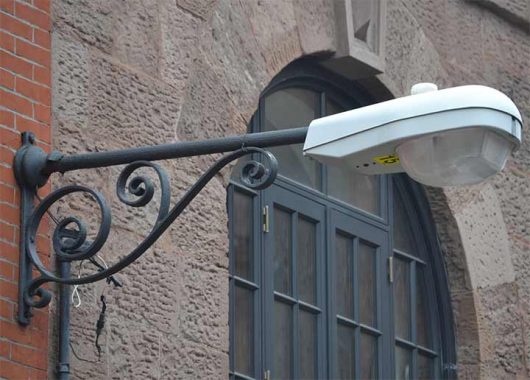 By 2009 the bracket looked a little top-heavy with a sodium vapor lamp that shown bright yellow.
In 2017, the bracket was supplied with an LED fixture, whose bulbs are an eyeball-splitting bright white at night. A truly bizarre combination. This makes at least four different lamp fixtures on this one bracket, and there have likely been more than that.
#16 Grace Court Alley is under renovation, and I hope at least the bracket is preserved.
Lamp photos: Bob Mulero
As always, "comment…as you see fit." I earn a small payment when you click on any ad on the site.
1/17/23