ODDLY enough, both The Bronx and Queens have Rainey Parks, named for two separate Raineys. The Bronx Rainey Park, pictured here, is by far the newer one as it was constructed in 1986 atop the old roadbed of Kelly Street between Longwood and Intervale Avenues, which by the 1980s, along much of the south Bronx, had become a wasteland of abandoned tenements (most of which have been torn down and newer housing constructed, thankfully). This stretch of Longwood was in dire need of a park, as the closest one prior to the 1980s was Crotona Park, several blocks away.
The park was built with the encouragement of William F. Rainey (1920-1985), an African-American veteran of World War II and a dedicated leader who helmed the Police Athletic League Lynch Community Center for over twenty years as well as served as Vice Chairman of Community Board 2. The city acquired the Kelly Street properties through condemnation in 1984, demolished most of them and constructed the park over the next few years. Sadly, Rainey did not live long enough to see the park given his name in 1991; previously, it was the prosaically-named Kelly Street Park.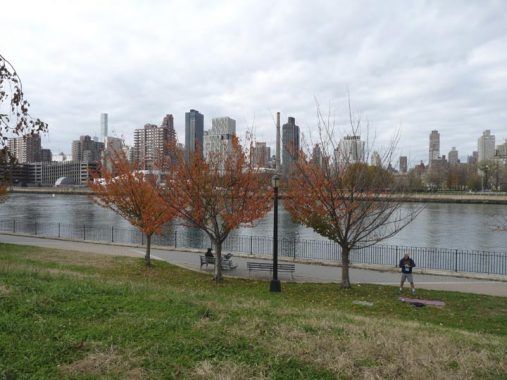 Queens' Rainey Park is an expansive riverside park is named for a local resident, Dr. Thomas Rainey (1824-1910) who worked tirelessly for the construction of the Queensboro Bridge.
Rainey had been one of the earliest and staunchest supporters of the project, and the burden of organizing and refinancing the company fell on him, first as treasurer in 1874, then as president in 1877. Dr. Rainey lobbied around the country to get financial backing and a bridge franchise. However, the War Department, concerned that a bridge could interfere with the defense of New York and access to the Brooklyn Navy Yard, withheld approval. Most interest in the region was for another bridge between Brooklyn and Manhattan. The sparse population in Queens at the time raised further concerns of need and profitability, and the project had once again lost steam by 1892. NYC Parks
A group from the community called the Committee of Forty kept the effort alive. After the consolidation of New York City in 1898, the project gained new momentum and the bridge was finally built at Queens Plaza, a few blocks south of the proposed location. Rainey crossed the new Queensboro on opening day in 1909 with Governor Charles Evans Hughes.
The city acquired land here, at what was originally going to be the Queens bridge landing, in 1904 and designated it for a public park, which opened in 1912.
As always, "comment…as you see fit." I earn a small payment when you click on any ad on the site.
1/20/23