A relatively rare midday post, or posts, today as I injured my back during the usual morning routine and decided to take a day off from working at home for a well-known publisher. I can type through the pain, at least for a little while! I recently imported my photos from 2017 into Photos, Apple Computer's photo software, and while going through it I'm surprised at how many highlights taken just a few years ago have now vanished.
For years, when I was in Coney Island, I would check on a McDonald's at Neptune Avenue and West 6th Street. The fare was no different from any other McDonald's, but this one had a logo that separated it from any other McDonald's in the city in that it still employed McDonald's original mascot, Speedee, a little guy with a hamburger bun for a head and a chef's hat. When the McDonald Brothers founded the chain in the 1950s, they instituted a system and a limited menu that would provide their customers with hot, fresh food in a very short time, and early company promotion was all about that speed. I recommend "The Founder" movie from a few years ago, a dramatized version of how Ray Kroc pretty much swindled the McDonald Brothers out of huge profits.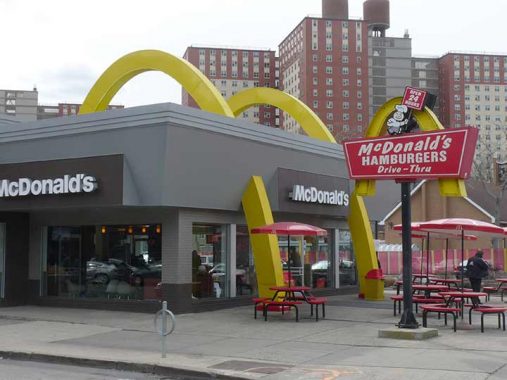 In 1967, McDonald's brought in a new mascot, the carrot-topped Ronald McDonald, originally played by TV weatherman Willard Scott, and Speedee was removed from the iconography. He still survived, though, in legacy McDonald's locations. This McDonald's, though, is a relatively new location, perhaps 20 years? I'm not sure, and Speedee found employment there for a long time. On a recent pass in 2022, though, I noticed that Speedee was gone and his stanchion now had a standard McDonald's golden arches M. My thinking is that the company noticed that here, there was no M, with the golden arches breaking through the outer walls, and decided to place a proper M there.
Interestingly, around the same time Speedee made his debut in the 1950s, Alka-Seltzer used a mascot named Speedy, as that company also emphasized speed not only in how long the tablet dissolved in the glass but how fast it worked in the stomach. After a few McDonald's burgers with Speedee, you may have needed an Alka-Seltzer with Speedy!
As always, "comment…as you see fit." I earn a small payment when you click on any ad on the site.
(I am aware that the featured image my not be showing up on Safari and Firefox, as well as on phones, and am inquiring about the issue)
2/7/23