I'm not sure, but sometimes things lose just a bit of their charm when they get landmarked. Bomelstein's Clock, #753 Manhattan Avenue between Meserole and Norman was rusty, its paint peeling, its hands stopped, when I first photographed it in 1998. It had been designated a landmark before then, but it's since been restored (the clock part is approximately a decade old in 2023) and is telling time again. The old Bomelstein's name (a jeweler) has been removed . Do people meet at the clock the way the met at the Biltmore clock, or still meet at the Grand Central Terminal clock?
New street clocks of traditional and modern design are popping up all over town…an ornate one was installed at the Tribeca Grand Hotel at 6th Avenue and White Street a couple of decades ago, and there's a shiny new one in an incongruous suburban setting, on Bell Boulevard in Bayside Hills.
The best ones, though, are the ones that have been there, suffered through their years of abandonment, and belatedly restored. Two magnificent models grace Flatbush Avenue in Park Slope; 3rd Avenue between 84th and 85th on the Upper East Side has a clock that used to mark a pawnbroker's; there's another jeweler's sidewalk clock on Steinway Street in Astoria; another is across the street from where the old Gertz department store used to be in Jamaica. Two hanging from the newly restored apartment building at Broadway and Chambers street indicate the building's former use as the home of the old New York Sun newspaper (not its latterday namesake).
Fanciful newer ones, like the outlandish FAO Schwartz clock on 5th Avenue and 58th Street and an abstract parallelogram on Broadway opposite Lincoln Center, designed by architect Richard Johnson, don't have quite the requisite character yet, but you have to give them a few years to fall into disuse and await a future generation's remorse at their deterioration.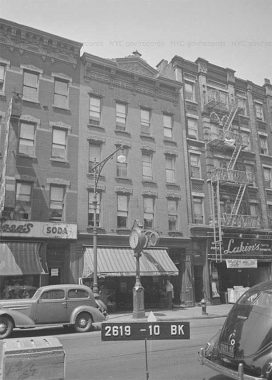 I am not sure when Bomelstein's Clock was installed but it was in place as early as 1940, when this tax photo was taken.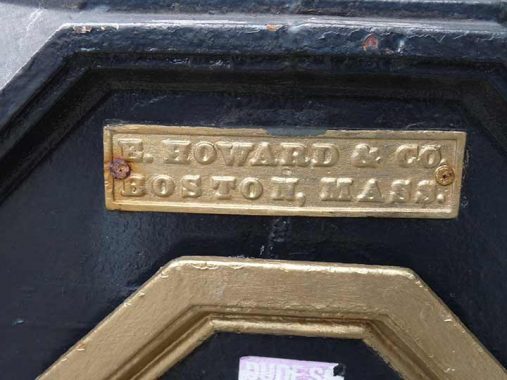 The clock was built by Boston based watch and clock makers E(dward) Howard & Co, which was founded in 1842 but stopped producing watches by 1903. The firm carried on under different owners, making standup clocks, until 1980 when it finally went bankrupt.
Note that the clock carries on the tradition of rendering the Roman numeral for "4" as IIII. Various explanations have been proffered as to the practice.
As always, "comment…as you see fit." I earn a small payment when you click on any ad on the site.
3/1/23