I have a keen eye for spotting ancient alleys and driveways that were once roads. When I lived in Brooklyn between 1957 and 1993 I spent springs and summers in many of those years by crisscrossing the borough on a bicycle, and while in Marine Park just before crossing Flatbush Avenue into Flatlands, I'd notice a dead end paved alley emanating from Flatlands Avenue almost, but not quite, to Coleman Street. It wasn't marked with a street sign and didn't show up on the Hagstrom and Geographia maps available to me at the time.
However, I had other means of research at my disposal. I worked at the Brooklyn Business Library between 1979 and 1981 and buried in the sub basement, available for in-house research only, was a crumbling, flaking copy of the 1929 Brooklyn Desk Atlas published by Belcher Hyde. (Currently, it is available on Historic Map Works, but it copy protects screen shots by an automatic zoom when it's attempted; but I was able to obtain the shot above. Brooklyn memorabilia, photo and map collector Brian Merlis possesses a near pristine copy.)
It's likely the road was never marked by a street sign and because of this, the road is marked on the Belcher Hyde with two alternate names from 19th-Century settling families in this region. "Lotts Lane" is likely derived from the same Lott family that built the Marine Park Lott House. The Kimball family is remembered by a Marine Park street.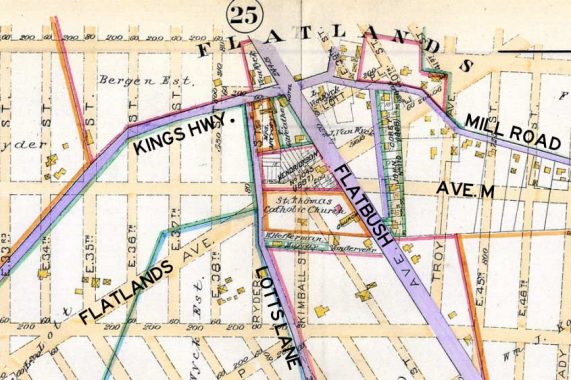 Here's a Robinson Kings County atlas plate from 1890 that, fascinatingly, shows the Flatlands Village street layout as it was then, but also the future grid. Built roads are shown in purple, and I have helpfully added their modern names. Harden Street is the short stripe between Mill Road and Flatbush Road (now Avenue). Mill Road, once the main east-west route, has devolved over time and now exists in just a couple of pieces. Kings Highway, of course, was expanded into a major route in the 1920s. Them there's Lotts Lane.
This aerial shot from 1924 shows Lotts Lane at the longer length it had before the local street grid was fully constructed.
Lotts Lane comes to a dead end before reaching Avenue P. As the 1890 map shows, this is the only remaining trace of Lotts Lane, once a major farm to market north-south road for horses and wagons.
A clue that Lotts Lane was once more important is this house around the corner on Coleman Street that is tilted not toward Coleman, but aligns with Lotts Lane to its rear.
There's another ancient Lotts Lane in Brooklyn.
As always, "comment…as you see fit." I earn a small payment when you click on any ad on the site.
3/28/23