By SERGEY KADINSKY
Forgotten NY correspondent
WHEN driving from Queens to the heart of Brooklyn, the Jackie Robinson Parkway abruptly ends at the intersection of Jamaica Avenue, Pennsylvania Avenue, and Bushwick Avenue. Most of the vehicles are heading to Eastern Parkway, which they can reach either via Bushwick Avenue, or two blocks of Pacific Street, a single lane bottleneck. Don't expect relief for drivers in a city that is more committed to bikes, pedestrians, and restaurant sheds.
At the corner of Pacific and Sackman Streets in Brownsville is an apartment building for the elderly sponsored by the Roman Catholic Church. Older New Yorkers may remember a dramatic Renaissance Revival church at this site, Our Lady of Loreto, the last landmark of Brownsville's Italian immigrant community. The side of the building facing Sackman Street has four glass-encased plaques with color photos of this church.
Designed by Adriano Armezzani, the church opened in 1908, offering a feel of the old country for its parishioners at a time when there was significant discrimination against Italian-Americans. As their children and grandchildren became more successful in their careers, they moved east to Ozone Park and Howard Beach, and then further east to Nassau County. As Brownsville and Ocean Hill suffered white flight and urban decay, there were not enough Black and Puerto Rican newcomers to sustain the church. In 2009, the Brooklyn Diocese shuttered its doors and Our Lady of Loreto merged with the nearby Our Lady of the Presentation church on Eastern Parkway. Eight years of protests and lawsuits ensued between the church's plan to build affordable apartments for seniors, and preservationists who sought to stop the demolition.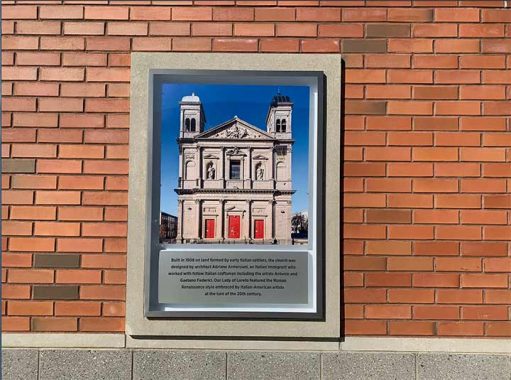 It all came down in 2017, the holy objects taken to storage and the architectural details photographed for posterity. Thousands of applications were received for the 136 units in the Pope Francis Apartments at Loreto, underscoring the need for housing in this neighborhood. The building is not as attractive visually but inside its lobby are photos of the demolished sanctuary.
These photos offer a glimpse into the past and raise questions why the apartment building was designed without any exterior decorative elements. Perhaps the builders fear that a century from now it shouldn't be subjected to another battle over its preservation. The fewer decorations, the less chance that it would be landmarked by the city in the future. Perhaps this explains why so many post-millennial buildings in the city look like plain glass or brick boxes.
Looking north on Sackman Street is the short highway section of Atlantic Avenue which runs above the East New York Station that Kevin documented in 2005 on his survey of LIRR stations within the city.
When I teach students about the Great Schism of 1054 between Catholic and Orthodox Christianity, I simplify it as an argument between the use of statues and icons, among other items in dispute. This statue of Mary stood in front of the old church but is now behind a parking lot fence inside a glass box that is reminiscent of the Popemobile. Don't mistake it for a parking attendant.
Glass boxes around religious icons are now necessary due to rampant vandalism –Ed.
Sadly, throughout this city there are parochial schools and churches that closed as congregants pass on, move away, and lose faith. Forgotten-NY has documented many of them and I'm sure there will be more to come. Looking at a photo of the church's interior, I could imagine it repurposed as an indoor market, community center, mosque, or nightclub. That's what happened to some former churches in this city.
Looking at a photo of the exterior, I could have imagined it as a grand entrance to an apartment building behind it, as was done with some churches. The former St. Ann's Roman Catholic Church in the East Village has an NYU dorm tower behind it.
Unfortunately, Our Lady of Loreto was not as fortunate. She stood in a faraway corner of Brooklyn, of little concern to the Manhattan-centric bureaucrats at the Landmarks Preservation Commission.
Sergey Kadinsky is the author of Hidden Waters of New York City: A History and Guide to 101 Forgotten Lakes, Ponds, Creeks, and Streams in the Five Boroughs (2016, Countryman Press), adjunct history professor at Touro University and the webmaster of Hidden Waters Blog.
As always, "comment…as you see fit." I earn a small payment when you click on any ad on the site.
3/12