BETWEEN 2011 and 2018, before the Zoom era began in earnest, when I wasn't working I would report two or three times a week to the The Quinn-Morisco Funeral Home, 35-20 Broadway, one of the tallest buildings in this neck of Astoria. Why did I do that, not being in the funeral business? Until 2018 it was home to FNY's affiliate organization, the Greater Astoria Historical Society, which presents programs and exhibits about and relevant to Astoria and the rest of New York City, as well as a voluminous collection of artifacts, books and atlases. Presently without an event space, it is currently providing programming via Zoom.
I was busy scanning and labeling GAHS' voluminous photo collection, as well as doing various docental duties if anyone wandered in.
As a board member, I had some fanciful programming ideas that didn't come about. One idea was to present occasional music performances (keeping it relatively quiet via acoustics, woodwind and voice) I wanted to call Upstairs at the Quinn. Unfortunately all the tenants were evicted, including the funeral home, in 2018 (it has relocated). I miss the place, though.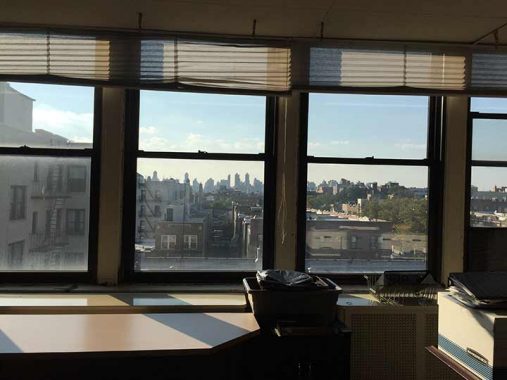 If you went into one of the back rooms at GAHS, you had a panoramic view of the Manhattan skyline…and from another angle, of the Triboro Bridge. I even had fantasies of somehow living in the place, which was very well heated in the winter.
It was a place of laughs, love and learning at the numerous programs including the annual Christmas blowout the attracted over 100 Astorians.
Sick transit, Gloria!
As always, "comment…as you see fit." I earn a small payment when you click on any ad on the site.
5/22/23