This is the former New York and Queens Railroad Company trolley barn. It was built in 1896 to serve the fledgling NY & QRC, which was formed that year when the Steinway Railway Company and Newtown Railroad Company sold out to a delegation of Philadelphia investors interested in building a trolley line in Queens.
The towers could be seen for miles. The railway building conatined the largest carbarn in Queens and serviced trolley cars from Flushing, College Point, Jamaica and Long Island City. In its day, it was every bit the transportation hub that the current Jamaica LIRR station is.
The NY & QRC depot looked like this in October 1937. Trolley operations had ceased in September of that year, to be replaced by motorized buses. Some bus lines still follow the trolley routes of years before.
The trolley route at Jackson Avenue and 5th St (now 58th St) in 1908.
Pictures are from Catherine Gregory's Woodside, A Historical Perspective, 1652-1994, published by Woodside On The Move.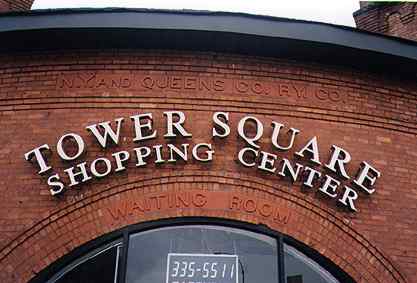 Closeup of the former entrance of the NY & Queens Railway trolley barn. Note the signs chiseled into the brick facing.
The coming of the Independent Subway system, along with the advent of motorized buses, spelled doom for the NY & QCR, along with other trolley companies citywide. On September 5, 1937, the final trolley rolled down Northern Boulevard.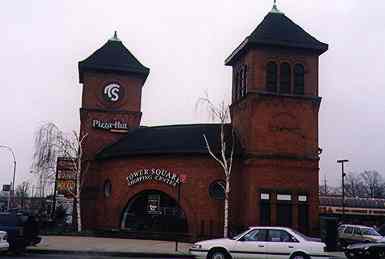 Above two: Tower Square in 1998. The clock on the trolley barn still keeps the correct time.
The trolley barn and its clock were slated to be torn down in the mid-80s, but preservationists have been able to save it. A Pizza Hut and other establishments now rent the building.
A look at the terminal from the back, at the Pizza Hut entrance.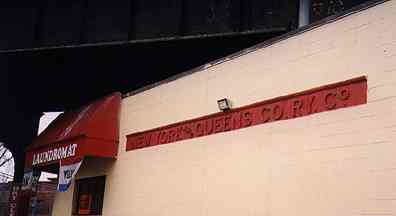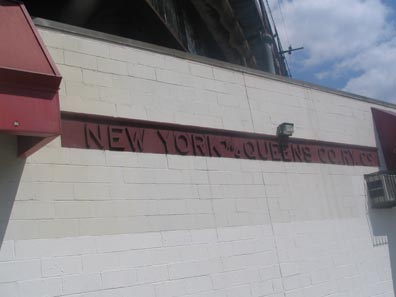 "New York and Queens Co. Ry. Co." can still be seen chiseled into the side of this building adjacent to the old trolley barn, now tenanted by a laundromat.
The overpass carries Amtrak trains to and from New England.
This was the very first Forgotten NY page — created 9/15/1998; rev. 3/12/12