Trolley tracks aren't the only remnants of former trolley lines that are still dotting the city landscape. The poles that carried the electric power supply are still here and there. Many stand rusting and forgotten, but at left, one such pole at Flushing and Onderdonk Avenues, Ridgewood, Brooklyn (LEFT) , is now employed to carry telephone lines.
RIGHT: Tillary Street and Cadman Plaza West, Brooklyn Heights
LEFT: Richards and Van Dike Streets, Red Hook, Brooklyn; RIGHT: Other poles are used as makeshift carriers for traffic signs. One such pole that fits that bill nicely stands at the entrance to the Brooklyn Queens Expressway and Atlantic Avenue. The pole was there before Robert Moses even conceived of an expressway cutting through Brooklyn Heights.
In 1954, the IND Subway was attached to the old elevated Culver line (rendering the stub between 36th Street and Ditmas Avenue essentially as a shuttle line) via a ramp that led to the elevated Culver line.
McDonald Avenue was split in two between Avenue C and Ditmas Avenue, and the trolley line that ran down McDonald Avenue was also split in two.
These poles, on either side of the ramp, are remnants of that trolley line.
A genuine mystery to me is this antique remnant found on the service road along the Holland Tunnel ramp in Tribeca. The tunnel was opened in 1924, yet this pole seems much older. It has a base quite unlike other trolley poles around town as well. Any ideas, Forgotten fans?
They could be lampposts imported from out of town; Manhattan never did have overhead trolley wire.
For some reason, a trolley pole has been placed in a driveway at 67th Street near 12th Avenue in Dyker Heights. How it got here, I've no idea since none of my sources show this to be a former trolley right of way.
Anyone got any idea?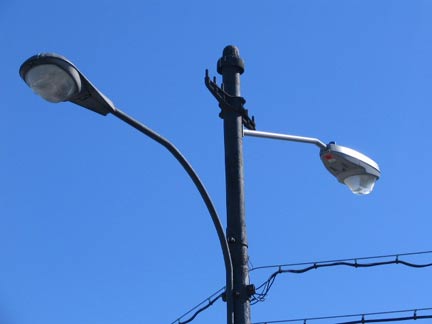 At the Rockaway Parkway terminal of the Canarsie Line, a trolley carried passengers south to Jamaica Bay until 1942. Poles carrying trolley wire have been used for decades to carry street lighting.
Finally, a long unused trolley pole at Junction Boulevard and Corona Avenue. Trolleys carried passengers to North Beach and later, the new LaGuardia Airport.
9/19/98