Bohacks was a chain of supermarkets in the five boroughs that closed in the early seventies. This smokestack is on the corner of Flushing and Metropolitan Avenues in Ridgewood, Queens. The square was formerly called Bohack Square.
Forgotten Fan Doug Douglass has submitted this website devoted to the Bohack family; Forgotten Fan Allan Karr submits the ad top right, while Rick Duskiewicz submits the Bohack sign revealed in 2004 when a Key Food at Metropolitan Avenue and 69th Road was under renovation (below)
More on Bohacks in Long, Hard Road: Flushing Avenue.
Necchi Sewing Machines
7th Avenue and 25th Street
E.N. Little's Sons
"The Big Painters"
Varick & Franklin Sts.
Liberty's crown belongs to El Teddy's. 2004: The crown has been torn down, with the demise of the nightspot.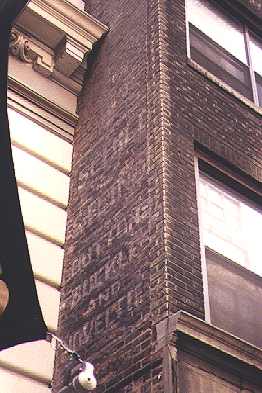 "Buttons, Buckles and Novelties"
26th Street near 6th Avenue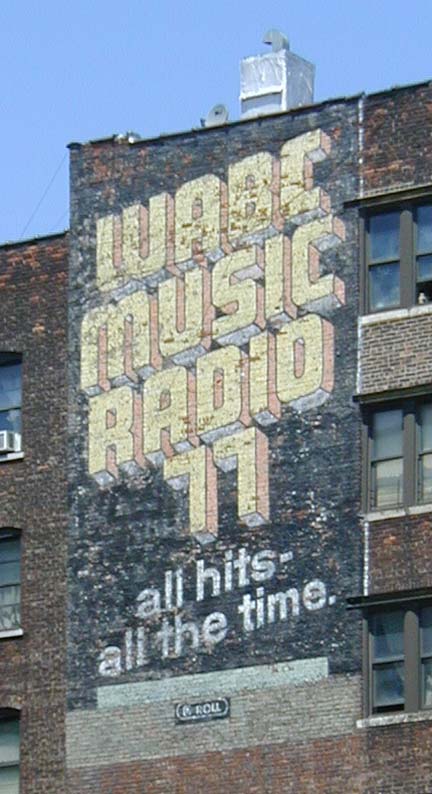 Between 1960 and 1982, the premier Top 40 station in NYC was WABC, home of the hits. Led by legendary disc jockeys Dan Ingram, Ron Lundy and Harry Harrison, WABC perfectly captured the pulse of NYC in the 60s and 70s. In 1982, WABC converted to an all-talk format and started to garner high ratings when Rush Limbaugh signed on in 1988.
One of the last reminders of Musicradio's heyday is this building ad on St. Nicholas Avenue just south of 145th Street.
Point your browser here for an excellent WABC web page!
Heavily advertised on television and radio throughout the 1970s and into the 1980s, the Albert Merrill School trained thousands for careers in electronics and computers.
This ad on 29th Street near 8th Avenue, however, is the last trace of the Merrill School, which once occupied the ground floor of the building where the ad was painted.
You know, you never know what you'll find if you just scrape beneath the surface a little. An awning sign was removed from this shop on Court and Schermerhorn Streets recently … allowing a very ancient ad for the Tea Company Of New York to emerge in the sun again after decades in hiding. This ad dates from the late 1800s, 1910 at the latest!
Here's an example of an ad that has changed in a matter of weeks. In 1999, the old St. Joseph's Union For Neglected Children ad on Lafayette and Great Jones (left) had been replaced, but a graffitist pays tribute to the old.
At the same time, a fascinating contrast between old and new methods of billboard advertising is set up. The old ad for the St. Joseph's Union for Neglected Children was busy and tightly arranged, while the 1998 ad for the Apple I-Mac is spare and contains only four words, allowing the product to sell its own story. The tribute has now disappeared, and by 2004, the hi-tech iMacs were old hat.