Bull Durham tobacco advertised on thousands of wall murals all over the country in the early part of the Twentieth Century by the Duke family, who contributed to Trinity College which became Duke University. The above ad is so prominent because the Long Island Rail Road operated at grade along Atlantic Avenue here until 1940, and so was very conspicuous for Manhattan-bound trains. You can see other Bull Durham wall murals at this site, and another one here.
Bull Durham tobacco, ca. 1900-1905, Atlantic Avenue and 115th St, Richmond Hill.
Very early ad for Mobil Oil, ca. 1920s–early 1930s, in Richmond Hill on Jamaica Avenue.
Note that above the Mobil ad is another ad for Roemmele: Victrolas (an old fashioned record player), Records, Tires, Sporting Goods and Bicycles.
Mobil has now merged with Exxon.
PC Richard, the home electronics retailer, has been in business for over 90 years. This is one of its earlier ads on Liberty Avenue near Woodhaven Blvd.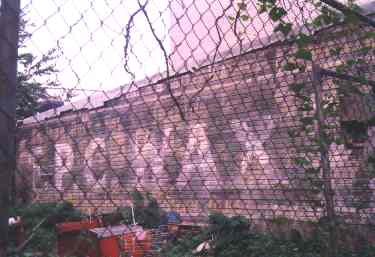 F.P.C. Wax, Fulton Street in Cypress Hills, in Brooklyn but just outside the Queens line. This ad is very old, possibly 1880-1890, and likely predates the construction of the elevated train along Fulton. The position of the ad at street level and not visible from the trains on the el is a possible sign of its age.
Trunz Pork Store, Jamaica Avenue near Lefferts Blvd., appears to be 1945-1960.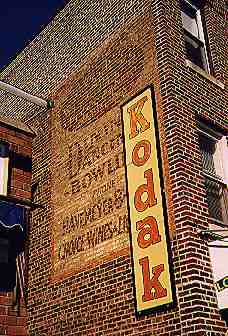 Two ancient ads for the price of one on Metropolitan Avenue in the Glendale section: one advertising a drinking, dancing and bowling establishment (just might be the way to revive bowling maybe?) and, a venerable hand-painted Kodak sign.
The bowling alley and photo store are both long gone.
Planters Peanuts Always Fresh!
Your friendly Planters Peanuts salesman, along with the ever-present Mr. Peanut, has been preaching the gospel of nuts from the Seneca Avenue elevated platform in Ridgewood since at least the 1930s, and possibly before that.
At least I thought it did.
I've been informed that this ad has only been there since 1985, when the Seneca Avenue station appeared in the movie Brighton Beach Memoirs! It's so realistic, it has me comoletely fooled. Note the grinding/repairing and typewriter and cutlery ads above the Planters ad — those are apparently real.
Other Forgotten Fans have told me that a Planters' ad was indeed on this site before the movie was shot. So for me, this ad is shrouded in mystery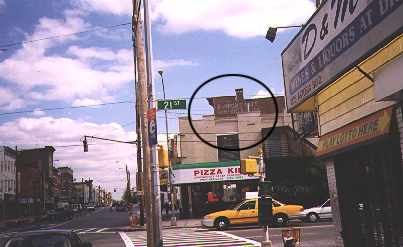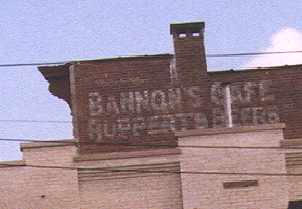 Another routine intersection at Astoria Blvd. and 21st Street in Long Island City, right? If you have an eagle eye for ancient advertising you'll spot an ad for a long-gone roadside cafe along with a long-gone brand of beer (above)
2005: overpainted.
Storage warehouse ad, looks like 1910s or so; Astoria Blvd near 22nd Street
Its antiquity makes it nearly impossible to read, but you can decipher that this building used to harbor warehouse space. The ad likely dates to the 1910s. Below, also in Astoria, was Fishbein's, likely a hardware store.
Morton's Mens and Boys, on Beach 20th Street in Far Rockaway.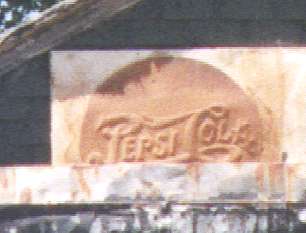 Ancient Pepsi sign on Pembroke Avenue in Little Neck, resembling its larger cousin at the Long Island City waterfront.
What used to be a barber shop on Jamaica Avenue near Hollis Avenue.
Red Cross Shoes on Queens Boulevard and 63rd Drive in Rego Park.
Gold Medal Flour, like Coca-Cola still thriving after 100 years, has several ads in the city as well. This one is on 160th Street near Jamaica Avenue.
Coca-Cola has been in business since the 1880s and several Coke ads of various vintages are found throughout the city. Here's one in a 40s or 50s motif on 46th Avenue in Flushing. If it's not an original, it's a darn good imitation. Are those bullet holes?
Thom McAn's distinctive signature could be seen on his shoe stores since at least the 1920s until the early 1990s, when the stores finally went out of business. McAn shoes are now sold at K Mart.
Who was the first to conquer space?
It's incontrovertible
That the first to conquer living space
Is Castro Convertible
Who conquers space with fine design?
Who saves you money all the time?
Who's tops in the convertible line?
Castro Convertible! — 1960s Castro radio jingle
Oddly, this ad faces Grace Cemetery in Jamaica, rendering it invisible to all except mourners!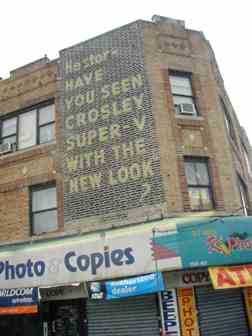 Hillside Avenue and Parsons Blvd. in Jamaica. I have NO idea who Hector was, but the ad is actually bricked into the building. The Crosley Super V was a black and white TV in the 1950s; Crosley is still in business.
Pintchik Paints/Pizzeria, Jamaica Avenue and 168th Street, Jamaica. Pintchik was/is a premier paint retailer. Also here was Mary's Idle Hour, a pizzeria. The sign says Fine Food Since 1932.
Thanks to Laura Mann of NY Newsday for information concerning this image.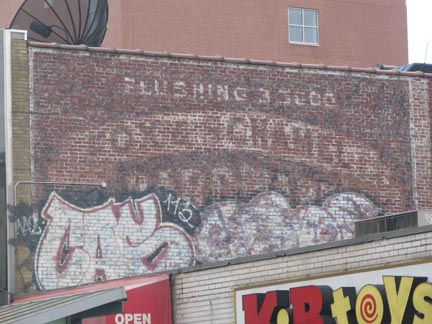 Fox and Chamel Hardware, with FL3-3000 phone number, Roosevelt Avenue, Flushing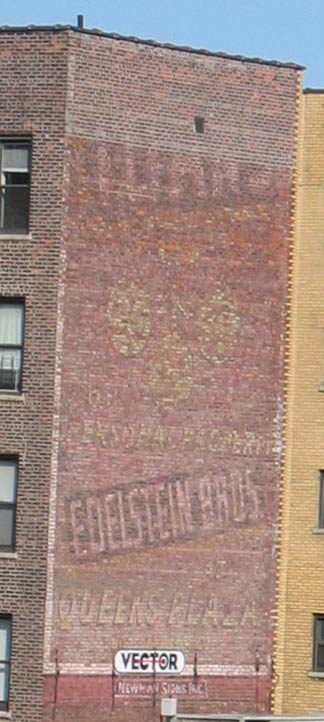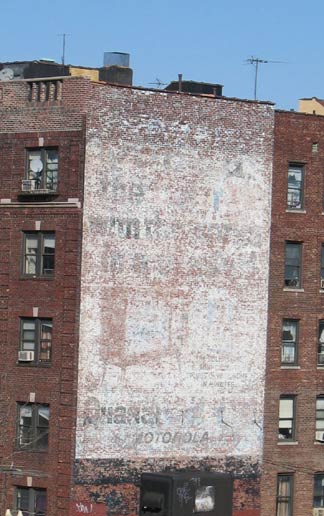 Both occasionally visible from the #7 elevated line; on Queens Blvd near 48th Street. Edelstein Bros. Loans at left, Quasar TV at right. Photos: Christina Wilkinson
Paragon Oil had headquarters in Long Island City and there were painted ads all over the borough.
Woodside, from 61st Street platform on the #7 train. The beauty shop ad on the right is still there.
Cookie King ruled until he was deposed in Flushing.
Newmark and Lewis, the electronics retailer, went out of business years ago. I spotted these trucks from a station on the elevated J line platform.
Two for the price of one on Liberty Avenue in the 80s… I have no idea who Tutie or his/her establishment was all about, but a faded ad for Garcia Grande Cigars is nearby.
Forgotten Fan James Burke remembers Tutie's. He writes:
You show an ad for Tuties and mention that you don't know what it was. Tuties was a bar in Queens, on Liberty Ave. I think. It was unique in that every piece of memorabilia you could think of was in the bar. Hanging from the ceiling, on the walls on the floor, unbelievable. You could bring something in and they would hang it up. For a price, you were allowed to hack out a piece of the bar, don't know how they allowed that & kept the bar standing but they did. Bells & whistles all over the place, especially in the ladies room!

What a place!
While the RKO Keiths' theater at Main Street and Northern Boulevard in Flushing hasn't been open for business in nearly twenty years, its giant painted sign–RKO Flushing: The Finest Theater On The North Shore–is still faintly visible for eastbound Northern Boulevard traffic.
Built in 1928, Keiths was renowned throughout the city for its ornately decorated interior. However, it's been shuttered for quite awhile now, and there are reports that water damage may destroy the interior of the theater before it can be opened again, which would be a real shame.
In 2002 an agreement was struck to convert the building to multipurpose use while retaining its classic interior.
Forgotten fan David Sanders found this over-100 year old ad on 31st Street in Astoria in 1996. It's still there, but has since been covered again by another building.