Back in the 1940s, every once in awhile, subway cars and stations would become sort of unkempt, and people could be less than courteous. Maybe there'd be a candy wrapper on the platform. Maybe a gent would forget to hold a door for a lady. And shockingly, every so often, someone would try to sneak a smoke next to the token booth.
(This and other Subway Suns Courtesy of New York Transit Museum)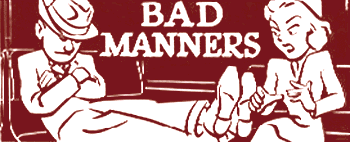 Enter Amelia Opdyke "Oppy" Jones, a cartoonist who drew a slew of subway posters that gently and humorously called attention to the shortcomings of subway riders in the manners department. The posters were given a faux newspaper masthead called The Subway Sun.
Some say the outraged lady in the poster at left is Oppy herself.
ABC News carried a story on subway manners awhile ago:
The Sun was introduced originally to warm riders to a fare increase, but the signs evolved to tout technological improvements, highlight travel destinations-"You too can reach the beach by subway!"-and most memorably, to promote straphanger etiquette. The most famous campaign, inked by Amelia Opdyke Jones, used Monopoly-like cartoon characters ­ the women often modeled after Oppy herself ­ to push good manners on a captive audience. Some considered it propaganda, but at least it was entertaining, and it gave the impression that management was paying attention.
Most of the Oppy Subway Sun posters disappeared from subway platforms eons ago. Well, about thirty years ago. Since this is Forgotten NY, though, I've found a couple that are still there.
A gentle admonition about subway litter.
Of course few get dressy anymore, but messiness is still around.
By the time I started riding the trains (way back in the 1960s) most of the Subway Sun posters had gone. But this one, which reads, "Litter Is A Hazard Here..You Can Help" in snappy orange and blue, still remained in dozens of stations.
And, this one, at the Broadway station on the IND Crosstown Line (G) is still on the center pillars between tracks. It has a partner on the other side of the pillar as well.
Of course, the BRT, BMT, TA and whatever subway organization would sometimes put their own signs discouraging untoward behavior on the platforms, and these ads were rather less tactful than Oppy's were.
One such sign is still in place at York Street on the F line.
Is there still a NYC Department Of Health Sanitary Code Section 216? Ya think?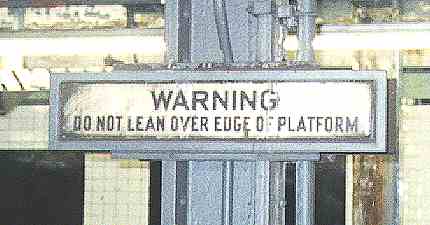 This original sign still turns up in several IND stations. These days, it's even more important to not lean over the edge of the platform, since mental patients may push you into the path of an onrushing train.
What would Oppy make of the current subway scene? Would she tell miscreants to get rid of the gun after shooting it, or not to reach for your wallets when stopped by the police, or to use box cutters, not razor blades, if you must apply scratchiti? Oppy, where are you when we need you?
1/20/2000