Unbeknownst to most, an abandoned Long Island Railroad tunnel runs for a couple of blocks below Atlantic Avenue in Brooklyn Heights. But this isn't just any tunnel…it was abandoned for 140 years with virtually no one knowing about its existence! It was built in 1844 and was used in passenger service for fourteen years, ending in 1859, and was a part of the Long Island Railroad's main branch from Brooklyn to the north fork of Long Island. The LIRR was built in large part to get travelers from New York to Boston, but this became academic as a faster route was built through Connecticut and Rhode Island in 1850, which forms most of Amtrak's route today.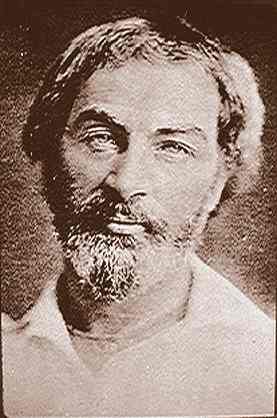 Meanwhile, in Brooklyn in 1844, the career of journalist, raconteur, and groundbreaking poet Walt Whitman was just beginning.
Best known for "Leaves of Grass", the revolutionary collection of twelve poems that first appeared in 1855, as well as "Crossing Brooklyn Ferry" and "I Sing The Body Electric", Walt Whitman was born in West Hills, Long Island, in 1819. The young Walt worked as a typesetter and pressman in the 1830s for a couple of Brooklyn newspapers. After trying his hand at fiction in the 1830s, he took over as editor of the Brooklyn Eagle in 1846, a post he would keep until 1848, leaving in a dispute over abolition (Whitman was anti-slavery,Eagle owners weren't. The Eagle continued to publish until 1955).
In 1861, Whitman would move to Washington, DC, to aid in the Civil War effort (he worked as a nurse's aide in a hospital) and would not spend as much time as he used to in New York City…but not before penning a series of essays published in the Brooklyn Standard called his Brooklyniana.
It's here that we find that Whitman was well aware of this LIRR tunnel…which had been abandoned even in his day.
By the 1860s, the tunnel under Atlantic Avenue has been filled in and pretty much forgotten about. In fact, it was known to only a very few, and hardly anyone mentioned it until 1979 when Flatbush resident Bob Diamond heard a rumor that a tunnel might be down there on a radio show that year.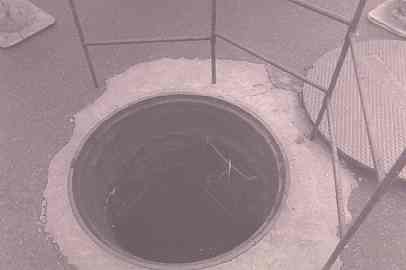 Bob Diamond:
I scoured through all the newspapers printed in Brooklyn during the 19th and early 20 centuries. I found an article in the Brooklyn Eagle, 7/23/11, a full page about the tunnel which told about a set of plans in the borough president's office. I was able to obtain a copy of the plans, and used them to find the manhole. The NYCDEP and Brooklyn Union Gas helped at the initial openings. After that, I was on my own with some volunteers.
The manhole, the only present-day egress to the Atlantic Avenue Tunnel, is at Atlantic Avenue and Court Street.
Just inside the manhole entrance, a passage was hollowed out by Diamond and volunteers, and a ladder leads down to the tunnel itself. The tunnel runs for about 2000 feet under Atlantic Avenue.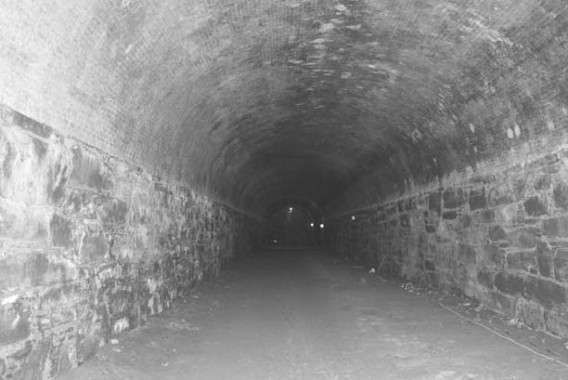 Walt Whitman:
The old tunnel, that used to lie there under ground, a passage of Acheron-like solemnity and darkness, now all closed and filled up, and soon to be utterly forgotten, with all its reminiscences; however, there will, for a few years yet be many dear ones, to not a few Brooklynites, New Yorkers, and promiscuous crowds besides. For it was here you started to go down the island, in summer. For years, it was confidently counted on that this spot, and the railroad of which it was the terminus, were going to prove the permanent seat of business and wealth that belong to such enterprises…
...But its glory, after enduring in great splendor for a season, has now vanished ­ at least its Long Island Railroad glory has…
The tunnel: dark as the grave, cold, damp, and silent. How beautiful look earth and heaven again, as we emerge from the gloom! It might not be unprofitable, now and then, to send us mortals ­ the dissatisfied ones, at least, and that's a large proportion ­ into some tunnel of several days' journey. We'd perhaps grumble less. afterward, at God's handiwork.
In the piece, Whitman goes on to describe his journey along Atlantic Avenue after the train has ascended to the surface.
The LIRR had a surface operation along Atlantic Avenue until 1940, when trains were finally placed in a tunnel in some places and elevated tracks in others.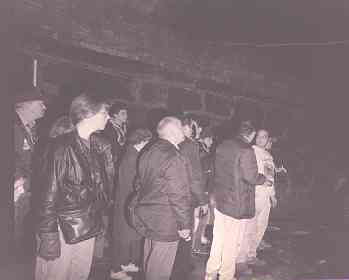 Bob Diamond (white shirt at right) leads tunnel visitors on a recent tour.
Additional photos of the LIRR Atlantic Avenue tunnel, including some of Bob Diamond working in the tunnel in the early days of its discovery, can be seen here.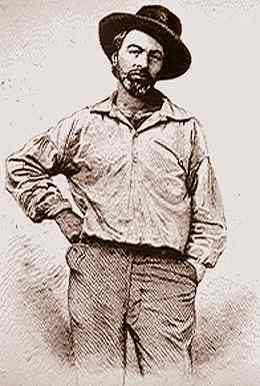 Walt Whitman was known to much prefer the people of Brooklyn and Manhattan (which he called "Mannahatta") to the people further east on Long Island. He has left us with an amazing legacy of fiction, poetry, and reminiscences of Brooklyn…one of which is of a certain Long Island Railroad tunnel that remained sealed until 1980.
Whitman was usually photographed in work clothes. He was one of the first literary personalities to be extensively photographed; hundreds of images of Whitman survive.
Sources:
Walt Whitman's New York: From Manhattan To Montauk, edited by Henry Christman, 1963 New Amsterdam.
Photos: Mike Olshan, Julia Solis