It's quite possible that, block for block, the streets above Central Park are the best hunting grounds of all if you're looking for ancient advertising. Quite possibly that's because there are a lot of buildings left up there from the early 1900s and late 1800s, and what construction does occur up there tends to reveal ads that have lurked for decades, ready to spring into action again when the sunshine falls on them at last. But are the products they advertised still around?
Most of the pictures on this page was taken by Forgotten Fan Gary Fonville. Gary, a bus driver with the Metropolitan Transit Authority, gets to see a great deal of the city since he is assigned many different routes. He shares my enthusiasm for a forgotten New York, and like me, he takes his camera with him and records everything of note that he sees. Off duty.
I really ought to give Omega Oil its own webpage, because the Omegas take the cake when it comes to large, legible, colorful and gorgeous building advertisement. Back in the teens and twenties, "wall dogs" labored for days to create ads, some of them as large as this one, which stretches for four stories on Frederick Douglass Boulevard (8th Avenue) between 147th and 148th Street. Frank Jump, who has researched several of the companies that painted these ads, says Omega went out of business in 1924.
The right panel, which is rendered a bit indistinct in 72 dpi, says Omega Oil For Stiff Joints For Sore Muscles. Omega, apparently, was the Ben Gay of its day.
Check out more Omegas on this page and this one, too.
As seen from the police precinct parking lot.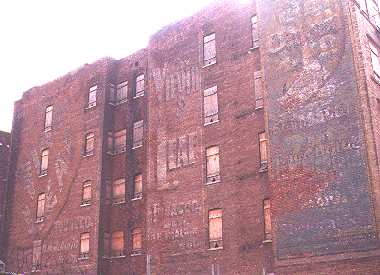 A long-vanished make of tobacco, Virgin Leaf, is also visible from the same tracks, as the train slows to enter the 125th Street station. These ads probably date from 1880-90 or so.
Pictures courtesy Frank Jump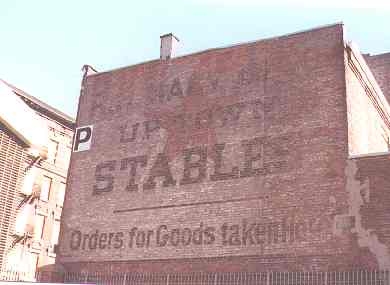 Very close to the above Omega on 148th near 8th.
Recognizable are the words "Uptown Stables" and "Orders For Goods Taken Here."
What's less recognizable are the words on top, which say:
R.H. Macy & Co.
This ad most likely dates to the 1880s. In that era, Macy's was still located on West 14th Street. They would not move to their present location until 1902.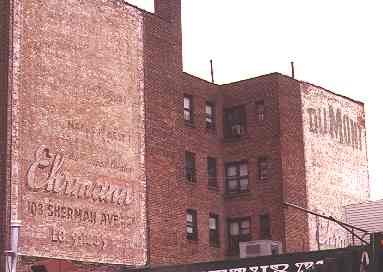 Another twofer here at Dyckman Street near Vermilyea Avenue way up in the Fort George/Inwood section. It's unclear to me what "Ehrmann" was all about, but i suspect it was auto parts.
DuMont, on the other hand, sold television sets from the 1940s into the 1950s. It was also a big-time TV network and featured such shows as Ernie Kovacs, the Cavalcade of Stars, Captain Video, and the original version of Ted Mack's Amateur Hour (which didn't end till 1970!)
Another oldie, and we do mean oldie, but a goodie, Geo. Ehret Lager Beer, is on 116th and Lenox (Malcolm X Blvd). 116th, incidentally, has no less than four or five antique ads on it.
This one probably goes back to the 1890s or even earlier. The signs are:
1) Identifies the brewer, George Ehret, by his first name. This practice was dropped in the new century.
2) "Draft" is spelled the old fashioned way, "draught".
3) The lettering style recalls the above Macys ad and the carriage ad from 47th and Broadway; both are from the early 1880s.
Two for the price of one here: a neon "Bar" sign probably dates to the 1930s or 1940s.
Ehret's symbol was the six-pointed star seen in the center.
Forgotten Fan and one of New York's Bravest Al Trojanowicz pointed out that the sign was indeed George Ehret's. A German immigrant, Ehret opened the Hell Gate Brewery in 1866 and by 1877 it was the country's largest. It was absorbed by Schlitz in 1949 and maintained operations until 1973. Ehret, along with piano manufacturerWilliam Steinway, opened the North Beach resort in what would be Jackson Heights, Queens, at the site where La Guardia Airport is now. Prohibition killed it.
If you needed a room to rest up after an afternoon walking around shooting pictures of ancient advertising, or you needed a room for other reasons, there was the Rio Vista on Fort Washington Avenue and 159th Street near Broadway.
You got 2,3,4,5 Rooms with Bath or 2 or 3 Rooms with Kitchenette.
Norge Washing Machines, 116th near 8th Avenue (Douglass Blvd.)
Is Norge still in business? Another Norge ad can be seen on Broadway near Myrtle Avenue in Brooklyn.
You gotta wonder how they arrived at that "39% cleaner clothes" figure.
No matter what the nutritionists say, I'm never going to be a big whole wheat bread eater. I mean, the stuff is tasteless.
There are two kinds of white bread people in the world: You like the fluffy Wonder stuff, which builds healthy bodies twelve ways, or you like the slightly sweeter, less fluffy (in fact, no fluff at all), Arnolds, which is baked in brick ovens, or so they claim. Pepperidge Farm comes in third, though they're moving large schools of Goldfish and have not concentrated on pushing bread on TV lately.
Arnold hasn't had the need to do wall ads for some time, but they do have this one, on Broadway near 157th Street.
J. Horn Furniture still has two ads on West 116th Street between 7th and 8th Avenues. They've got something here for $5.00, which you won't find in furniture stores these days.
J. Horn met the fate that awaits us all in the early 1970s.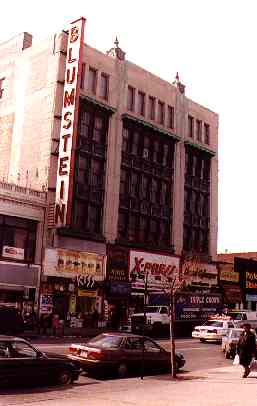 Blumstein's is gone now, but its old building and four-story high sign remain. Blumstein's was not without controversy during its long tenure on 125th.
From Andrew S. Dolkart's "Touring Historic Harlem":
Blumstein's, once the largest department store in Harlem, was established by German immigrant Louis Blumstein in 1898. Like many white-owned stores in Harlem, Blumstein's refused to hire black workers for anything but menial positions. In 1934, Blumstein's was chosen as a target for "Don't Buy Where You Can't Work" boycott. The victory in integrating Blumstein's helped break down the barriers of segregation in employment in urban areas of the North and demonstrated the power of joint effort on the part of people seeking equal rights. Blumstein's later became the first store with a black Santa and the first to use black mannequins.

Sources:
Andrew S. Dolkart, Touring Historic Harlem, New York Landmarks Conservancy, 1997
AIA Guide To New York City, White/Willensky, Harcourt Brace Jovanovich, 1989