City Island resembles a New England seaside town transplanted into the five boroughs. Since it was first settled in 1761 its lifeblood has been the sea, with shipyards, sailmakers and oystermen predominating. It played a large part in New York City's coastal defense until the early 20th Century.
City Island was privately owned, first by the Pell family and then by the Palmer family, from 1654 until it became a part of the town of Pelham, in Westchester County, in 1819. City Island became a part of New York City in 1895 when parts of the town of Pelham were annexed by NYC, and found itself in the Bronx in 1898 after consolidation, though it was still in New York County (the Bronx received a separate designation as a county only in 1914).
Benjamin Palmer, who owned the island in 1761, thought of it as a potential commercial rival to New York City, and so it picked up a new nickname (it previously had been called Great Minnefords Island). It never, of course, rivalled New York City as a seaport but it did develop thriving seaside industries. Palmer's group laid out streets and established two ferries to the mainland. Palmer, a staunch supporter of the Revolution, engaged the ire of the British, who plundered the island in 1776. Three years later, Palmer and his family were captured and forced to leave the island for Manhattan. Palmer was never again to set foot on City Island.
In the late 18th and early 19th Century, the island was an integral part of New York City's harbor defense. City Island played a part in Fort Totten actually firing a shot in anger in 1917. Every ship coming to New York Harbor via Long Island Sound had to stop at City Island and pick up a pilot who would guide the vessel past the forts (Schuyler, in the Bronx, and Totten, in Queens) into the East River and to a berth somehere in the metropolitan harbor. In 1917, a freighter steamed into Eastchester Bay and failed to halt at City Island to take on the pilot. Artillerymen were alerted and the gunners at Ft. Totten fired a warning shot across the bow. The shell ricocheted off the water and hit Fort Schuyler, where it exploded. The damaged wall can still be seen at Fort Schuyler…damaged by a shot from Fort Totten!
The two World Wars saw City Island become a brisk shipbuilder, adding to its fishing and oyster industries. In the postwar era, City Island began to develop as a resort, and numerous seafood restaurants appeared along City Island Avenue to support day trippers and yacht enthusiasts.
City Island, far removed from the rest of New York City, eagerly welcomes visitors, though I noticed a wariness toward outsiders. During my visit, I was most impressed by City Island's array of Victorian-era architecture, which is proudly maintained.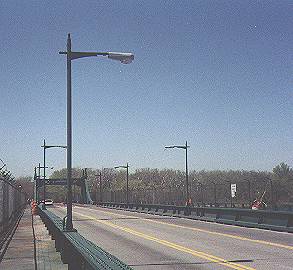 City Island's only connection with mainland Bronx is via the City Island Bridge, connecting with Pelham Shore Road and ultimately Pelham Parkway and Bruckner Expressway. Othrwise, City Island is more conveniently reached by boat.
Before looking at City Island proper, let's take a look at another island just east of it…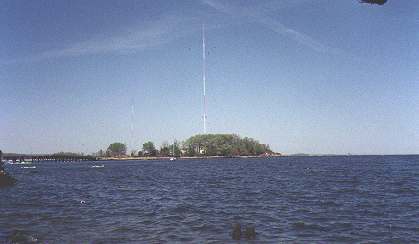 High Island is a small island off the northeast shoreline of City Island, reachable by a bridge that is well defended by barbed wire and a chainlink fence.
In the early years of the 20th Century, High Island was home to a year-round community of bungalow dwellers, but they were displaced in the early 1960s by the construction of a 541-foot antenna tower.
These days, a newer radio tower beams WFAN-AM, as well as WCBS NewsRadio 88, all over the East Coast.
King Avenue
In spite of its maritime charms, for me City Island's chief attraction is its collection of Victorian-era homes. I particularly enjoy Victorian (1880-1900) because of its wide variety of styles and its freewheeling use of color. So let's walk down the avenues and streets of City Island and savor the sights…
King Avenue is the easternmost north-south thoroughfare on City Island and the one closest to Pelham Bay. Remember, many of the King Avenue houses have a view of Pelham Bay. Doesn't get much better than that!
Pelham Cemetery is so named because City Island was still a part of the Westchester town when the cemetery was first placed here in the 1880s. It is the only waterside cemetery in NYC.
Minnieford Avenue
Minnieford Avenue carries the original name of City Island, Minnefords, with some spelling changes. It is thought that the name commemorates an Indian chief. More than any other street in City Island, it has maintained its 19th-century aura. Until 1999, when it finally received a coat of blacktop, Minnieford Avenue was unpaved in the stretch between Fordham and Caroll Streets!
City Island Avenue
City Island Avenue is the community's main drag and the location of most businesses, restaurants and yacht clubs. While its architecture is primarily utilitarian there are also some gems to be found here.
This rambling residence at the island's northern tip was once the home of the North Wind Undersea Institute, a museum that held old scrimshaw, shark jawbones, the 100-year old Andre Guillet tugboat, and aquariums featuring rare blue lobsters and some sea turtles. It was founded in 1976 by former Navy Seal Michael Sandlofer and singer Richie Havens.
City Island's first "skyscraper", built in 1898 (its tallest building status was overtaken by the residential 6-story Pickwick Terrace in 1963).
I found this old blue and white street sign in the back yard of Scotto's Pizzeria. It hung at City Island Avenue and Belden Street from the 1910s until the early 1960s.
An old wooden dwelling on City Island Avenue. Many of the older residences on the street have been replaced by newer brick buildings, but not this one.
Grace Church was built in 1860 from the timbers of shipyards.
Waterside businesses line City Island Avenue.
Trader John's is among many businesses on City Island Avenue catering to its many sailing enthusiasts. Note the bottlecaps on the sign: they used to advertise either Pepsi or Coke.
Though Ratsey Sail is no more, a sign advertising it remained on this City Island Avenue building.
Fordham Street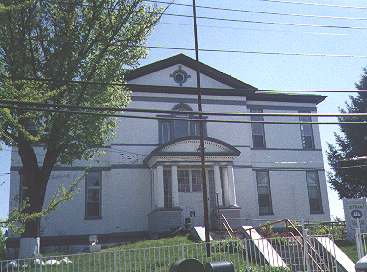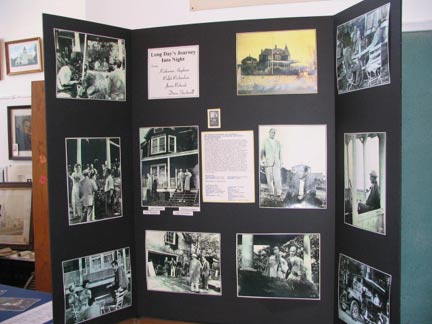 City Island Nautical Museum, in City Island's old PS17 on Fordham Street, contains artwork and exhibits chronicling the island's near-250-year old history of shipbuilders, fishermen and America's Cup yachtsmen.
Schofield Street
By far the island's best samples of Victoriana are to be found on Schofield Street.
Tier Street
This whale-weathervaned house, featuring a wraparound porch ovelooking Eastchester Bay and Pelham Bay Park, was made famous in the movies. It was featured in 1962's Long Day's Journey Into Night starring Katharine Hepburn. It is at the end of Tier Street just west of William Avenue.
Belden Street
This Victorian house at 175 Belden Street, the southernmost east-west street on the island, is a NYC Landmark.
5/28/2000