Gravesend, located in Brooklyn between Bensonhurst and Coney Island, is one of the oldest populated areas on Long Island and in the nation itself. It contains numerous historic homes, and even its street plan is the original one first adopted after the area was first settled in 1643. Unfortunately, some folks disagree with the premise that they live in a treasured, venerable district, and treat their monuments with negligence, if not utter contempt.
Despite the interpretation given by the ever-befuddled NYC Department of Transportation, the name "Gravesend" has nothing to do with cemeteries (though we'll get to them a bit later).
Two possible derivations exist:
The first, more widely-accepted one, is that Gravesend is named for a British seacoast town 20 miles east of London. Gravesend was the only one of the six original Kings County towns that was a British settlement. In Old English, 'grave' meant 'grove' so the name means 'town at the end of the grove.'
The second view was that Gravesend derives from a Dutch name, s'Gravenzande or s'Gravensande, so named by Dutch provincial governor William Kieft, who donated a small tract of land in what became Gravesend to a British immigrant, Lady Deborah Moody, and her son, Sir Henry, in 1643. s'Gravenzande means "The Count's Beach" and may have been named for Henry; perhaps it was named for Kieft's birthplace on the Maas River in Holland.
In 1640 , Kieft had prosecuted a war upon the indigenous Native Americans that resulted in more than 1,000 Indian fatalities in Manhattan and western Long Island. It was called the Kieft War and in it Kieft was particularly brutal, with beheadings, dismemberings and burnings. This was too much even for the Dutch, who recalled him; Kieft died at sea.
Into this volatile region arrived Lady Moody in 1643, a London widow in her mid-50s. She was granted a town patent by Kieft that permitted adherence to any church, a novelty in an age of religious fervor. Lady Moody, an Anabaptist (a sect that rejected infant baptism in favor of adult baptism) found the climate in England oppressive and sailed for the Massachusetts Bay Colony in 1639; finding the Puritans there hardly accommodating, she founded Gravesend in 1643. The Native Americans destroyed the new settlement before it got a permanent foothold in 1645.

Above is an 1873 map of Gravesend by Beers, Comstock and Cline. Though over 200 years removed from Lady Moody's time, the map of Gravesend had not changed much. The original square street plan, centered around today's Gravesend Neck Road and McDonald Avenue, was still the standout feature, as other streets had not yet been cut through.
From the 1600s to the late 1800s the only real roads through Gravesend were in the village itself (Village Roads East, North and South) and what became Van Sicklen Street and McDonald Avenue, as well as Kings Highway to the north, a road that followed an Indian trail, and another road leading west toward Gravesend Bay. Amazingly, that road survives as today's Lake Place.
Tensions between the English, Dutch and Native Americans continued until 1674, when the Dutch finally relinquished all their North American claims to the British, and New Amsterdam became New York for good. Ever the diplomat, Lady Moody held the first-ever Quaker conference in the area in 1657, She died in 1659, before she could see the British take over all of New York.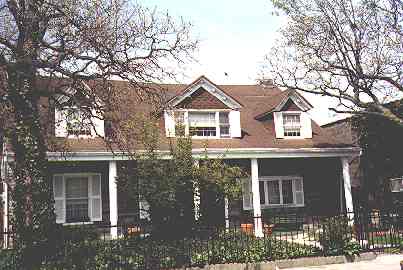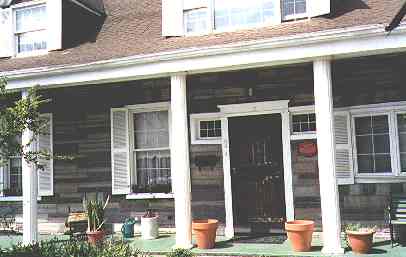 "Lady Moody" House, 27 Gravesend Neck Road
This house dates to either 1665 or 1770, depending on which account you believe. Brooklyn historical records have Sir Henry Moody selling the property on which the house stands in 1659 to Jan Jansen ver Ryn, who built the house sometime between 1659 and 1663, when ver Ryn sold the property. It passed through various hands before winding up with the Van Sicklen brothers, John and Abraham, who may also have built the house in 1770. In either case, the house never belonged to Lady Moody. "Lady Moody House" is a fiction dreamed up by a real estate office in the 1890s. It's a very old building no matter how you slice it.
The Old Gravesend Cemetery dates to 1643, the first year of the settlement. Lady Moody is buried in an unmarked grave somewhere within.
Next to it, the Van Sicklen Cemetery is weedy and overgrown, betraying any attempt at upkeep. And that, folks, ain't the worst of it.
Let's take a look at two historic homes just north of the cemeteries.
At 32 Village Road North is the Charles Ryder home, reportedly built around 1788. It was originally located at McDonald Avenue and Gravesend Neck Road, and served as a school when President George Washington visited it in 1789.
At 38 Village Road North you will find the Ryder-Van Cleef House, originally located at 22 Village Road North. It was moved in 1928 to make way for a playground that is still there.
The house was built about 1840 by Lawrence Ryder and was owned later by his son-in-law John Van Cleef.
The Lakes were a prominent Gravesend family from the beginning of the colony, and had several centuries-old homes scattered throughout Gravesend. This one stood on Avenue V near Van Sicklen Street.
2003: house demolished
The Donnelly House, at 2064 West 6th Street, dates to 1873 and was the annex of PS95 before being moved to its present location in 1915.
The Samuel Hubbard House at 2138 McDonald Avenue, was built about 1750, most likely by the Johnson family (an extinct lane in Gravesend was called Johnson's Lane). The two-story wing, at the left side of the picture, was added in 1925. This is how it looked in 1999.
What a difference a couple of years make! John Antonides has restored the old house and didn't even need Bob Vila.
The Bennetts were another prominent Gravesend family. Harry Bennett's house, likely dating to the late 1800s, stood at 316 Gravesend Neck Road. 2003: house demolished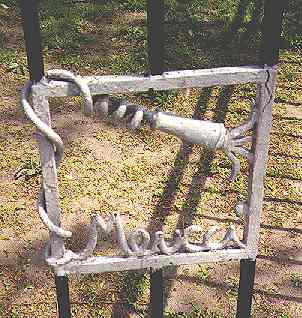 A triangle dedicated to Antonio Meucci stands at 86th Street and Avenue U. Who was Meucci? He invented the telephone.
Bell, you say? He perfected the telephone for voice transmission, but it was Meucci, in 1849, who invented the first device that transmitted sound over copper wire from one location to another.
There is a monument in Meucci Square, as well as this clever sculpture in the fence.
Gravesend Neck Road and East 15th Street looks much the same as it did decades ago.
The Neck Road stop on the Brighton Line train marks the location of a Long Island Rail Road station…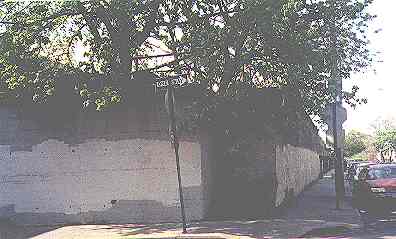 There are some bricked-up, fenced Steps To Nowhere (seen in the shadows on the right side of the picture) on the East 16th Street side of the Neck Road station. They used to lead to the Long Island Rail Road.
Huh?
Let Forgotten Fan WJ Boylan explain it all for you:
Until the mid-20s, a parallel service to the old Sheepshead Bay race track and Manhattan Beach was provided by the LIRR and branched off from the (today) South Brooklyn freight line that crosses under the Brighton Line between Avenues H & I. The racetrack covered an area which extended approximately from Ave. X to Ave. Z, from Ocean Ave. to a few blocks east of Nostrand Ave. Evidence of the railroad line can be seen in various places…

— The "unusually long" bridge abutments on the east side of many of the avenue crossings along the Brighton Line embankment. Some of the houses built along East 16th Street use these abutments to support backyard porches!

— An abandoned tunnel or flying junction at Avenue X which was part of the R.O.W. of the BRT – Sheepshead Bay Race Track.

— At Gravesend Neck Road & East 16 Street, there are blocked up "stairways to nowhere". At one time, they led to the Neck Road station of the LIRR Manhattan Beach line The widely-spaced stairways would seem to indicate side platforms.
The LIRR station as it appeared in 1910, when it was still open, can be seen on this page in the excellent ARRt's ARRchives, as well as other remnants of the Manhattan Beach branch.
To finish our Gravesend tour let's continue east into Marine Park:
The Ryders, another prominent Dutch Gravesend family (note Ryder Avenue and Street in Midwood and Flatbush, respectively, and Ryder's Lane, of which traces could be discerned as later as the 1950s), built the Elias Hubbard Ryder  house in 1834 which stands at 1926 East 28th Street near Avenue S. It was originally located on East 29th street and moved to its present location in 1929.
Sources:
Long Island: Our Story, Newsday Staff, 1998 Newsday.
BUY this book at Amazon.COM
Brooklyn The Way It Was, Brian Merlis, 1995 Israelowitz Publishing.
BUY this book at Amazon.COM
The Curious New Yorker, 1999 New York Times.
BUY this book at Amazon.COM

Old Dutch Houses of Brooklyn, Maud Esther Dilliard, 1945 Richard Smith
Out of print
5/21/00