In the early years of the 20th Century, dozens of theatres proliferated in the main streets and side streets alike in all five boroughs, featuring live entertainment in the vaudeville and burlesque eras, and later on, movies. Vaudeville survived till World War II, and one-film movie theatres hung on until the 1970s, later killed off by multiplexes featuring up to a dozen screens in one building.
Some of the old theaters were grand palaces built by the era's greatest architects, with an over-the-top grandiose style recalling the opulent residences of pashas, sultans and kings. People looked to the grand theatres, and the live and filmed entertainment, to spice up their everyday lives.
Vaudeville and burlesque are gone, but some of these grand old relics survive. On this page, I had the help of Forgotten Fans Don Gilligan and Gary Fonville, who shot most of the scenes. This time, we'll concentrate on The Bronx!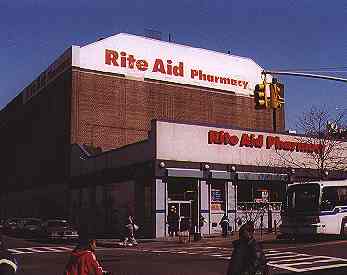 Photo: Gary Fonville
Loew's Burnside, on Burnside Avenue between Grand Concourse and Jerome Avenue, is now a Rite Aid.
photo: Donald Gilligan
The Castle Hill Theatre is now a tabernacle.
photo: Donald Gilligan
The Circle Theatre, at Hugh J. Grant Circle, is now a Lucille Roberts palace of perspiration.
Photo: Gary Fonville
Luxor, Egypt is where King Tut's tomb was found, but in the Bronx it was the site of the Luxor Theatre on Sheridan Avenue and E 170th Street.
photo: Donald Gilligan
The Globe Theatre on Pelham Parkway, named for the theatre in Britain that first staged Shakespeare's plays, is for sale (spring 2001)
Photo: Gary Fonville
The Earl Theatre, of 1936 vintage, on River Avenue and 161st Street near Yankee Stadium, has kept its Art Deco spire; the marquee is from the 1970s.
Photo: Gary Fonville
The 1925 Fleetwood Theatre on Morris Avenue and 163rd Street held 1600 seats.
photo: Donald Gilligan
The old Interboro Theatre on East Tremont Avenue near Bruckner Expressway.
photo: Donald Gilligan
Morris Park Theater on Morris Park and Hunt Avenues, now a set of storefronts.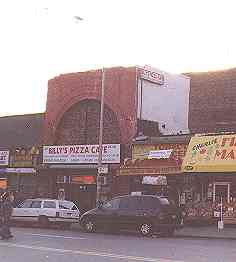 Photo: Gary Fonville
The Franklin, now Billy's Pizza Cafe, dates from 1920 and can be found on Prospect Avenue and 161st Street. Part of the Keith vaudeville chain, it showed movies in its later years.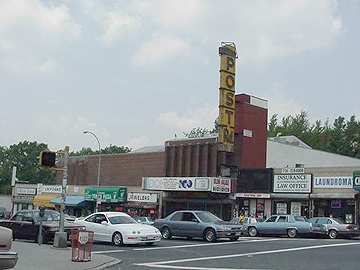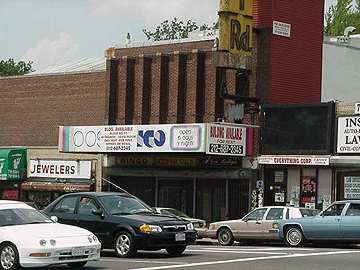 The Post Road Theater, on Boston Road in Eastchester, is available. It has kept its neon marquee. It's called the Post Road Theatre because Boston Road becomes the Boston Post Road (US Route 1) in Westchester County and leads to Boston and on up the east coast to Maine. Route 1 also stretches south to Key West, Florida.
Photos: Donald Gilligan
The Ascot Theatre in the 1960s and 70s showed European films featuring actors like Ugo Tognazzi, Anna Magnani, Marcello Mastroianni, Anouk Aimee, Jean Paul Belmondo, Alain Delon, Jean Gabin, and Jeanne Moreau. In its later years it housed religious gatherings.
I'm told the marquee has recently been removed on this Grand Concourse landmark. (Apparently the booked attraction on the marquee had to cancel.)
photo: Gary Fonville
The Bronx, on 149th Street near Bergen Avenue
photo: Donald Gilligan
Palace Theater, on Unionport Road, now a bingo hall
photo: Donald Gilligan
The Bainbridge, on E. 204 St. in Norwood, now a furniture store, closed about 1981.
photo: Gary Fonville
The Surrey, on Mount Eden Avenue near Jerome, is now the Joy Fellowship Church.
Photos: Gary Fonville
The Big R Food Warehouse on Prospect Avenue and 164th Street was once the smallish Burland Theatre.
Photo: Gary Fonville
The Star, aka. the Kent, on 167th Street near the Grand Concourse is now a 99¢ store.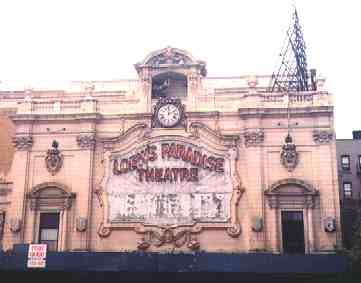 The magnificent Loew's Paradise Theatre, on the Grand Concourse and 188th Street, built in 1929,was an extravaganza of ornament, ornament, and more ornament, surmounted by a deep blue ceiling over the auditorium, twinkling stars, and projected moving clouds. Considered by one connoisseur of such things the 'most beautiful and elaborate' of architect John Eberson's designs.
–2000 AIA Guide to New York City
This was a would-be theatre in Westchester Square, with ample terra cotta motifs and glazed white brick — it never opened as a theatre.
7/3/2000