While making your way through the southeastern part of Flushing as you get close to Cunningham Park, you may spot the occasional white-painted overpass crossing the street. They're not old railroad trestles or park paths…instead, they mark one of America's very first parkways designed for automobile traffic.

In 1904, the auto age had arrived in Long Island and industrialist heir William Kissam Vanderbilt helped ring it in with a road race that became known as the Vanderbilt Cup Race. It was one of the very first auto races and attracted drivers from the world over.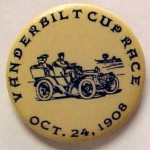 The Cup Race was run in Nassau County on Jericho Turnpike, Bethpage Turnpike and Hempstead Turnpike–all now busy highways but in those days they were farm-to-market, unpaved roads.
The race attracted thousands of spectators every year despite dangerous conditions that produced occasional fatalities among its participants. In 1906, after several spectators broke through a wire fence in Mineola, a race car smashed into a crowd, killing a spectator. Vanderbilt then decided that the Cup Race needed a separate course.
The Motor Parkway viaduct crosses 73rd Avenue at 199th Street.
Motor Parkway historian Bob Miller leads us on a tour of the Parkway from Ronkonkoma to Queens:
After a persuasive public relations campaign, land in the middle part of Long Island from the Queens line to Lake Ronkonkoma was purchased, although enough farmers and landowners held out along the original proposed route to make the new Motor Parkway a twisting, turning route. (The Northern State and Interborough Parkways, which followed in subsequent decades, suffered from a similar malady).
Construction began in June 1908 and eventually, the first phase of the Motor Parkway was completed in 1910. The Parkway pioneered the use of overpasses and bridges to avoid intersections with previously existing roads.
Tragedy, though, was a constant companion of the Vanderbilt Cup Race, and after the 1910 tilt, in which four people were killed and twenty injured, the race was never held again on Long Island. Indianapolis, Indiana became the national capital of auto racing. Vanderbilt, though, was still in good shape because the Motor Parkway was designed as a toll road as well as a race course, and contained 12 tollbooths along its 43-mile route.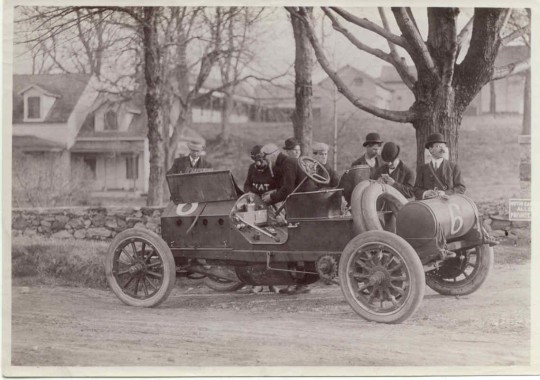 The Parkway was never subject to traffic jams in the early years, mainly because of its hefty freight. It cost $2 per tollbooth…a double digit amount in today's money! Vanderbilt reduced the toll to one dollar by 1917, but that was still prohibitively high. By the 1920s, though, 150,000 vehicles used it annually. It was still the best-quality road in the area then, since the Northern and Southern State Parkways had yet to be built and Jericho and Hempstead Turnpikes were still two-lane farm roads. Vanderbilt continued to expand the Parkway westward, reaching Springfield Boulevard in 1911 and eventually, to Horace Harding Boulevard in what is now Fresh Meadows by 1926. Its final length was 45 miles.
The Depression, combined with Robert Moses' aggressive road building, combined to doom the Parkway. Traffic was siphoned off the narrow Motor Parkway by Moses' superior roads. Vanderbilt turned the Parkway over to New York State in 1938 in exchange for back taxes, without having made a cent of profit. "A white elephant for the past 20 years", Moses called it.
Though Suffolk County kept the easternmost 13 miles of the Motor Parkway for auto traffic, Nassau County has mostly used it as right of way for the Long Island Lighting Company, as it was then known. Small portions of its old route are still visible in Levittown and New Hyde Park, among other areas.
It's the Queens portion that concerns us here, since, by pure luck, it's mostly intact!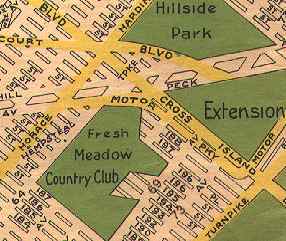 This Van Nostrand 1930 map of Queens shows the Motor Parkway's Queens source at Horace Harding Boulevard (today's Long Island Expressway) and Cross Island Boulevard (today's Francis Lewis Boulevard).
The Fresh Meadow County Club is today's Fresh Meadows Houses, while Hillside Park is now called Cunningham Park.
The Parkway was extended to its furthest westward length in 1926. This is on the 73rd Avenue overpass.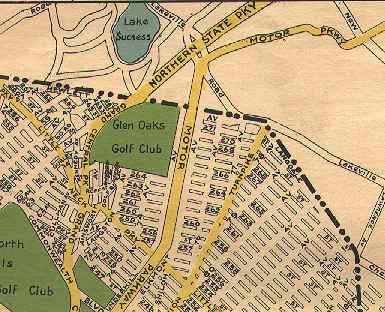 This portion of the same map shows the Motor Parkway in northeast Queens. After it was closed to traffic in 1938, Glen Oaks Village and Long Island Jewish Medical Center were built where it used to run.
I'm told, though, that the route of the Motor Parkway in Nassau County as depicted on this map is incorrect, as are the routes of may of the streets on the map. So, take the rest of the map with a few grains of salt! (For example, the road marked Motor Parkway in the upper right is actually Marcus Avenue)
Apparently wishful thinking went into the preparation of many Queens maps of the 1930s, as developers rushed in to fill empty spaces. They only got populated after World War II, however.
The Adriance farm, now the Queens Farm Museum, occupies much of he space north of the LIMP and west of Little Neck Parkway, where streets are shown on the map.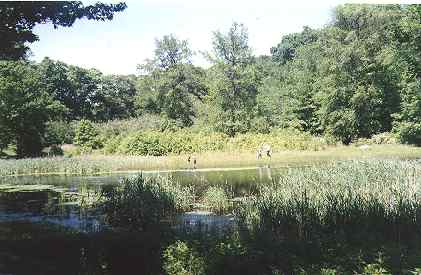 The old Motor Parkway is extant as a pedestrian and bike path from Cunningham Park east to Winchester Boulevard. At left it runs under Grand Central Parkway, and above, runs past Alley Pond.
Today, the Motor Parkway is maintained by the New York City Parks Department, which keeps the foliage trimmed and removes any fallen branches after storms.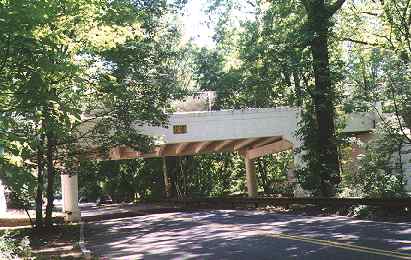 The overpass over Hollis Hills Terrace was renovated in 2000.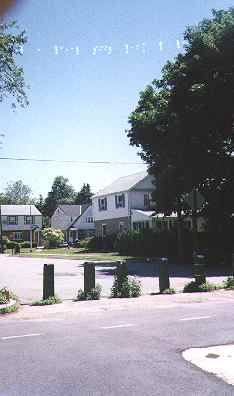 Left, entrance at 209th Street; right, one of the parkway's original concrete posts that carried wire that kept cars from running off the road.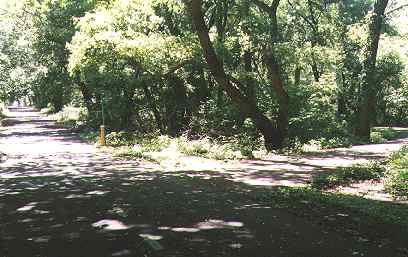 A 'fork in the road': the right leads to Hollis Hills Terrace while the one at left goes over Francis Lewis Boulevard.
Only the road at left is the true LIMP.
Pressing on into Nassau County, we find remaining stretches of the Long Island Motor Parkway at intervals at New Hyde Park, Searingtown, East Williston and Mineola.
Old Courthouse Road is an old road that meanders through the communities of New Hyde Park and Herricks. Finally, it comes to an end north of Knolls Drive at a ruined bridge that takes it over the Long Island Motor Parkway. Above, the LIMP route looking west.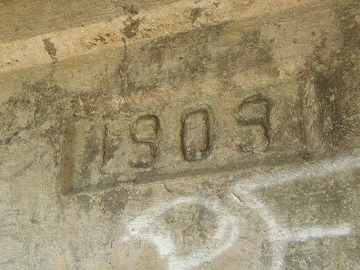 1909 stamp underneath the Old Courthouse Road bridge.
Old Courthouse Road bridge as seen from the Long Island Motor Parkway. This section of the parkway is now used to route high tension lines.
One of the remaining concrete posts on the bridge. At one time they held ropes that were not much protection. Auto route fencing has gone from ropes to wooden fences to aluminum over the decades.
This leg of the LIMP (sorry) was completed between 1908 and 1910.
Why is there a bridge here? Old Courthouse Road dead ends at the bridge, so why was it built over the LIMP in the first place?
There are clues. A small portion of I.U. Willets Road dead ends at New Hyde Park to the west. This part of Old Courthouse Road may have intersected it before the Northern State Parkway and, later, the Long Island Expressway were built here. But that's a story for Forgotten Nassau County, if I ever do that website…
Remaining LIMP guardpost on Old Searingtown Road
Moving a bit further east, we can see a very small fragment of the LIMP is the front yard of a new house at the junction of Searingtown and Old Searingtown Roads.
Until a few years ago this was a rare section of Nassau County that had been left untouched by suburban development. That has changed in recent years, but a remnant of an old pond, Lake St. George, can still be seen in nearby Herricks Park.
A well-preserved portion of the LIMP can be spotted on either side of Willis Avenue a few blocks south of I.U. Willets Road and the Albertson LIRR station.
Here we are technically straddling the boundary of Searingtown and Williston Park.
My cousin, Forgotten Fan Tim King, discovers the LIMP on Willis Avenue.
A clutch of old LIMP guardrail posts can be encountered on busy East Williston Avenue just south of the Wheatley Hills Golf Club and east of Roslyn Road. In the golf club, we're told, are excellent preserved stretches of the ancient track.
West of here, East Williston Avenue becomes Hillside Avenue and runs all the way west to Myrtle Avenue in Jamaica, Queens.
Tim's father, Forgotten Fan Jim King, stands by an LIMP guardrail on East Williston Avenue. These rails do not mark the LIMP's old path: they have been uprooted and moved here from their original position.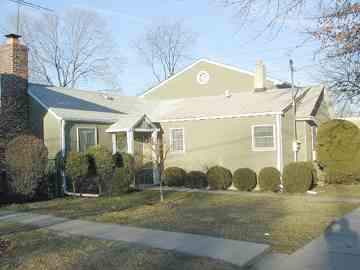 According to some sources, this building on Rudolf Road and Donna Lane, just south of Jericho Turnpike (US25) near its confluence with the Northern State and Meadowbrook Parkways, is a remaining Long Island Motor Parkway toll house.
The LIMP stopped collecting tolls years before its 1938 closure, and this house has, of course, been altered a number of times since then.
The LIMP ran in a general north-south direction east of this house. Its old right of way serves as the municipal boundary between Mineola and Carle Place.
The LIMP doglegged east further south on its meandering journey to Lake Ronkonkoma.
7/9/2000; rev 2005