And now we come to one of the true hidden marvels of New York City, an 'enchanted village' a vision of one man's mind. It's located in Greenpoint, Brooklyn, the borough's northernmost neighborhood, a thriving Polish/Latino enclave and home to some of Brooklyn's most fascinating architecture and baffling relics.
PERSONAL NOTE: Your webmaster had an apartment in Greenpoint for a few weeks in the 1980s, three rooms for about $250 a month. There was one electric socket in the whole apartment and the bathtub was in the kitchen. I wanted to plug in my toaster oven, so I went back to Bay Ridge, where I remained for the next eleven years.
So where's the 'enchanted villages'?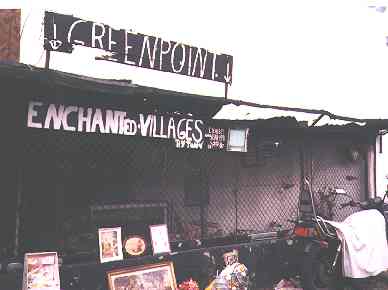 Sure, it might look like a bunch of junk behind a fence. But it's one of the New York City's best kept secrets.
Greenpoint's "Enchant Villages" (the 'ed' was added later) are/were the work of a now-deceased Greenpoint resident named Tony, and were located on the corner of North Henry and Herbert Streets.
Tony created the Villages in 1991. The story goes that he suffered a heart attack and was then inspired to create his vision of the world as he saw it, a beautiful place, a global village.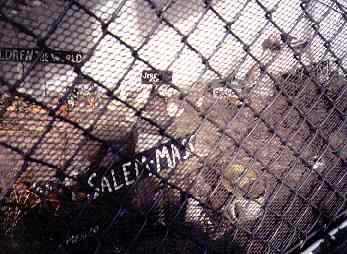 The Villages are represented by articles and sundry items from Tony's house, helpfully hand-labeled.
Tony's aim was to celebrate different cultures of the USA and of the globe, shot through with good old American patriotism.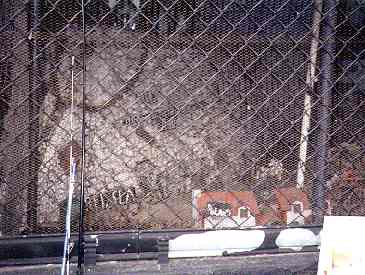 The Red Sea is represented by a fish tank. I'm told that actual fish used to swim in it, and the tank used to be lit.
Mount Ararat, where Noah's ark landed, is signified by plastic deer climbing a mound.
Ireland is two Irish coffee mugs; other cultures are represented by Amish doll figurines.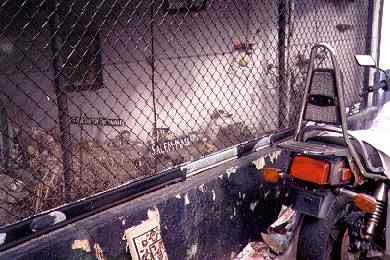 By early 2001 the Enchant(ed) Villages were in ruins (and they were completely gone by 2012). In the 1990s when Tony was alive, the fish tank burbled, Christmas lights lit up the enclosure, and Greenpoint and Williamsburg residents would walk blocks out of their way to see it.
Tony's son Frank, a Vietnam veteran, was running a garage sale outside the Villages when I came by. Frank's aim is to someday restore the Enchant(ed) Villages and complete his father's vision of a peaceful world.
Leaving the Enchant(ed) Villages, you can walk north into Greenpoint and note several other relics….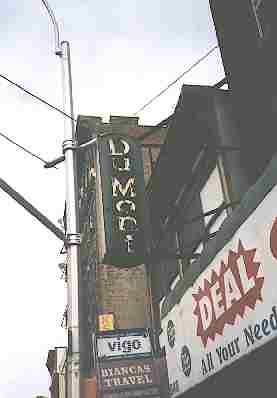 Long before Fox perpetrated Married: With Children on TV audiences in the 80s and 90s on a 'new' fourth TV network, the DuMont network was in business between 1946 and 1956, presenting the original Honeymooners, Captain Video and Bishop Fulton Sheen.
In fact, DuMont pioneered many aspects of TV/radio and remained in business selling TVs after its network folded. You can still see several DuMont ads scattered around NYC, like this neon sign on Manhattan Avenue and Bedford Avenue.
This DuMont sign disappeared shortly after I shot it.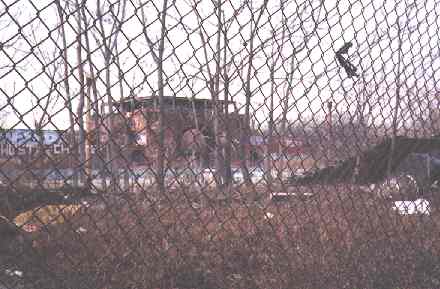 Not so long ago, Greenpoint's kids (and many adults too) cooled off from the hot summer in the days before air conditioning in what was Brooklyn's largest swimming pool in McCarren Park. The pool closed for good, though, in 1983. THe pool was reactivated as a concert venue in the late Twenty-OHs.
In 2011-2012 the Parks Department completely rebuilt the pool and it is again open for business.
This was one of four Depression-era swimming pools constructed by the WPA (Works Progress Administration); the others were/are in Red Hook, Sunset Park and the Betsy Head Pool in Brownsville.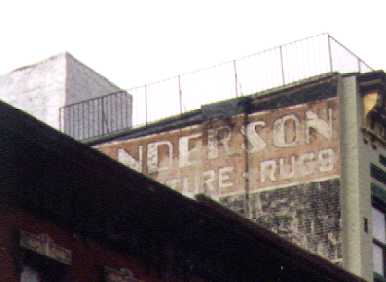 Though there's still a furniture store on street level under this 1930s-era ad, it's no longer Anderson.
The nearby Meserole Theatre, now a drugstore, was profiled by Scouting NY's Nick Carr in 2010.
The old Chopin Theater, on Manhattan and Greenpoint Avenue, still survives, but now it's a joint Popeyes and Burger King. McDonalds is next door. Note the eagle at the top as a Brooklyn seagull flies by. The Chopin used to be called the American Theater.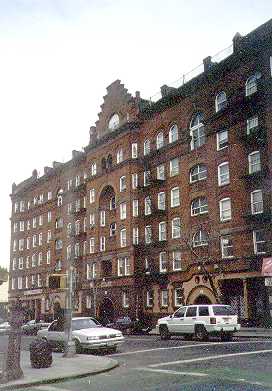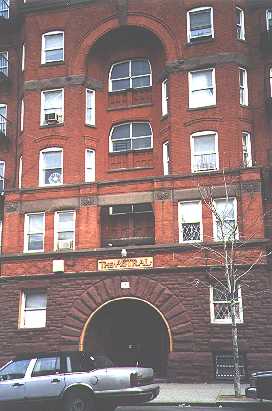 Isolated blocks in Greenpoint, such as India, Kent, and Milton, still feature landmarked brownstone architecture (and there'd be more if the aluminum siding guys hadn't been so successful here). Probably the most unusual of Greenpoint's masterpieces is The Astral Apartments (above), on Franklin between India and Java Streets.
The Astral takes its name from the Astral Oil Works, a refinery built by Charles Pratt in 1867. Astral Oil's slogan was, "the holy lamps of Tibet are primed with Astral Oil." Largess from the oil works was later used to create Pratt Institute, one of NYC's most prestigious art schools, in Bedford-Stuyvesant. Astral made Pratt a multimillionaire, but he later sold to a bigger one, John Rockefeller's Standard Oil.
The Astral Apartments themselves were built in 1885-1886 and were commissioned by Pratt himself to house his refinery workers. They were designed to resemble the Peabody Apartments in Southwark, London, themselves similarly built by an American businessman for his factory workers. Both buildings feature the unusual brownstone arches over the entrances.
A couple of blocks from the Astral, we have the Doof Center. And it's time to end our brief visit to Greenpoint and its enchanted villages.
2/16/2001, revised 2012