In 2000, Mr. Trump, The Donald himself, opened up a stretch of Riverside Park between 59th and 74th Street, alongside a recent development of his where the old West Side Rail Yards used to be. Amtrak tracks still run underground here, but freight tracks used to be right at grade here and this was, as most waterfront areas in New York used to be, a vital area for shipping and commerce. Those days are gone, but twisted, decaying wreckage remains.
The George Washington Bridge serves as a backdrop for this superannuated barge transfer station. Traces of the tracks on the station can still be seen.
Forgotten Fan Ralph Heiss reports:
Barges that had railroad tracks on them. The bridge gantry in your photos was a hinged bridge that spanned the gap between land and barge, and would be hoisted up or down to go with the tide. Then the railroad cars would be placed on the barge, and floated to wherever.
The New York Central RR, who owned this float bridge, was the only railroad with direct freight access to NYC. However, with most railroads terminating on the waterfront in New Jersey, the railroads had to transport their freight in railroad cars (on car floats) and in barges across the Hudson to small, self contained freight yards up and down the Hudson, East, and Harlem Rivers. Along with the final ferry boat operations that ended in 1967, the Hudson River was a sea of railroad ferries, tugs, float barges, lighters, you name it, all trying to fight for a right-of-way with the regular non-railroad owned boats. Todays Hudson, East and Harlem Rivers are empty in comparison. I think the only ones operating in NYC are in Brooklyn, which receives cars from the only one in NJ in Jersey City/Bayonne.
The bike/walk track has now been officially opened to the public (I presume sturdier fencing will be put in place to prevent accidents and lawsuits) there are no fewer than a half dozen riverside wrecks here to remind us of the region's industrial past.
This old warehouse appears to be 'sagging' into the Hudson. Long ago, a fire bent and twisted the beams.
Here and there are wrecks of old riverside piers. These were Piers 102 through 108.
This neighborhood has undergone many changes in the last forty years. Not only are the busy railyards gone but much of the neighborhood itself (the one depicted in West Side Story) was torn down to make way for Lincoln Center. Now, as Trump opens new towers on the old yards, we can still look at what's left of NYC harbor commerce.
The barges and piers aren't the only remains here. This truncated exit at 72nd Street is the last remaining piece of the old Miller Highway, which was torn down in sections beginning in 1973. These are the last pieces of the highway's unique lampposts and railings.
A beautifully landscaped walk and bikeway has replaced the formerly rough-hewn pathway along the Hudson.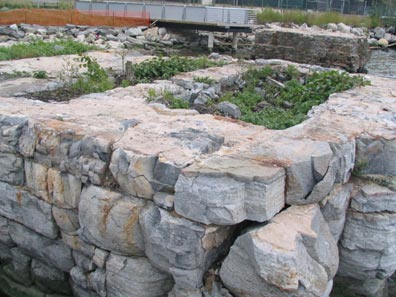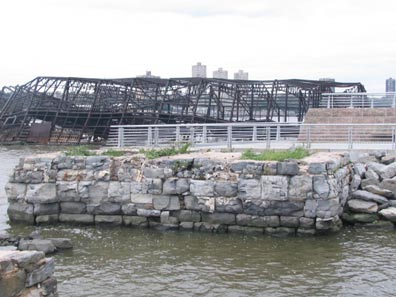 Rock jetty and new railings.
New reflector disk park lamps.
As a reminder of the park's former use as a railyard, various RR logos have been emblazoned on the park seats, such as New York, New Haven and Hartford; Reading; Baltimore and Ohio; Penn Central and others.
3/23/2001; revised 2012