Only a handful of railroad grade crossings remain in New York City. The term 'grade' crossing has nothing to do with school…it means anywhere a railroad crosses a main road at the street level, and crossing gates, signals and alarms are mandated.
The Long Island Railroad gradually eliminated its NYC grade crossings relatively early in the 20th Century with the last major project being the sinking of the Atlantic Branch beneath Atlantic Avenue in 1940.
Staten Island Railway (then known as Staten Island Rapid Transit) placed its right-of-way in an open cut for much of its route in 1965, eliminating the remainder of its grade crossings.
Back in 1900, Gravesend Neck Road was a farm road connecting Gravesend and what would become the Marine Park neighborhood.
Some of our current subway lines had railroad precursors. This is the old Brighton and Coney Island Railroad at about 1900-1910 at Gravesend Neck Road and what would eventually be between East 15th and East 16th Streets. Crossing gates and signs are in place, and a small shed served as a waiting room.
By 1920 the railroad had become a part of the newly-formed BMT and had been placed on an embankment, with the line crossing Neck Road on a bridge. By 1940 the line had become united with the remaining New York City subways. The B/Q train uses the line these days [2012].
photo from nycsubway.org
Fast forward about 65 years, and we see a BMT Standard crossing East 105th Street and Turnbull Avenue at New York City's last remaining subway grade crossing in Brooklyn in 1964.
This grade crossing remained until 1975 when new housing projects in the area promoted more foot traffic, and it was thought prudent to eliminate this throwback. East 105th Street was closed and a standard center platform was built in the crossing's place.
The last previous grade crossing elimination had been on the Brighton Line, in Midwood, Brooklyn, in 1908!
Some grade crossings are hanging in there gamely. Many of them are along the old Long Island Rail Road Montauk Branch between the Long Island City terminal and Jamaica.
This line used to be of much greater importance as a passenger line, but these days it is used mostly for freight, with only one or two daily passenger runs.
The tracks at left cross Borden Avenue in Long Island City at about 21st Street. They connect the Hunters Point Avenue station with the Montauk tracks that lead to the LIC station.
The LIRR used to have several stops along the Montauk Branch, which in later years, deteriorated into nothing more than clearings in the weeds along the tracks. When the LIRR bought dozens of new coaches in the late 1990s they required high-level platforms, and since these stations had only two or three trains stopping every weekday, it was decided to eliminate service for good in 1998 rather than build new platforms. Today, only one or two passenger runs use these tracks daily, express from Jamaica to Long Island City. Other trains use the tracks shown above over Borden Avenue past the Hunters Point Station, which join the main branch in Sunnyside Yards.
The above tracks cross Maspeth Avenue south of the old Haberman station at 48th Street, which has also kept a grade crossing.
88th Street, with light-to-medium traffic, has a grade crossing over the Montauk Branch at 76th Avenue in Glendale. Further east, much busier Woodhaven Boulevard crosses a massive bridge over these same tracks.
Further west, 73rd Place also has a grade crossing, but it leads to a flower shop at Lutheran Cemetery and is not a through street. That was the old Glendale LIRR stop which was closed in 1998.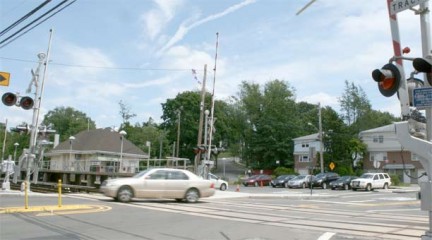 My home LIRR station, Little Neck, employs perhaps the busiest grade cross in NYC, with plenty of trains during morning and evening rush hour. Until recently the gates were incomplete and the trains had to blast their horns whenever approaching the station. In 2010 the gates were finally complete and things got a bit quieter.
Little Neck's sister station at Douglaston, a half mile to the west, also had a grade crossing until about 1962. Other grades on the Port Washington branch were eliminated by embankments and overpasses in 1913.
FNY's beautiful T-Shirt model, Miss Linda, poses next to NYC's busiest grade cross gate in 1999. Top photo: Jeremiah Cox.
More grade crossings can be seen on your Newtown Pentacle.
4/28/01; updated 4/5/12