During a long summer I've been unable to visit as many Forgotten scenes as I'd like. To the rescue comes Forgotten Fan Gary Fonville, an MTA bus driver who gets to see many Forgotten corners of the city as yet unvisited by your webmaster. Gary has supplied us on this occasion with a new cache of ancient ads on NYC's mainland, the Bronx.
Dating from when horses and buggies ruled the streets, this saddlery ad on Tremont Avenue could be at least 90 years old. Surprisingly they sold safes as well. I've never associated safes and saddles. Below: same ad in summer.
Photo at left by Don Gilligan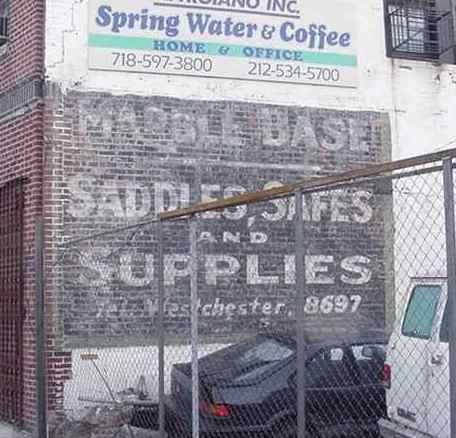 Note the old-school phone number: Westchester ?-8697.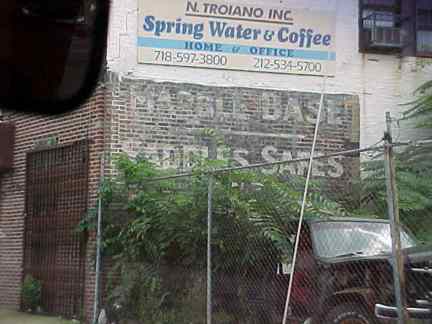 So much is going on here. At left, a modern Wiz ad is superimposed over an older Wiz ad. At right, a decades-old Loew's Theatres ad. Presideng over it all is the Jerome Avenue el.
Ancient dairy on E. 146th near Willis Avenue.
Elton Avenue at 155th Street
Women have been pursuing the perfect hourglass shape since time immemorial. In the 1910s when this ad was painted, corsets were the preferred method. Some corsets were made of whalebone and came close to disfiguring the wearer. These days, women flock to palaces of perspiration and salons of sweat like Lillian Roberts.
Sachs Furniture. This ad is from Melrose and 151st just north of The Hub.
Webster Avenue and Claremont Parkway, Ehrich Brothers (brewery?)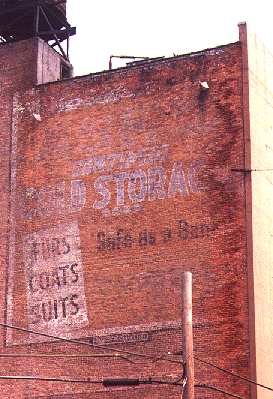 Cold Storage, Elton Avenue and 155th Street
I'm planning a page on ancient clock towers,but this one also has an Estey Brothers sign on it. The Esteys were piano manufacturers in Mott Haven, a pianomaking hotbed in the late 19th-early 20th Century.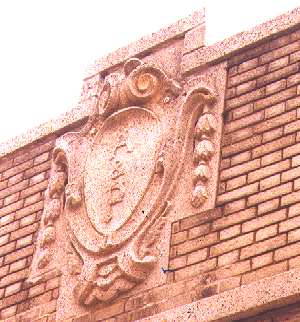 It's a building occupied by doctor's offices now at Ogden and 169th, but a close look at the decoration at the top of the building reveals it to be a former outlet of the Atlantic & Pacific Tea Company.
Neon RCA sign on Third (not 3rd) Avenue near 160th Street. It was clearly for the benefit of elevated train riders; the train came down in 1973 but the sign is still around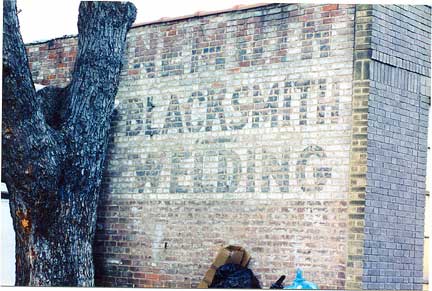 Blacksmith and welding shop on Halperin Avenue in Eastchester.
Ward's Bread, at Southern Blvd. and East 143rd Street, made Tip Top. Many old businesses, like Vitagraph and Bohack's, are remembered on their old smokestacks decades after the businesses disappeared.
Rug cleaning and 'lustering', Rider Avenue and 138th.
NY Savings Bank, on 188th near The Concourse.
You can find this Zenith Chromacolor ad at 204th and Perry in Norwood.
A DuMont TV ad is hanging in there on Morris Park Avenue.
Saber Realty still rattles on Kingsbridge Road near Jerome Avenue.
Thanks to Forgotten Fan Richard Hamel for help with this page.