Down the southeast coast of Staten Island, retreating glaciers not a few millennia ago left a number of small, unobtusive ponds that serve as way stations for migrating shorebirds, as well as havens for perennial birds, reptiles, fish and other wildlife.
While they are recognized by the Parks Department, they don't turn up on maps, and, quite honestly, neighborhood residents would just as soon you had no knowledge of these wedges of nature at all. But, we're going to expose them for the whole world to see…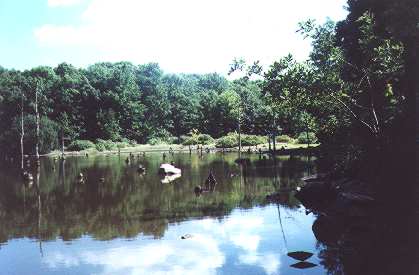 Kingfisher Pond
Location: surrounded by Corbin Avenue, Barlow Avenue, Greaves Avenue, Islington Street, Miles Avenue and Fairfield Street
By train: SIRT to Great Kills, walk north on Giffords Lane, east on Elkhart Street to Miles Avenue
By bus: S54 to Elkhart Street and Giffords Lane
By car: Arthur Kill Road to Giffords Lane, turn left, left again on Elkhart, park on Miles
Though Kingfisher Pond is not shown on maps, the last hand-drawn Hagstrom Maps showed interrupted streets where Kingfisher Pond is; however, on new digitized editions, the streets have been restored and the pond's location is once again camouflaged!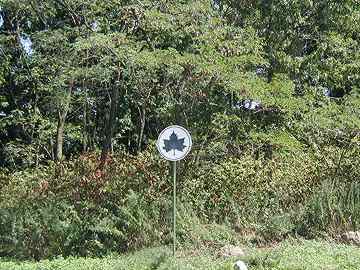 A good view of Kingfisher Pond can be had just behind this Parks Department sign at Miles Avenue and Fairfield Street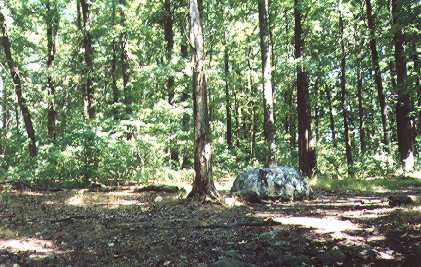 The kingfisher is a bird related to the heron and egret, as well as the Australian kookaburra. It resembles the blue jay and dives for its dinner. The belted kingfisher is the only kingfisher species native to North America.
You've already guessed that Kingfisher Pond is a favorite haunt for these bright blue hunters.
Staten Island's Kingfisher Pond Park is the newest addition to Staten Island's Bluebelt project. It provides flood protection and water pollution control, as well as a respite from the mind-numbing suburban monotony that's otherwise in full control in the neighborhood.
But north Eltingville (the neighborhood home to Kingfisher Pond) hasn't always been a haven for suburban vapidity. Centuries ago, Native Americans and later, Dutch farmers, made this region their home.
Here, what appear to be randomly strewn rocks are, in reality, the remnants of stone walls built by colonial settlers in the 1700s. When built they were neat and upright; 'good fences make good neighbors' as the saying goes. Years of frost and heat contraction, soil erosion and, let's face it, vandalism have left the fences in the condition they're in today.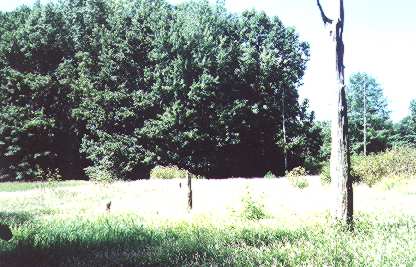 South end of Kingfisher Pond
Officially, the Parks Department has constructed trails in Kingfisher Pond, though they're hard to find especially in summer, and don't have painted 'blazes' on trees and rocks that some other Staten Island trails do. Enter at Greaves and Fairfield, opposite P.S. 32.
Walking straight ahead, you will reach the glacier-borne boulder pictured above. At that point, turn right, crossing the remnants of the stone wall, and straight ahead you will come to a T in the trail; this is a partial trail that goes around the pond.
The path winds around Kingfisher Park's southern edge, which is marshier than the northern end.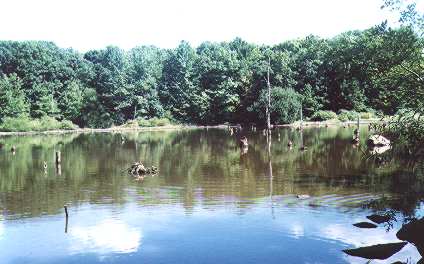 At this point the best thing would be to actually exit the trail and walk on nearby Miles Avenue a couple of blocks north to about Elkhart Street. Go back into the park and hack your way through the thorny underbrush, and you'll be rewarded with this vista. Turtles bask on the rocks and who knows, you might even see egrets or kingfishers.
Wood Duck Pond
Location: roughly, Amboy Road on the north, Oakdale Street on the south, Ramblewood Avenue on the west and Montvale Place on the east, in Great Kills
By train: SIRT to Great Kills; walk south on Giffords Lane, turn right on Amboy Road, left on Lindenwood Road, right on School Street at PS 8, continue forward on Oakdale Street, right at Ramblewood Road; trails lead into the pond area
By bus: S79 to Richmond Avenue and Oakdale Street; walk east on Oakdale 10 blocks to Ramblewood
By car: Hylan Blvd. or Staten Island Expressway to Richmond Avenue; continue north or south to Oakdale Street, continue on to Ramblewood Avenue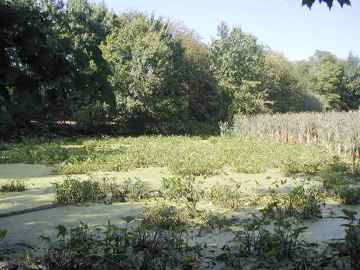 Wood Duck Pond, seen from just off Ramblewood Ave. north of Oakdale Street
So-called because, in migration season (just about late September into mid-October) this is a major stop on migrating ducks' path south. Hundreds of them frequent the pond in the fall.
Wood Duck Pond is also home to a short nature trail; a fork in the road is pictured above. This is mere yards from nearby bustling Amboy Road.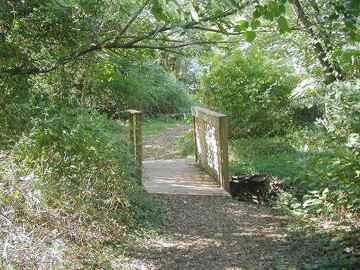 Short wooden bridge at Holly Avenue and Amboy Road
This sign appears on Amboy Road near Holly Avenue. A short wooden bridge leads over a rivulet at that point.
Wood Duck Pond is surrounded on all sides by homes. Not only does it preserve a way station for migrating birds, but it also provides flood protection for local homes, since this area is low-lying and rather marshy.
While the wood duck is not the commonest of North American ducks, it's one of the most beautiful: fully eight colors can be discerned in the plumage. It has the reputation as a shy bird, so if you want to see them, keep the noise down as you edge up to the pond.
Brady's Pond
Location: surrounded by the Staten Island Expressway, Steuben Street, Windermere Road and Lakeview Terrace
By train: SIRT to Grasmere; walk along Clove Road, turn left at Lakeview Terrace
By bus: S53 and S79, exit Clove Road at the Grasmere station
By car: Verrazano Bridge, Staten Island ´xpressway, exit at Hylan Boulevard, turn left, becomes Steuben Street, right on Fingerboard Road, right again Clove Road, right again Lakeview Terrace
Placid, serene Brady's Pond is located in one of Staten Island's more exclusive areas. This view can be found on Lakeview Terrace, which also boasts one of the island's most eclectic and beautiful varieties of architecture. Worth the trip for each. Beware: a sign on the other side of the lake, at Hylan Boulevard and the SIE, says "Brady's Pomd Park" but it's all fenced in and weedy. This is by far the best location to see the lake.
Cameron Lake
Location: surrounded by Fingerboard Road, Clove Road, Windermere Road and Allendale Road. Best view is from Windermere Road
By train: SIRT to Grasmere; walk along Clove Road, turn left at Windermere Road
By bus: S53 and S79, exit Clove Road at Fingerboard Road.
By car: Verrazano Bridge, Staten Island Expressway, exit at Hyland Boulevard, turn left, becomes Steuben Street, right on Fingerboard Road, park car on Fingerboard and walk on Windermere (it's too narrow to park there)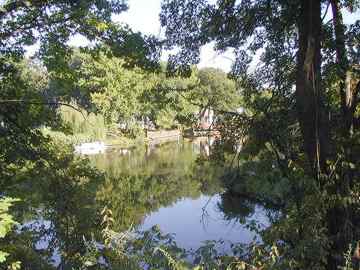 The best views of Cameron Lake are, by far, from the expensive homes that surround it. Unfortutately, there's no public area surrounding it so the best views are from narrow Windermere Road, which flanks its western edge.
Allison Pond
Location: Prospect and Brentwood Avenues, West New Brighton
By bus: Castleton Ave. bus to Conyingham Ave, walk north to Spring Hill Ave., turn east to Brentwood Ave.
By car: Verrazano Bridge, Staten Island Expressway, exit at Clove Road, north to Castleton Ave, east to Conyingham Avenue
Allison Pond is a small glacial leftover that once provided water to nearby Sailors Snug Harbor. The pond and its surrounding park, once the property of engineer George William Allison, were deeded to the city in 1943. The pond is stocked with fish for recreational angling.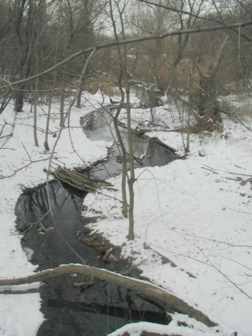 A stream feeds the pond at its northern and southern ends.
Sources:
Secret Places of Staten Island, Bruce Kershner, Kendall Hunt 1998
10/16/2001