Restaurant reviews make me laugh. Especially the pictures that go with them. Who could eat the stingy portions shown? Crumbs and morsels on huge plates. And restaurant reviewers all like fish, as undercooked as possible. Don't get your webmaster wrong. Fish has its place. Deep-fried, with plenty of batter.
For those of us who think there are four food groups…salt, sugar, grease and beer…who believe there is no food ketchup can't improve…who believe that "vegetarian" means "taste-free" (which it does)…here's a Forgotten NY tribute to the remaining chrome-plated, cholesterol-jammed eateries scattered around town. Whoever said eating is supposed to be healthy? You eat what tastes good. And, you can't eat in more style than in imitation railroad cars. We're gonna make the cardiologists plenty of $$$$….
MOONDANCE DINER, 6th Avenue and Grand Street.
Trim: Chrome. Age: 1930s vintage. The sign, with its revolving moon, is from the mid 80s or early 1990s.
Closed July 1, 2007 and has been moved to LaBarge, Wyoming, where it has again closed. An impersonal apartment tower, the only acceptable construction in NYC, has taken its place.

RIVER DINER, 11th Avenue and 37th Street. Trim: Chrome and blue. Age: 1930s
RIP: March 2004
No other avenue in New York City has as large a concentration of classic diners as 11th Avenue. In fact it can be called Diner Avenue because there are no less than three such establishments there between 37th and 49th Street. 11th was formerly known as Death Avenue because until the late 1930s, a railroad ran down the center of the avenue, causing a number of fatal accidents.
11th Avenue retains its industrial aura and weekdays find it jammed with cars and trucks, many of them manned and womanned by people looking for a quick lunch. John Lennon was photographed outside the River Diner. One of NYC's venerable restaurants, the Homestead, is on 11th and 46th. For those looking for something cheaper, there's always…
MUNSON DINER, 11th Avenue and 49th Street. Trim: Chrome and blue. Age: 1940s. The Munson has three vintage neon signs.
2004: The Munson closed and no longer can be used as the mockup for Reggie's, where the Seinfeld gang went when they weren't at Monk's.
May 2005: The Munson was moved to a new location in upstate Liberty, New York in the Catskills, and reopened in 2007. Mirroring the plight of the moved Moondance, the Munson is also endangered once again.
MARKET DINER, 11th Avenue and 43rd Street. Age: 1962, built by DeRaffele Diner Co.
The Market Diner originally was in business from 1962-2006 and closed for three years before new owners, in a rare move for NYC diners, renovated it and reopened it in 2009. The Market would up closing for good in 2015.

EMPIRE DINER, 10th Avenue and 22nd Street. Trim: Chrome, red and white with a replica of the Empire State Building (that has since disappeared). Outdoor seating available in season. Age: built 1946, Fodero Dining Car Co. After 34 years as an upscale restaurant in diner's clothing the Empire abruptly closed in May 2010. New owners reopened it as the Highliner in 2011. It has been closed and reopened a couple of times since then.
R.I.P. The Sam Chinita Spanish restaurant, located on 8th Avenue and 19th Street, occupied a vintage diner. It was torn down and a regular run of the mill eatery was installed in its place in 2000.

CHEYENNE DINER, 9th Avenue and West 33rd Street. Trim: Chrome, black and white (repainted since picture at left was taken in 1999). Age: 1949, Paramount
This classic round the clock diner served both weary travelers arriving from nearby Penn Station, but also postal workers from the James Farley post office complex across 9th Avenue. The facility is still expected to be partially converted into a new Penn Station sometime this decade in the 2010s sometime in the 2020s.
A western motif was also apparent in the menu… the Cheyenne served steer-burgers. The Cheyenne shuttered in 2008, with the property remaining empty for several years. There is now an apartment building on the site.
FORGOTTEN NY REVIEW:
The burger is the cynosure of any diner, and like Wimpy I eat a LOT of them (but unlike Wimpy, I pay right away). Excellent burgers here, about a half pound of meat. The Mohegan, my burger of choice, comes slathered in onions and bacon and barb-b-cue sauce and you wish the experience could never end.
I was there on one of the final days. It was subsequently moved to Birmingham, Alabama, though by December 2011, it was still waiting to reopen.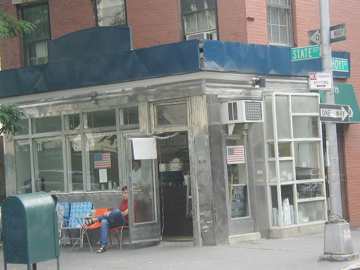 Size doesn't matter: the tiny VICTORY CAFE, on Hoyt and State Streets in the Brooklyn's Gowanus area, offered the classic chrome decor and diner fare.
(At least it did before it, too, closed in 2011)
It's triangular, not square. The Square can be found on Varick near West Broadway. Age: 1945, manufacturer: Kullman. Still surviving as of June 2018.
As if it dropped into town right out of Central Casting, the Square Diner is a den of mid-century, blue-collar charm in the midst of 21st-century Tribeca. The chrome-age exterior, like a train car or a World's Fair ride, is the first indication that the diner will have you stepping back in time. Inside, the restaurant takes on a bit of an Art Deco nautical theme, with polished wooden bead-board on the ceiling and porthole-like mirrors along the back wall, just below the row of celebrity headshots that all look like they date from the mid to late eighties… New York Magazine

Recognizable to moviegoers from its appearance in Martin Scorsese's "Goodfellas", the AIRLINE, on Astoria Boulevard and 70th Street, serves both the nearby LaGuardia Airport, Grand Central Parkway motorists, and likely more than a few prison guards on the way to and from nearby Rikers Island.
AIRLINE DINER, Astoria Blvd. and 70th Street. Trim: chrome and red. The Airline was built in 1952. It has become part of the Jackson Hole burger franchise, which, fortunately, hasn't replaced its classic red and green neon sign.
FORGOTTEN-NY REVIEW:
Of all the diners here I've so far frequented, the Airline, part of the Jackson Hole franchise, provides the best experience: pink booths, overhead fans, vintage Coke and gum machines and old signage. If you get the right seat, you can watch airplane after airplane landing at LaGuardia.
The burgers? Just OK. Generous heaps of fixin's, including the fried onions that were sweet as sugar, but the burger itself was sort of mealy, light gray in color and my teeth stuck twice on the gristle. Not the best.
On a later visit my burger was better.

DEERHEAD DINER, Astoria Blvd. and 97th Street, Jackson Heights. The Deerhead's design is from the early 1960s, much resembling that of the Market Diner on 11th Avenue, above, but it was a 1963 Paramount.
Unfortunately no food is being served at the Deerhead these days. An upstart interloper, a remodeled Buccaneer, was built next door and apparently siphoned off its clientele. The new Buccaneer replaced another classic chrome diner, the Red Wagon.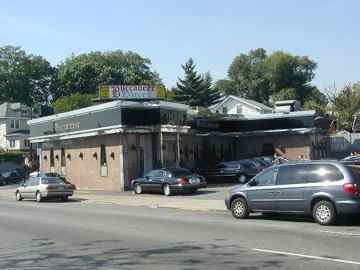 Forgotten Fan Doug Douglass reports that NBC 'blew up' the Deerhead for a sequence on Third Watch. A lighting fixture store is replacing the Deerhead. Another one bites the dust. It's now a dry cleaners.
BLUEBIRD DINER, Glenwood Road near Utica Avenue, Flatbush, Brooklyn. Trim: Chrome and blue. Built in 1951 by Mountain View.
The Bluebird served nearby major truck routes, Kings Highway and Utica Avenue. It was replaced by the newer Paris Diner by the son of the Bluebird's owner in 2006.

RELISH DINER, Wythe Avenue and North 1st Street, Brooklyn. Trim: Chrome, what else… Outdoor seating available. Probably dates to the early 1950s.
One of a pair of classic diners in the neighborhood (we'll save the other for another diner page) the Relish was built when this part of Brooklyn had a waterfront railroad and numerous breweries. Those are both gone, but with Williamsburg gaining new residents as it has been, the Relish will be there. Its prices, though, may be rising in comparison to other diners.
In 2012, the diner became a branch of Manhattan's La Esquina, a Mexican restaurant.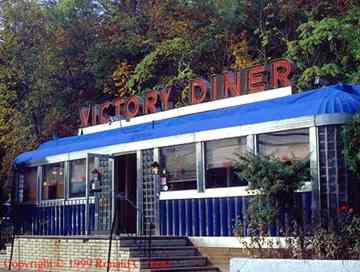 VICTORY DINER, Richmond Road near Seaview Avenue, Dongan Hills, Staten Island. Trim: Chrome and blue. Built in 1941, manufacturer: Kullman.
FORGOTTEN-NY REVIEW:
Very nice burger; the Victory hits the spot after a long day of S.I. spelunking.
July 2004: I have to take points off for slashed seats on a July 4, 2004 visit.
July 2007: The Victory is being moved to Father Capodanno Boulevard along the boardwalk, where it remained until October 2012 when Hurricane Sandy made quick work of it.
Coffee cup graphic, and plenty of New York State diner information
American Diner Then and Now, Richard J.S. Gutman, Johns Hopkins University Press
BUY this book at Amazon.COM
Eat at a diner today. The chrome shines, the menus are long, the waitresses are friendly and the food is good.
12/12/2001; revised 2018