New York City began phasing out trolley operations in the 1930s. For better or worse (mostly worse) New York cast its lot with the internal combustion engine. Mass transit has been the red-headed stepchild to King Car for decades.
Trolleys provided a quick, clean and nearly noise-free trip. They got in the way of cars, though…so they had to go. There are a few remaining trolley stations and terminals in NYC and Forgotten NY has them covered on this page.
Queensboro Bridge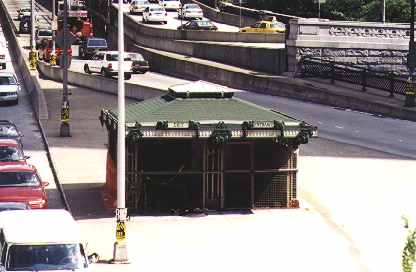 The span, completed in 1909, had an underground trolley terminal in a loop under 2nd Avenue. Trolleys ran to Astoria, Flushing, College Point, Corona and Elmhurst for nearly 50 years by different trolley companies. One final trolley line would remain until 1957 to serve Welfare (now Roosevelt) Island. The trolley would stop at a midspan station where an elevator would take passengers to the island. photo: David Dyte
Amazingly, one of the trolley terminal's ornate Beaux Arts style entrance kiosks has not been demolished. The old trolley trackways are now roadways. The staircases lead nowhere, of course.
Joe Brennan's Queensborough Bridge Railway page. Some excellent pictures of the trolley crossing the bridge and detailed information on the trolley's history and operations.
In the 1970s Roosevelt Island was developed for residential use. The trolley had deteriorated too far to be used again, so New York's only aerial tramway was built. One of its towers can be seen above right. Subway service came to Roosevelt Island in 1988.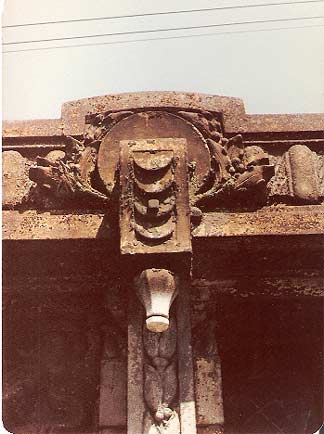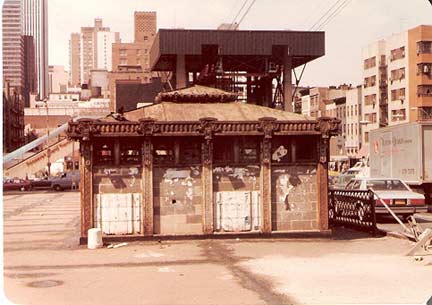 A trio of images of the terminal in the 1980s, photographed by Bob Mulero.
Another surviving Queensboro Bridge terminal served as the entrance to the Brooklyn Children;s Museum in Bedford-Stuyvesant for several years. It now serves as the Roosevelt Island visitors' center near the tramway exit/entrance.
Grand Army Plaza, Brooklyn
Perhaps the fanciest trolley shelter ever made still stands at Prospect Park's northernmost point, on Flatbush Avenue at Grand Army Plaza. It sports Doric columns and marblework.
It served the #41, which ceased to clang in 1951. It was replaced by a bus route…#41.
Just like today's bus route, the #41 went to Marine Park with a branch that went to Bergen Beach.
Bergen Beach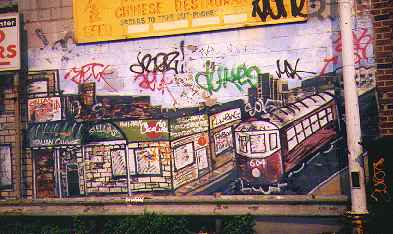 On its way to Bergen Beach, the #41 ran along Avenue N. It's been over 50 years since a clang was heard here, but a clever Avenue N graffitist remembers, or else has heard about it from his grandfather.
In 2001, an empty lot at Avenue N and Utica Avenue marked a trolley layup area that still hadn't been built on. Some of the old trolley poles are still there!
In 1951 Bergen Beach hadn't yet gained its acreage of tract housing. There were homes here and there, but the area was full of empty lots until the postwar years. The 1960s saw Bergen Beach and Georgetown develop into what they are today.
Essex Street Station
This ancient trolley terminal has been hiding in plain sight for years. It served as a terminal for numerous trolley lines from Brooklyn that crossed the adjacent Williamsburg Bridge, making it one of a handful of underground trolley stations or terminals.
The MTA has pretty much allowed it to remain as is for decades. The tracks are still there as well as the overhead supports for the wires that gave power to the trolley cars.
The "platform" can be glimpsed, though not very clearly, from the platform of the Essex Street station on the BMT J and M lines. A pair of binoculars may help to see the tracks.
Tracks are still visible through decades of dust at Essex Street. These photos, taken in 1999, are by Forgotten fan Mike Fagan.
1930s view of the terminal from Joe Brennan's Abandoned Stations page. For detailed information on this trolley terminal, and all other abandoned NYC rail, Joe's site is the place to turn.
2012: Since it's plain the space will never see active trolley service again, a plan has emerged for the the space to be turned into a park, a la the West Side High Line.
SOURCES:
Brooklyn Trolleys, James Greller & Edward Watson, N.J. International Inc. 1995. Out of print, but still available at some local bookstores (I've seen it at Penn Books in Penn Station).
12/3/01; rev. 2007, 2012