We're going to Broadway today. We're also going to Park Avenue, Lexington Avenue, Wall Street, Canal Street and several other well-known New York City locales.
But since this website is called Forgotten NY, things aren't always as obvious as they can appear.
Get your Brooks Brothers suit on and bring your portfolio… Wall Street is our first stop.

Wall Street, Staten Island
Location: St. George, Staten Island, between Richmond Terrace and Belmont Place
Prominent buildings: 1918 Staten Island Museum/Institute of Arts & Sciences, 1922 120th Precinct NYPD, Richmond County Bank, Lotan Apartments, Lieutenant Lia Playground
Undoubtedly yclept for its somewhat wealthier namesake across Upper New York Bay (which was in turn named for a wall built by the Dutch of New Amsterdam to keep out Native Americans and Englishmen) Wall Street can boast a water view like its Manhattan counterpart. That's about where the similarities end, though it can be said that the Staten Island Wall Street's location on a steep hill gives it a better view of the water; Manhattan Wall Street's view is cut off by the FDR Drive.
J.P. Morgan didn't build an empire on this Wall Street but the Staten Island Yankees may build a dynasty on Wall Street and Richmond Terrace. The Twin Towers dominated the view from center field at theRichmond County Bank Ballpark at St. George until 9/11/01. The view will never be quite the same.
Since 2001 the Staten Island Yankees, the NY Yankees' Class A affiliate, have played at theRichmond County Bank Ballpark at St. George.

Park Avenue, Brooklyn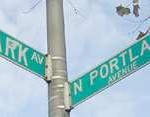 Location: Fort Greene, Bedford-Stuyvesant, Bushwick, Brooklyn (from Navy Street east to Broadway; inexplicably changes its name to Park Street for a block between Broadway and Bushwick Avenue)
Notable structure: the Brooklyn-Queens Expressway, built by the City in segments between 1937 and 1964.
It's unclear if Brooklyn's Park Avenue was named for its Manhattan counterpart (unlikely, since Park Avenue in Manhattan was called 4th Avenue for much of its history. We do know that Brooklyn's Park Avenue was first opened in 1839.
Think of Park Avenue in NYC and you think of upscale apartments, Grand Central Terminal, the historic Lever House, theWaldorf, St. Bart's, and so many others from un-forgotten NY.
But Manhattan and Brooklyn's Park Avenue are similar in one respect…
Just as Brooklyn's Park Avenue is dominated for half its length by another Robert Moses elevated auto facilitator (I-278), Manhattan's Park Avenue is shadowed by another elevated structure above 96th Street: the venerable section of Amtrak/Metro North.

Park Avenue, Staten Island
Location: Port Richmond, Staten Island (Richmond Terrace south to Anderson Avenue)
Prominent buildings: 1843 Park Baptist Church; 1891 St. Philip's Baptist Church; New PS 20; Old PS20
Park Avenue is a quiet street in Port Richmond. In this view, the 1924 Park Baptist Church is at left while the "new" PS 20, built in the 1920s, is at right.

Veterans Park makes a quiet oasis at the end of the day. Port Richmond is less busy now than it used to be; the demise of the SIRT Northern Branch in the 1950s and later, the construction of the Staten Island Mall in the 70s took a lot of the fizz out of the soda.
It's not on Park Avenue (it's on Heberton Avenue) but old PS 20, built in 1891, is a mighty neo-Romanesque tribute to the days when most public school kids got straight A's. The last few years, old PS20 has been home to senior housing. Its belfry and clock await repair.


Lexington Avenue, Brooklyn

Location: Fort Greene/Bedford-Stuyvesant, Brooklyn
(from Grand Avenue east to Broadway)
Lexington Avenue in Manhattan is home to the gleaming Chrysler Building, briefly NYC's tallest, as well as the art deco masterpiece Chanin Building as well as the chrome-plated Grand Hyatt (formerly the Commodore) Hotel. In Brooklyn, it's a rather nondescript street like any other with local residences and businesses. It does, however, have a place in history in the mass transportation story in Brooklyn.
Lexington Avenue El at Grand Avenue station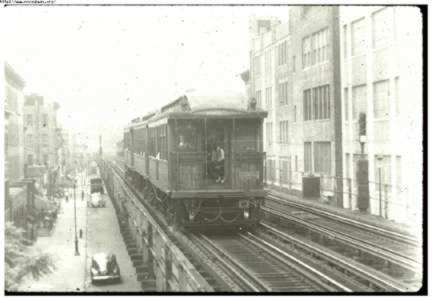 Lexington Avenue El at Tompkins Avenue. images from nycsubway.org
The age of elevated trains began in the 1860s with the construction of Manhattan's Ninth Avenue El. Within two decades four elevated routes ran lengthwise in Manhattan.
The elevated erabegan in Brooklyn in 1881 with the construction of the Lexington Avenue El, which ran down Myrtle, Grand, Lexington Avenues and Broadway. Brooklyn's parade of elevated train construction ran for nearly forty years with the last one (on McDonald Avenue) completed by 1920.
Brooklyn's Lexington Avenue El in its heyday began its run at Park Row in Manhattan. It crossed the Brooklyn Bridge, stopping first at Sands Street (a large and utterly forgotten transit complex at the foot of the bridge), and shared the Myrtle Avenue line with these stops: Bridge Street, Navy Street, Vanderbilt Avenue, Washington Avenue; Myrtle (just after diverging from that street's El), DeKalb, Greene, Franklin, Nostrand, Tompkins, Sumner, Reid (now Malcolm X Blvd.) joining Broadway line at Ralph Avenue.
Subways, since they ran more unobtrusively below ground, became the favored mode of mass transit and, one by one, the els disappeared. By 1950, Brooklyn's Fulton Street, Fifth Avenue and Lexington Avenue lines were gone; Myrtle Avenue's line would soldier on until October 1969.
Time has erased nearly all remains of Lexington Avenue's elevated line…but not all of them. The line turned east at Grand and Lexington Avenue, and a building on the northeast corner shows its passage. Pillars of the old line are embedded in the one-story garage on the corner. Since the Lexington Avenue El dates to 1881, it's likely that the garage was built around the pillars on the curving structure.
Canal Street, Staten Island

Location: Stapleton, Staten Island (from Front Street west and southwest to Broad Street & Tompkins Avenue)
Notable buildings: Edgewater Village Hall, 1889; NYC Public Library at Wright Street, 1907

Like Canal Street in Manhattan, Sttaten Island's Canal Street indeed recalls an ancient waterway. In Manhattan, Canal Street once incorporated a canal used to drain off Collect Pond (where the US Courthouse stands today). In the 1800s, a marshy brook ran in the old village of Edgewater where Canal Street runs today.
Edgewater Village Hall
When walking in Tappen Park (named for a Stapleton World War I hero) it isn't too difficult to envision the days when Stapleton was just another small town that dotted the Staten Island shoreline. It is surrounded by high hills and has a village square of sorts, where local businesses cluster and the old village hall and bandshell still stand. Stapleton is home to many venerable structures, some dating to the 1820s. Until the 1960s, it was home to numerous breweries.
The view west from Canal and Bay Streets through Tappen Park.
More on Stapleton, Staten Island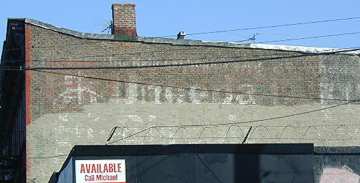 Ancient Uneeda Biscuit sign on Canal Street. Uneeda was the first brand to feature cellophane-wrapped biscuits in convenient packaging and became the flagship for the fledgling National Biscuit Company…Nabisco (whose distinctive "telephone pole" logo can be seen at left.

Northern Boulevard, Staten Island
Location: Sunnyside, Staten Island (netween Logan Avenue and Little Clove Road
Notable buildings: suburban ranch houses
Staten Island's Northern Boulevard seems rather incongruously named; there are no prominent landmarks it is "north" of. While it's rather wider than the surrounding streets in the quiet Sunnyside neighborhood south of Clove Lakes Park, it hardly qualifies as a "boulevard."
Conjecture: If you draw a line with your finger along the path of the now-abandoned Richmond Parkway extension to the Staten Island Expressway northeast, Northern Boulevard is right along the line. Could Northern Boulevard have been built as a Richmond Parkway approach road?
Northern Boulevard's much-longer namesake runs the length of Long Island, from Queens Plaza all the way to Orient Point on the north fork. Though called Northern Boulevard only as far as the Suffolk line, the road continues under a variety of local names, but is known as NY State Route 25A for its entire length.
It's the road the protagonists of F. Scott Fitzgerald's The Great Gatsby use to get from their Long Island estates to Manhattan.

Church Street, Staten Island

Location: Port Richmond, Staten Island (between Park Avenue (see above) and Port Richmond Avenue just south of Richmond Terrace
Prominent buildings: The Reformed Porotestant Dutch Church, built in 1845.
This is the third Reformed church to stand on this site, which was, in 1663, where organized religion by Europeans on Staten Island got its start.
The Dutch cemetery, with interments dating to the early 1700s, is adjacent to the Reformed Church.
Avenue B, Staten Island
Location: Port Richmond, Staten Island (between Bennett Street and Ann Street)
While Manhattan's Avenue B is smack in the middle of the comebacking East Village, a mecca for clubbers and resurgent nightlife, Staten Island's Avenue B is a one-block street with a couple of venerable dwellings that look like they are from the 1800s, as are several in this area.
Avenue B is incongruously named: it is not surrounded by an Avenue A or an Avenue C. Perhaps, in the past, parallel Cottage Place and Jewett Avenue were so named.
Brooklyn also has a set of lettered avenues which go from A to Z, excepting E, G and Q. Brooklyn's Avenue B can be found in Remsen Village north of Canarsie (Beverley Road may have been called Avenue B at one time).

Broadway, Staten Island

Location: West New Brighton, Staten Island (between Clove Road and Richmond Terrace)
Notable buildings: Markham Gardens (housing project), Staten Island Zoo (home of Staten Island Chuck, rodent prognosticator and NYC's answer to Punxsutawney Phil). The Staten Island Zoo is also renowned for its reptile collection.
While Manhattan and Bronx' Broadway runs from Bowling Green at the tip of Manhattan all the way to the Canadian border as US Route 9, Staten Island's Broadway is rather more modest, running from Clove Lakes Park north to Staten Island's north shore.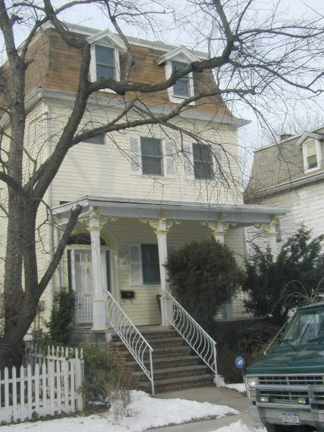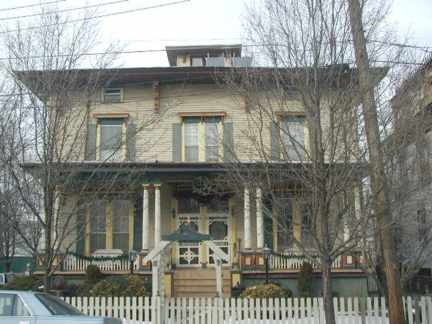 Trinity Place, Staten Island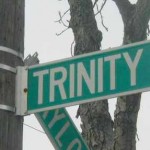 Location: West New Brighton, Staten Island (between Taylor and Barker Streets)
Manhattan's Trinity Place runs parallel to Broadway, running from Greenwich and Morris Streets north to Liberty and Church Streets and is named, like so many streets in lower Manhattan, for Trinity Church or its churchmen.
Staten Islands's Trinity Place is charming on its own terms though…it has several examples of beautiful 1880s-1900 style architrecture with fascinating detail (left and below).
11/28/2001