Heavy snow in NYC winters is unpredictable.
 A series of winters with little snow can be followed by years of blizzardy winters.  But a 
fearsome, freak blizzard in early March 1888
caught New York City completely unprepared, and caused property damage, injuries and death. 
It also changed how telephone and telegraph wires
were connected to Manhattan homes and businesses. Prior to the blizzard, New York City streets…even downtown… featured a cacophony of dozens, even hundreds of wires…that were thick enough to block the sunshine, even before the age of the skyscraper.
But so many of these wires were downed by the Blizzard of '88 that in Manhattan, a law was passed that forced these wires to be placed underground, which is why very few Manhattan streets, if any, feature overhead telephone electric wires. No such law was passed in the surrounding cities and towns, some of which consolidated with New York in 1898, and so in 'outlying' parts of town, telephone poles still proliferate…along with the street lighting supported by the poles. We'll have a look at some 't-pole' street lighting on this page.
LEFT: 1915: a very early example of telephone-pole supported street lighting.
This was what Merrick Road (later to be renamed Merrick Boulevard) looked like then where it crossed the Long Island Rail Road just west of Springfield Boulevard.
A then-new electric light is supported by a single mast and a simple guy wire. This method would persist as a dominant telephone pole street lighting mast until the early 1960s.
Courtesy Brian Merlis and Lee Rosenzweig
This view is on Jamaica Avenue in Brooklyn, a few blocks west of where the Jamaica elevated turns onto the avenue from Crescent Street, at Euclid Avenue in 1946. The street is still Belgian-blocked and trolley tracked. Note the complete absence of cars!
Street corners each feature a small, olive-colored stoplight, one of which sports a box in which are found the controls that change the lights every couple of minutes. And, on the telephone pole on the northeast corner, we find a guy-wired mast complete with 'gumball' luminaire, which like its sister incandescent lights, were largely exterminated with the onset of the greenish-white mercury vapor lights in the early 1960s.
Courtesy Brian Merlis and Lee Rosenzweig
Fast forward a few decades; in about 1950, we are now at New Lots and Pennsylvania Avenues in East New York, Brooklyn, and guy-wired masted street lighting is still in vogue. A state-of-the art (for its time) 'cuplight' pendant fixture has been here since the mid-1940s at least.
At Liberty Avenue and Crystal Street in East New York in 1943 can be seen both a guy-wired mast, and as an added bonus, a cast-iron stoplight. These stoplights were used to control traffic on wider streets, and first appeared in 1924, but by the mid-50s they were beginning to be pushed out by the thick-shafted guy-wired stoplights that are still the style today.
Note the small mast on the telephone pole used to carry the orange glass fire alarm light. We'll turn to those later on this page.
In the early 1950s, a strange new telephone pole mast began to make its presence felt.
It consisted of two metal masts, supported by a crossbar, and at the end it had a curved piece from which hung an incandescent 'cuplight' fixture. On occasion, an orange fire alarm light was needed; this hung from the crossbar, and, until the mid-1950s it was globular in shape. After that, cylindrical-shaped fire alarm lights became the rule.
In later years, the design changed, subtly, from the original. When mercury and later, sodium lighting became the rule, the curved part of the mast was no longer necessary. The orange fire alarm light was then moved to a smaller mast lower down on the telephone pole.
Above: Elderts Lane and 95th Avenue, Brooklyn, 1998. This was the 'last of the mohicans', one of the first wave of double t-pole masts, complete with its original incandescent luminaire, and unlit fire alarm fixture. It came down in 1999.
Latter-day double masted pole, Commerce Avenue, Westchester Square, Bronx
This original double-mast hung tough on East 177th Street in Throgs Neck till the late 1960s.
From The Bronx, It Was Only Yesterday, Lloyd Ultan & Gary Hermalyn
On narrower side streets, a shorter telephone pole mast was called for. The mast we see on the left, at Palmetto Street near Onderdonk Avenue in 1916, was the commonest t-pole fixture used in Brooklyn, the Bronx, Queens and Staten Island by far.
The el still rumbles here.
Photo from Vincent Seyfried's Old Queens in Early Photographs
In its early years the vast majority of these fixtures employed 'radial-wave' luminaires, so-called because the reflector disk seemed to shine the incandescent bulb's light in waves from its central location. Although 'rades' can still be found in many municipalities around the country, and are experiencing something of a revival in commercial and domestic lighting, they haven't been in NYC's official arsenal of street lighting since the 1920s, although stray examples could still be found on remaining cast iron poles and beneath underpasses into the 1980s!
This is the original version of the decorative scrollwork that was featured on these masts. It was the commonest, but by no means the only, variety.
A longer version of this mast was necessary here and there for wider streets, such as Church Avenue near East 52nd Street in East Flatbush in 1949. Note Church Avenue's curvature and the trolley tracks, and if you squint hard enough, a trolley car up the road; the line was #35, the same number of the Church Avenue bus today.
When a fire alarm light (not pictured here) was needed it hung perpendicular from the main shaft.
Courtesy Brian Merlis and Lee Rosenzweig
A look at West 6th Street in 1946, looking north from under the Van Sicklen station (now called Neptune Avenue) on the Culver el. Shell Road joins West 6th just ahead and the trolley will curve to the right to run in the center of McDonald Avenue. The trolley stop is lit by a 'cyclops' traffic light and a cast-iron t-pole lamp with 'gumball' incandescent fixture.
The Circumferential (Belt) Parkway, built in 1940, can be seen in the background.
In the 1940s, curved "crescent moon" luminaires began to supplant the older radial wave fixtures, and different cast-iron details began to be seen on t-pole masts. These two survive on an old park path in Van Cortlandt Park in the Bronx.
The original cast iron t-pole scrollwork can still be found in certain NYC neighborhoods.
The one and only remaining example of the original scrollwork used on a mast used for regular street lighting is in Riverdale, on West 254th Street and Palisade Avenue. To make room for the fire alarm light, its scrollwork is reversed and faces upward.
And, in certain NYC neighborhoods, the old shafts that formerly held radial-wave fixtures were modified decades ago to hold the orange fire alarm light, and so they are still used today.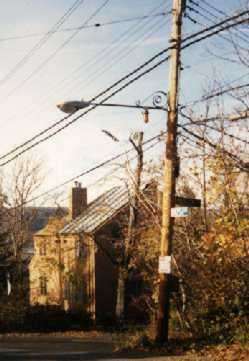 The one and only remaining example of the original scrollwork used on a mast used for regular street lighting is in Riverdale, on West 254th Street and Palisade Avenue. To make room for the fire alarm light, its scrollwork is reversed and faces upward.
Stillwell Avenue and Avenue T, Gravesend
The true t-pole mast killer was this simple mast supported by a 'fin' bracket. These first started appearing on telephone poles in the early-to-mid 1950s and originally held either 'crescent moon' or 'cuplight' (see above) incandescent light fixtures.
They turned out to be quite versatile, though, and were able to support all the new mercury lights that began to dominate in 1960 or so, like the Westinghouse Silverliner OV-25 seen here.
Almost overnight, the guy-wired and scrollworked masts all came down, and were replaced by these masts or the double masts seen previously. To this day those are the only two telephone pole streetlight masts used officially by the NYC Department of Transportation, although special 'unfinned' t-pole masts can be seen near expressways.
Note, though, that stoplights are still housed on their own special guy-wired t-pole masts–as they have been for many decades.
Of late (2002), the DOT has begun to mount some strange luminaires on its single and double-mast poles: traditional Bell and Mission Bell fixtures, with extended diffusers (which the original Bells never carried). The above example is on Morris Park Avenue in the Bronx. Similar, but not exact replicas of the Morris Park poles have been placed along Williamsbridge Road (right).
…While these finned-mast/Mission Bell combos are on Castleton Avenue, which is named for one of the original towns in Staten Island. These lamps appear nowhere else in town.
In the early 2000s the DOT began installing T-Pole versions of new Corvington masts, reminiscent of old wall fixtures, complete with Corvingon-style scrolling, in Sheepshead Bay (above) and Eastchester (at right). They fit well with the pre-existing scrolled fire alarm masts already in place.
SOURCES
Old Queens, New York, in Early Photographs, Vincent Seyfried and William Asedorian, Dover 1991
BUY this book at Amazon.COM
The Bronx: It Was Only Yesterday, Lloyd Ultan & Gary Hermalyn, Bronx County Historical Society 1992
BUY this book at Amazon.COM
Thanks to Brian Merlis and Lee Rosenzweig for assistance with this page.