For perhaps seven decades it stood sentinel on Rockaway and New York Boulevards, where New York City slowly began to fade out and Nassau County began to fade in.
When this Type 24M "Corvington" was first placed here, we were probably in the Hoover administration, the Babe and Lou were swatting them over the wall at Yankee Stadium, and air travel was for daredevils and military men.
Then they built a little airport known as Idlewild across the street and then renamed Idlewild as well as New York Boulevard. JFK, RFK, MLK and JOL were assassinated.
Through all those years the Corv endured. Toward the end, it listed on its side a little. But it still lit the way.
The Department of Transportation has decided to terminate its service. It's been whacked.
Might the DOT have had more mercy?
 Lamppost enthusiast Jeff Saltzman on a 2000 inspection.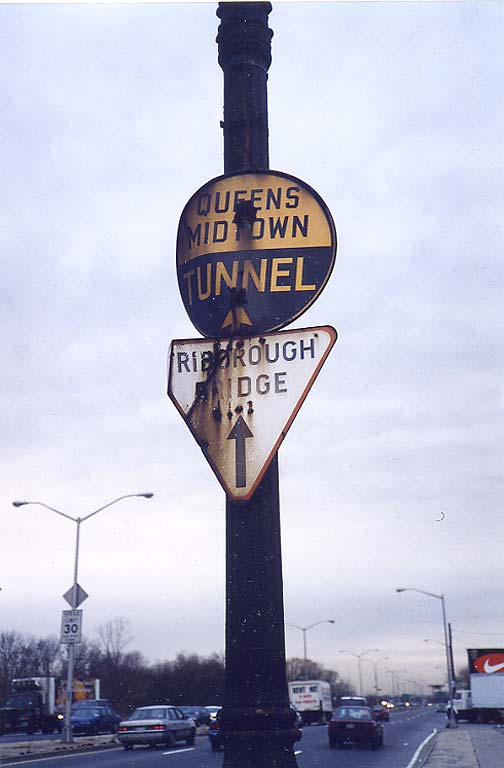 When these rusted signs were placed on the Corv, there wasn't any Belt Parkway, Grand Central or LIE. Rockaway Boulevard and its surface connecting roads made up your portal to Manhattan.
After a truck ran into the post, it was considered unsalvageable by the Department of Transportation, which was likely going to claim it soon anyway.
I first noticed, in 1975 when I first saw this stretch of Rockaway Boulevard, that being the road that led out of New York City on its southeastern flank, that it was a depository for dozens of old-school cast iron poles that otherwise had long been deemed outmoded elsewhere. None are left now.
Here we have a Type 3 Twinlamp that mysteriously held out at Rockaway and Brookville Boulevards until a truck likely took it out in 1993.
9/16/02; revised 12/23/12