Spring 2003's relentless rain did not deter the busiest Forgottentour season to date on May 31, 2003 as nearly 40 Forgotten Fans set forth on a day of exploration in Red Hook, Brooklyn, a gritty outpost nestled between the Gowanus Expressway and the Buttermilk Channel.
Film historian and freelance writer Mike Olshan was our Virgil in the little-traveled land of Red Hook, where fascinating sites, engaging artifacts and torrential downpours awaited!
At the foot of Coffey Street, a public space for fishing, walking or relaxing has been constructed with terrific views of the sunset and the Statue of Liberty. A small sign on the stones near the grassy area is marked "Fort Defiance." There was such a fort in Red Hook…but not here; it was located where Beard and Dwight Streets are now. In 1776, it aided in the defense of New York harbor by stalling the British temporarily during the Battle of Brooklyn in the summer of that year, but the British captured New York and destroyed the fort in September of that year.
no images were found
One of Red Hook's oldest buildings
 is the Clay Retort and Fire Brick Works on Van Dyke Street, dating to 1854. It was built by the aptly-named Joseph Brick to manufacture clay retorts–vessels in which coal was heated to produce gas. The building also built refractory or "fire" bricks. It has a basilica form and is made of local schist and sandstone.
A building from the same era across the street from the Brick Works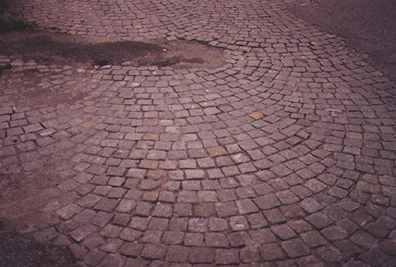 Red Hook's distinctive brick street paving. Seemingly unique among NYC's remaining pavement, it was done in a circular pattern by workmen on their knees paving the street in front of them from left to right.
As we'll see, Red Hook has become an artists' colony. Here a tree trunk has been carved in a human image.
Sunny's Bar has been a Red Hook waterfront institution for three generations. Owner Sunny Balzano is a local artist and his work hangs on the wall opposite the bar. Sunny recounted for us his memories of a lifetime on the waterfront and the changes that he's seen there.
Sunny displays an antique hand-cranked ice crushing device.
(RIGHT) Sunny's grandfather watches over the bar as well.
Owner Greg O'Connell has turned the 150,000 sq. ft. Pier 41, on Beard and Conover Streets, into a thriving area for local businesses including Flickinger Glassworks, Steve's Key Lime Pies, and the Brooklyn Trolley Museum.
Once upon a time, trolleys rumbled the 5 boroughs of NYC; and once upon a time, it was entrepreneur Bob Diamond's dream to return them there.
Bob ran into funding problems with the Department of Transportation, and the plan to run trolleys in Red Hook and eventually downtown has been shelved. A new group is making plans to revive the dream in some way.
The Beard Street Pier,
 situated on an inlet between Erie Basin and Beard Street, hosted the Brooklyn Working Artist Coalition art show, exhibiting over 200 local artists over a 5-week period in May and June.
The BWAC 2003 art show. A close look reveals the above work is based on manhole covers.
'Red Hook Stores' is a misnomer, as these buildings were never retail stores but instead were used for grain storage. However, actual stores may soon make their way to Red Hook since both Fairway and Ikea are scouting the area for possible construction.
Magnificent ruin:
 derelict factoiries along Erie Basin. Photos: John Zuccardy
Some Forgotten Fans accompanied Your Webmaster to Liberty Heights Tap Room on Van Dyke Street at day's end for brick oven pizza.
Thanks to Sunny Balzano, Mike Olshan, Greg O'Connell, Gary Baum, historian John McGettrick and nearly 40 Forgotten Fans for an entertaining if soggy outing in Red Hook!