TO FIND RARE BEASTS, you have to know what environment they thrive in. The same principle applies to locating species of ancient NYC streetlighting…they like to hang out in the darkest corners of the city, where the Department of Transportation can't find them. Lamp designs that are long extinct in bright sunlight are often found lurking under elevated train trestles or expressway overpasses. But no outmoded streetlighting fixture can escape the watchful eye of…Forgotten New York.
Title card: A diffuser-less "cuplight" 1940s-era luminaire lurks under the J train overpass on Broadway over the Eastern Parkway Extension in East New York, Brooklyn. Note the 'new gumball' on the short pole on the opposite corner.
Jamaica Avenue, Queens, mid-1930s. From Old Queens, NY in Early Photographs by Vincent Seyfried and William Asadorian.
BUY this book at Amazon.COM
In the earliest days of elevated trains, in the 1870s-1890s, lighting streets operated under the same principle it had on streets not covered by els…short poles topped by gas luminaires that were manually operated. After electricity began to become widespread in lighting streets in the early 1900s, shorter versions of the ornately scrolled, ironworked iron poles that were proliferating began to appear, and in some streets, poles were dispensed with altogether as pendant lamps were attached to the overhead el girders, and later, concrete platforms, taking power from electric wires strung along the el, as in the Jamaica Avenue el shown here.
Eastern Parkway Extension and Broadway, East New York, Brooklyn
High Line, 10th Avenue and West 30 Street, Chelsea
Two examples of 'cuplights'. Introduced sometime in the mid-1940s, cuplights (the manufacturer escapes me) quickly became NYC's 'go-to' luminaire for nearly 20 years, and shared time with bell- and gumball-shaped luminaires in NYC, but pretty much predominated. They were still going strong in 1964, when they were installed on the Verrazano-Narrows' Bridge's lower deck, but it was pretty much over after that. They were largely wiped out by Westinghouse and GE mercury fixtures and later, harshly yellow sodium lamps.
The 'High Line', an old abandoned West Side elevated freight line out of use since 1980, hides a number of outmoded street lighting styles (such as the cuplight pictured above). This is a graceful example of one that got away; it illuminated West 13th Street in a bell fixture suspended pendant-style from a graceful s-shaped mast. It disappeared around 1990, give or take a few years either way. Another s-shaped mast, like this one, now supporting a sodium light, can be seen at 10th Avenue and west 16th Street. Photo: Bob Mulero.
The High Line has since been put back into use as a high-concept elevated park, but this lamp is long gone.
LEFT: A few of these masts hung above Queens Blvd. at the Long Island Railroad overpass in Woodside until the early 1980s. Photo: Bob Mulero
A BROADWAY BONANZA…
Under-bridge lamps of several eras are preserved at the #1 IRT overpass at Broadway and West 238th Street in Kingsbridge…
First three: 1940s-era Westinghouse "cuplights" that have lost their glass reflector globes.
RIGHT: this luminaire is older than the Westinghouse cuplights by a couple of decades. These versions never had glass reflector discs.
Here we see two of the newer types of ways that streetlamps are made to deal with the close quarters dictated by overpasses. Left, a 1940s-era Whitestone Bridge-style shaft, without its pole, illuminates Joralemon Street as it passes under the Brooklyn-Queens Expressway in Brooklyn Heights. Right: Whitestone shaft, this one with its original cuplight luminaire, under a Brooklyn Bridge approach ramp on South Street.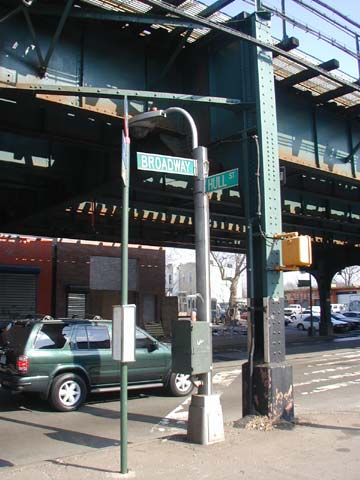 A dwarf Deskey holds down the corner of Broadway and Hull in East New York. Deskeys first appeared in 1963 and were installed until the early-to mid-1970s.
"Crescent moon" diffusers arrived in the 40s, same decade as the "cuplights" and gained wide use especially on side streets, pairing up with new finned telephone pole masts, and also did yeoman duty on elevated railroad underpasses, as these photos show. The one on Hillside Avenue was actually working when I was there, and the one under the LIRR at 162nd Street works whenever the DOT replaces its incandescent bulb.
LEFT: Dyre Avenue and Connor Street, Eastchester, Bronx
CENTER: Hillside Avenue and LIRR overpass near Metropolitan Avenue, Kew Gardens. This one was turned on the day I was there.
RIGHT: 162nd Street and Northern Boulevard, Flushing
Two of NYC's oldest streetlighting dinosaurs. Radial-wave luminaires, named for their fluted diffuser disks, first appeared in the 1910s and sightings in NYC are extremely rare at this remove. Another old design is the 'pre-cuplight' that appears to have had a saucer appended to it; it never had a glass bowl. Both were used extensively with telephone pole masts.
LEFT: Avenue M and East 16th Street, Midwood, Brooklyn
RIGHT: 162nd Street and Northern Blvd., Flushing.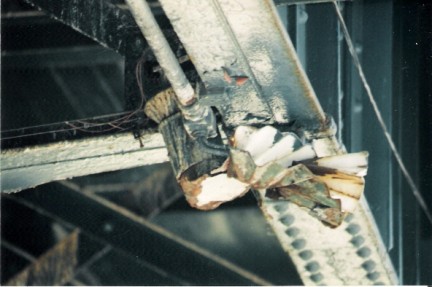 Last rade? Unfortunately a truck seems to have crashed into the radial-wave and irreperably mashed it. This could have been the last rade in town.
On Brighton Beach Avenue in Brooklyn, dwarf poles support extra luminaires that reach over the sidewalk.
2nd and 3rd photos: Cottage-type luminaires appeared on some under-el roads in the 1970s, but most of them have disappeared since; however, Liberty Avenue in Ozone Park still has a healthy collection.
2/22/04